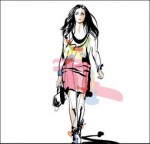 HistoryMiami is holding a free Family Fun Day about design trends through time on Saturday, January 12, from noon to 5 p.m.
Get exposed to teen trends from decades past to today. From bell-bottoms to skinny jeans explore the inspiration for the ever-changing styles of teens.
Create your own slap bracelet and check out fashion sketches from some of Miami's most talented.  Then model your own fashion trends at the photo station.
HistoryMiami is located at 101 West Flagler Street, Miami.  For more information, call (305) 375-1492 or visit www.historymiami.org