Share Your Events and Business With Our Active Community
Miami on the Cheap is where residents of South Florida turn for information on where to go, where to eat and what to do on a budget. We're a community news site and a community resource, publishing new articles daily under the direction on how to get the best value in Miami. Miami on the Cheap, founded in 2009, provides information on free things to do, discounts and deals in Miami-Dade County. It's the go-to resource for South Floridians who want to get the most bang for their entertainment bucks.
Advertise With Us
Local businesses and arts organizations need local customers. Advertising at Miami on Cheap is one of the easiest, most affordable and most effective ways to get your business in front of savvy, action-oriented Miami-Dade customers. We offer:
Banner advertising
Advertising in our daily email blast
Sponsored posts
Social media campaigns
Giveaways and other custom opportunities 
The Audience
Miami on the Cheap has a very targeted audience: people who are looking for free and cheap things to do, bargains, discounts and deals in the Miami area. Our readers are savvy, smart and ready to spend their money when they find the right deal at the right price. Since its inception in January 2009, Miami on the Cheap's readership has grown rapidly. The site realizes an average of 130,000 visits a month, with more than 100,000 unique visitors and 265,000 page views.
Advertising Opportunities
Banner Ads: Miami on the Cheap can post your banner ad link it to the website of your choice. Banner ads are available in the sidebar, in the main content area and within specific posts or pages. Below is an example of what a basic display ad looks like. The basic ad is 300px by 250px, though we can accommodate ads of other sizes as well.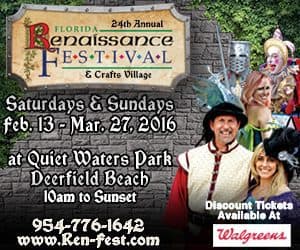 Daily Email Ads: Miami on the Cheap can insert your banner ad of any size into our daily email newsletter, which is distributed every weekday morning at 10:30 a.m. to more than 14,000 subscribers. These ads are available at a daily rate, with discounts for multi-day packages.
Sponsorship of a specific page: These pages see high traffic, some year-round and some seasonally. You can sponsor a bag with a banner ad or text ad linking to your site or product. These pages see high traffic and are a way to ensure maximum viewership of your product or service. Below is an example of a page ad. This ad is 728px wide by 90 to 125 px deep. Pages open to ads include Miami Garage Sales, Things To Do With Kids, Calendar, Happy Hours, Half Price Tickets and Sports Ticket Deals.
Sponsorship of a specific post: These recurring posts see high traffic, some year-round and some during specific times of the year. They are a way to ensure maximum viewership of your product or service. If you have a specific type of post where you'd like to see your ad, let us know and we can make a suggestion for the best fit. Among our most read posts are Things To Do in Miami This Weekend and Things To Do In Miami This Week, which read tens of thousands of readers every week.
Your custom deal or coupon: Choose the discount you want, the timing you want and share your deal or coupon with our readers, who will come directly to you to purchase rather than via a third party.
Sponsored Posts: Creative content underwritten by a business or organization. These conform to the style of Miami on the Cheap but are written in partnership with the sponsor to promote a specific deal, business or event. A Sponsored Post package includes content customized for the Miami on the Cheap audience, as well as social media outreach using specified hashtags or links on Twitter or Facebook.
Giveaways: Our readers love to enter to win. We can offer giveaways of a product, service or event tickets. Giveaways include a post, plus social media promotion on Facebook and Twitter.
Social media promotion to our 14,000-plus Twitter followers and 14,000-plus Facebook fans is available as an odd-on to any advertising packages.
Custom Ad Styles
We also offer a variety of specialty custom ad styles. Many of these require no graphic design on your part, just an image or logo and copy. We do all the work for you. Here are some examples (there are other options available, just ask) that are available for only a small extra per month charge.
Lazy Ad: If you're in a pinch and need a quick ad made, just send us a photo, your business details, and voilà, an ad.
Coupon: Create a cutout-style coupon with an optional image to promote a sale or event. When users click on it, they are be taken to a mobile-friendly page where they can print the page or keep it handy on their mobile device.

The Listing/Table:
Easily list movie showtimes, restaurant menus, sports schedules, event schedules, etc.
The Amazing 3D Gallery:
This displays 6 images and captions of your choosing in a very slick rotating cube (on the latest browsers). Great for capturing attention, especially when it comes to food items.
The Hover:
This is an ad that, when hovered over, will expand outward and display a second image in either the top, right, left, or bottom direction. Responsive and mobile friendly.
The Countdown:
 Countdown to a big event or end of a sale. Doesn't require an image. Displays a customizable and human-readable countdown, such as "7 days, 3 hours, and 10 minutes," which updates.
We require a JPG or PNG of the ad.
Please include a border if the background is white. If you need assistance in creating your ad or converting it to a JPG or PNG please contact us for details, specifications, or recommendations for graphic design artists.
For all questions regarding advertising, please contact Darcy at
darcy@miamionthecheap.com
. You can see more of our advertising options and placements 
here
.
Combination deals are available if you'd like your ad to appear on more than one of the Florida sites: Miami FL on the Cheap, Fort Lauderdale on the Cheap, Palm Beach on the Cheap, Florida Keys on the Cheap, Orlando on the Cheap, Jacksonville on the Cheap, Tampa Bay on the Cheap and Florida on the Cheap.