Fans of the longstanding TV classic "Saturday Night Live" will surely appreciate this news!
Miami playwrights Erik J. Rodriguez and Charles A. Sothers are shining a spotlight on the early days of "Saturday Night Live" with their new play, "Not Ready for Prime Time" – and Miami-South Florida on the Cheap readers have access to a generous discount on tickets.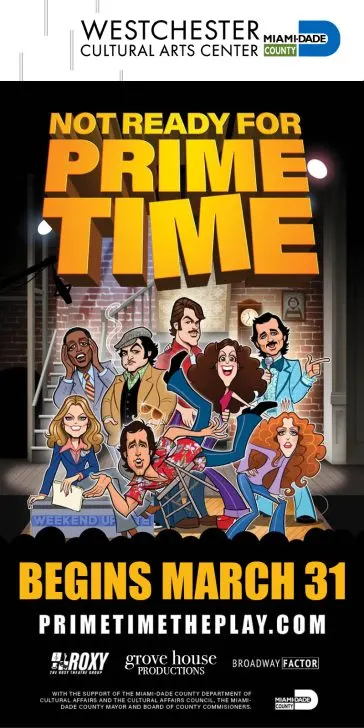 "Not Ready for Prime Time" tackles the behind-the-scene workings of the late-night show we've all come to look forward to every Saturday night. The play focuses on nine "misfit" comedians as they rise to comedy fame – Dan Aykroyd, John Belushi, Chevy Chase, Jane Curtin, Garrett Morris, Bill Murray, Laraine Newman, Gilda Radner – and its creator, Lorne Michaels.
Tickets are on sale now at notreadyforprimetimeplay.com and start at a hefty $39 for Zone 3, $49 for Zone 2, and $59 for Zone 1. But Miami-South Florida on the Cheap readers get a great 50 percent discount on tickets using the code PRIMETIME22-MIAMIREADERS for all shows during their last weekend April 14-17!
Performances will run Thursdays-Sundays from March 31 through April 17 at the Westchester Cultural Arts Center, 7930 SW 40th St., Miami. For more information, click here.
More free & cheap entertainment:
Wednesday, December 6, 2023