After 40 years of operating home design expos in Broward and Miami-Dade counties, the Home Design and Remodeling Show is bringing its expo to Palm Beach County for the first time. The show will now be at the Palm Beach County Convention Center annually on Memorial Day Weekend. This year's dates are May 28-31.
"Palm Beach is such an exciting market. It is now the highest growth area in south Florida, with the migration from the northeast. So many people are moving down here; snowbirds, businesses, reasons range from highly regarded school systems and of course, Covid," said Adam Kayce, CEO of Home Show Management Corp. in Fort Lauderdale.
Kayce is a north Broward resident. Due to the pandemic, he moved the 60-year-old company's headquarters from Coral Gables to Fort Lauderdale.
Due to these favorable demographics, City Furniture will launch new services, that is, staging homes and moving households, at the expo, Kayce said.
As for other fairly new products, Velum will introduce an unusual "stretch ceiling," which places a 3/4″ ceiling over existing popcorn ceilings and can also add new types of lighting.
"The idea is to avoid a messy installation and ripped out wires," Kayce said.
Martha Antonini, owner of Design and Style Unlimited, is the only interior designer from Palm Beach County at the expo. She's worked in east Boca Raton for 20 years.
After working for a Fort Lauderdale architect and in photo styling and visual merchandising; Antonini worked eight years at at high-end furniture store Robb & Stuckey in Mizner Park. After it closed, she struck out on her own.
A Palm Beach County native, who grew up in Royal Palm Beach; she attended high school a few blocks from where the home show is taking place.
Antonini anticipates that, "This show is going to have a little bit of a different vibe. We will get people as far north as Jupiter. I'm aiming for the Palm Beach look for my vignette."
Courtesy Martha Antonini
"I'm absolutely excited to interact with people in real life and it will be fun to see what the other designers are doing," she said.
"There is a huge boom in the home industry like never before. There's lots of remodeling," Antonini added. "People are ready to get out and we will be there with open arms."
Kayce had booked the show for May 2020, but canceled due to the pandemic. This year's show will give out masks, observe social distancing, have hand sanitizing stations and electrostatically sterilize surfaces. It will fill 100,000 square feet.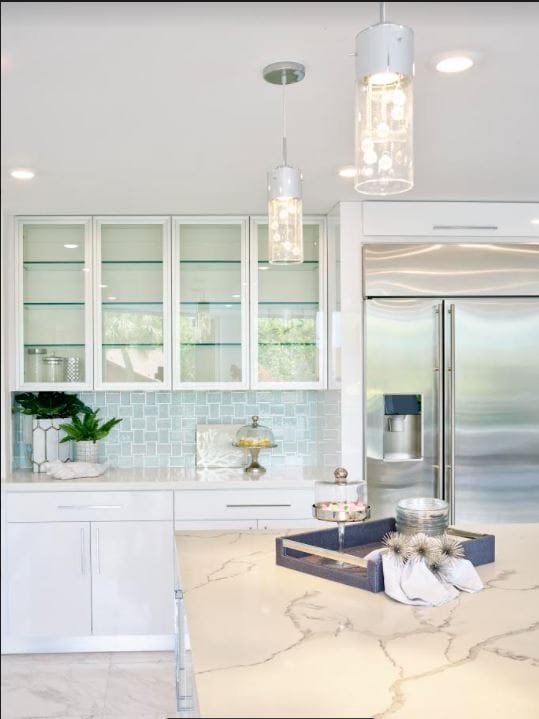 Kitchen by Martha Antonini. Courtesy Home Design & Remodeling Show
At the door, tickets are $12 & $8 for seniors ages 65 and older. Kids 11 and under are $1.
The Home Design and Remodeling Show takes place at the Palm Beach County Convention Center, 650 Okeechobee Blvd., West Palm Beach, FL, 33401.
Hours and dates: 11 a.m. to 7: 30 p.m. every day, Friday, May 28, through Monday, May 31.
Email: info@homeshows.net
Phone: 1-888-355-EXPO
Website: Home Design and Remodeling Show in South Florida | HomeShows.net