This year's Hispanic Heritage Month is from Sept. 15-Oct. 15 – and we've got some activities rounded up so you can mark the occasion.
The monthlong celebration honors the rich and diverse Hispanic culture.
Whether you're out and about or are still staying at home, there are several ways you can participate.
We may add more activities as we find them, so be sure to check back often!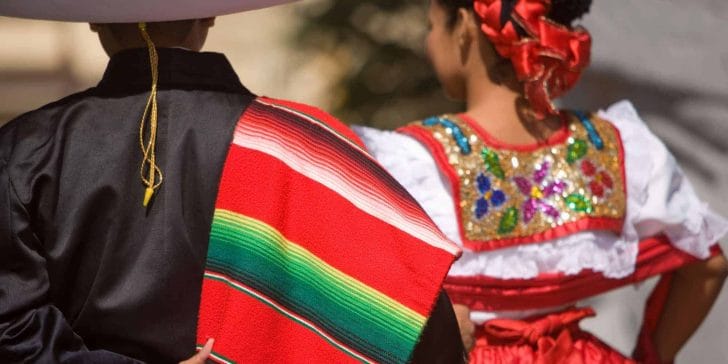 Where: Normandy Plaza, 7802 Rue Vendome
When: 6-9 p.m. Thursday, Sept. 16, 2021
Free
Miami Beach Arts & Culture and Miami Beach OnStage! are partnering to provide the public with free live performances by Barrio Abajo, Fabi World Music, and DJ Ephniko Selector in honor of Hispanic Heritage Month.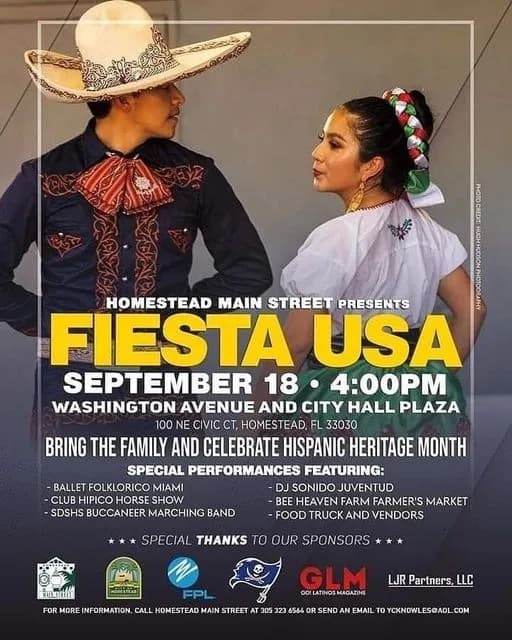 Where: Homestead City Hall Plaza, 100 NE Civic Court
When: 4 p.m. Saturday, Sept. 18, 2021
Free
In celebration of Hispanic heritage, the organization known as Homestead Main Street Inc. is hosting Fiesta USA. The special event will include: Performance by Ballet Folklorico of Miami, music by DJ Sonido Juventud, a Club Hipico Horse Show, Bee Heaven Farm Farmers Market, plus vendors and international food trucks.
Where: MAPS Backlot, 342 NW 24 St.
When: 8-11 p.m. Tuesday, Sept. 21, 2021
Free
The party will bring together the best of Miami's Hispanic talent, voices, and businesses. Buchanan's is inviting you to the celebration to enjoy complimentary Buchanan cocktails, curated selection of local food and craft vendors, live music by your favorite leading Latin artists, and colorful and cultural art installations.
Where: North Miami Beach Library and Senator Gwen Margolis Amphitheater, 16501 NE 16th Ave.
When: 6-9:30 p.m. Saturday, Sept. 25, 2021
Free
Grammy Award winner Tony Succar is headlining the City of North Miami Beach's Hispanic Heritage Month Concert on Saturday, Sept. 25. Enjoy the tunes – plus Latin foods and drinks.
Where: The ARC (The Arts and Recreation Center), 675 Ali Baba Ave., Opa-locka
When: 5-8 p.m. Saturday, Sept. 25, 2021
Free
Celebrate Hispanic Heritage Month with Arsht on the Road as they feature a musical pop-up by MonteroS, Casting Shadows | Framing Histories exhibition, and LatinX art by artists Yanira Collado, Gonzalo Fuenmayor, and Eduardo Roca "Choco" Salazar. There will be plenty of interactive elements for children to enjoy! Light refreshments and beverages will be served.
Where: Collins Park, 2100 Collins Ave., Miami Beach
When: 4-7 p.m. Sunday, September 26, 2021
Free
You can't celebrate Hispanic Heritage Month without a nod to Cuban culture. Enjoy a salsa Lesson with Fitness by Fernando followed by a DJ set by DJ Leo before Los Tres De La Habana take the stage for the main act.
Where: Miami Children's Museum, 980 MacArthur Causeway
When: Sept. 1-30, 2021
General admission is $22. Florida residents pay $15.
Kids can stop by the Art Studio to create 3-D Peruvian art, participate in a Tallest Tower Challenge while learning about Hispanic architects, and listen to stories by Hispanic authors. You also can click on Museum at Home to enjoy video storytellings by Hispanic authors and cooking demonstrations.
Miami Dade College is offering several events throughout the last days of September all the way through the end of October. Many are free. Take a look at the website for more details.
This is just a small sampling of all the events:
Oct. 6 – Festival de Musica Hispana, noon, Hialeah Campus, Student Services Common Area, 1780 W 49th St.
Oct. 14 – Se Habla Funny Improv Show by Society Circus Players, 8 p.m., West Campus, 3800 NW 115th Ave., Doral
Oct. 26 – "An Afternoon with Richard Blanco: An Inaugural Poet's Journey," 1 p.m., Homestead Campus, 500 College Terrace
Where: The Havana Collection, 1451 SW Eighth St.
When: 6-9 p.m. Friday, Oct. 1, 2021
Free
Calle Ocho will be celebrating community milestones made possible by local artists and business owners. With so much history, it's only natural that the event takes place in the Hispanic cultural hub of Calle Ocho.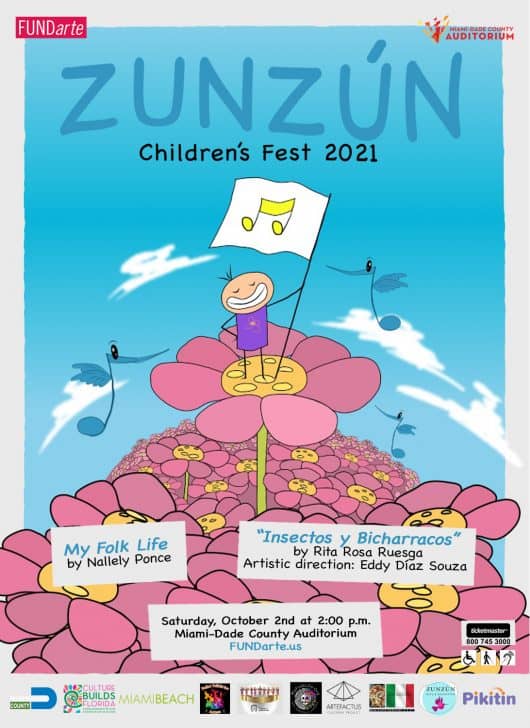 Where: Miami-Dade County Auditorium, 2901 W. Flagler St.
When: 2-4 p.m. Saturday, Oct. 2, 2021
$5
The seventh edition of ZunZún Children's Fest will be showing a double bill festival featuring a Traditional Regional Mexican Dance and Mariachi Live Band in a show called "My Folk Life" by Nallely Ponce and a Musical Theatre play called "Insectos y Bicharracos," produced by Rita Rosa Ruesga.
Where: Live on national television
When: 8-10 p.m. Saturday, Oct. 2, 2021
Free
Sit back and relax in the comfort of your home as you watch an amazing lineup of Latin music stars and up-and-coming artists. The show will be hosted by Natti Natasha and headlined by J Alvarez. Other highlights will include Latin culinary and mixology tips, a fashion show, and a few surprises. The show will be availabel via ME TV Network, VivaLive TV, Tarima TV Network, Bronx Net, MEGA TV Miami, Maria Marin Live, and the "Bean & Chisme" show.
Thanks to the City of Miami Beach Hispanic Affairs Committee and the Rhythm Foundation, this show will also be broadcast at the North Beach Bandshell, on 73rd and Collins Avenue in Miami Beach, from 8-10 pm on Saturday, Oct. 2. Admission to the bandshell is free, but RSVP is requested at Northbeachbandshell.com.
Where: Multiple locations, including Dezerland Park
When: Oct. 1-15, 2021
Prices vary: From free admission up to $40
This Hispanic LGBTQ Pride Festival will feature diverse events on different dates and in different locations. Celebrate ORGULLO will include Art Diva Bus Tours, Diva Arcade Wars, an interpretive performance by drag artist Willaim Dorsey Swann and more! View the complete lineup of events here.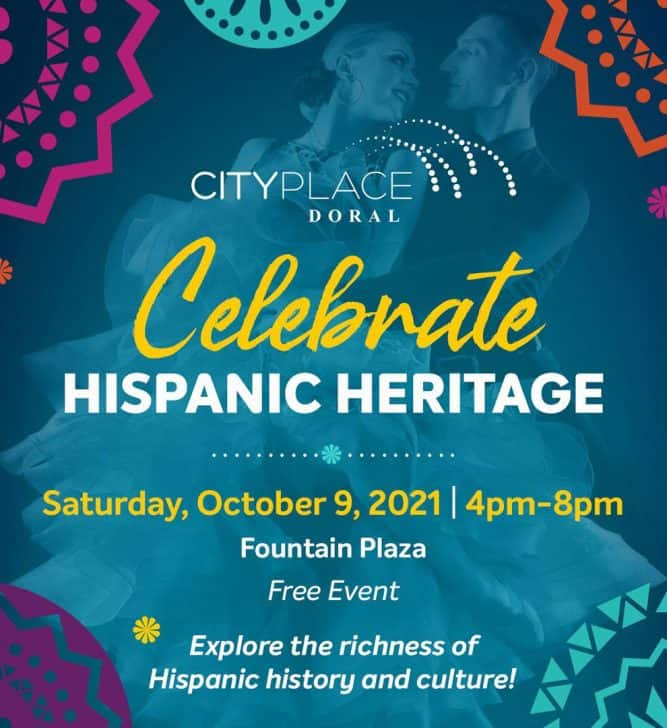 Where: Fountain Plaza at CityPlace Doral, at 8300 NW 36th St.
When: 4-8 p.m. Saturday, Oct. 9, 2021
Free
CityPlace Doral invites you to "celebrar" Hispanic history and culture with myriad activities programmed at the Fountain Plaza. The free Saturday event will feature dance and folkloric performances commemorating the history and contributions of Argentina, Brazil, Colombia, Mexico, Nicaragua, Puerto Rico and Venezuela. Also scheduled: a live musical performance by Felipe Molinares, beer samples, giveaways, and the chance to win a prize package from Veza Sur Brewing Co.
Where: Virtual
When: 12-4 p.m. Friday, Oct. 15, 2021
Free
Take part in the largest virtual gathering of Latinx influencers, content creators, and innovators. The event is taking place both virtually and in-person from Los Angeles and Miami as we celebrate Hispanic Heritage Month.
Where: Domino Plaza Stage, Southwest 15th Avenue and Eighth Street, Little Havana
When: Oct. 15, 2021
Free
Viernes Culturales (Cultural Fridays) is a South Florida tradition. This free arts and music festival has typically taken place on the third Friday of each month on Calle Ocho, in the heart of Little Havana. And this month is no different.
You can look forward to Friday, Oct. 15, 2021, when singer Omar Sicilia is expected to perform at the Domino Plaza Stage, in celebration of Hispanic Heritage Month.
Where: The Patricia & Phillip Frost Art Museum FIU, 10975 SW 17th St.
When: 11:30 a.m.-3 p.m. Saturday, Oct. 30, 2021
Ticket prices coming soon
Celebrate Hispanic Heritage Month with Mexican artist Pepe Mar at the Frost Art Museum and create your own mythical Alebrije! Not sure what "alebrijes" are? They are imaginary creatures that have elements from different animals and are colorfully painted.
Got a Hispanic Heritage event to submit? Click here.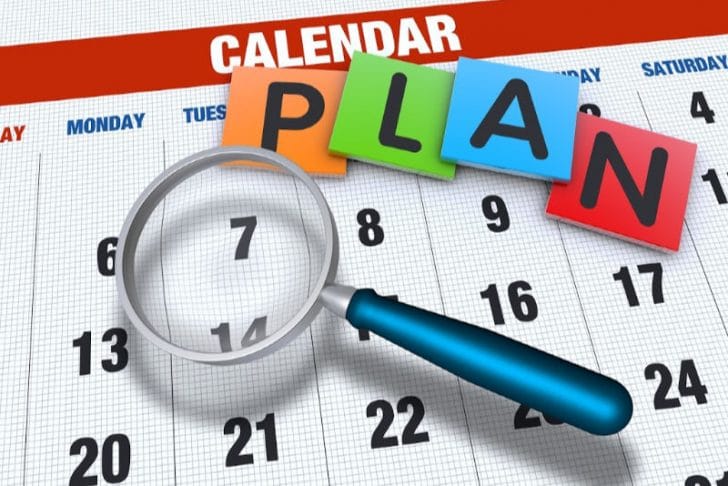 Miami 2021 events: A month-by-month guide
Yes, many plans changed in 2020 … with vacations and shows and festivals canceled throughout Miami, South Florida and the world. However, the New Year brought with it hope of brighter and better times ahead. Car shows, art festivals and more have been scheduled for 2021.
We've compiled a month-by-month roundup of events in our area. Keep in mind that some events may be virtual. Others may follow strict safety protocols. You'll want to get all the details and decide which options are best for you and your family. Click here for a handy guide!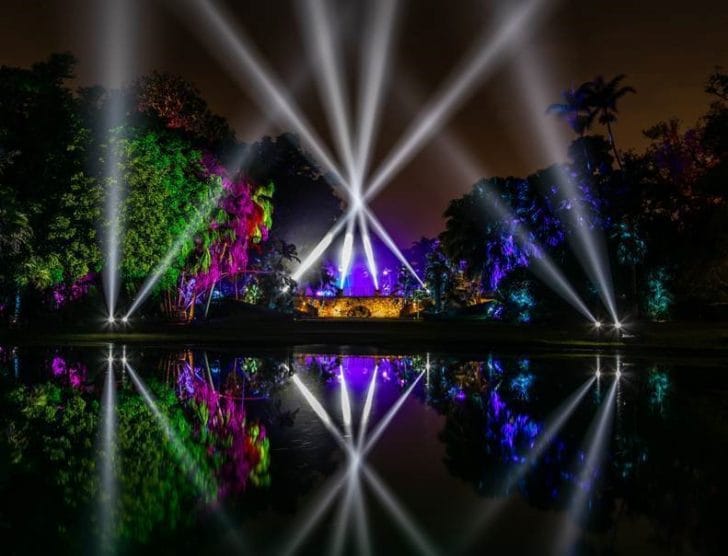 Popular Miami events canceled for 2020-2021
The past year brought many firsts and never-before-seens, including the cancellation of some of our favorite events, including Santa's Enchanted Forest, Coral Gables Festival of the Arts, Coconut Grove Arts Festival, Florida Renaissance Festival and more.
We've compiled a roundup of canceled events, so you can see if your favorite festivals will take place or not. Many will have to wait for now, but hopefully they'll be back soon! Click here to see which ones have been affected for the 2020-2021 season.
Entertainment calendar