Jacksonville provides a multitude of free or cheap activities to keep anyone busy – you just have to know where to look. If you're hunting for something to beat your boredom and don't want to break the bank, check out the list below to find many places right here on the First Coast that offer affordable and free entertainment for you and your family.
Budweiser offers FREE tours of its Jacksonville brewery to visitors of all ages. Those who are 21 and older receive a FREE beer sample at the tour entrance, as well as FREE samples in the Tap Room at the conclusion of the tour. Take this self-guided tour to learn the history of Anheuser-Busch, as well as the process of brewing beer. The Budweiser Brewery opens from 10 a.m. to 4 p.m. every day, except Wednesdays. It is located at 111 Busch Drive.
The Jacksonville-Baldwin Rail-Trail is a pristine, paved nature trail running almost 15 miles between Jacksonville and Baldwin. Starting at the Imeson Road trailhead, you can bike, jog or even ride a horse to the midpoint of the trail, a Civil War historic preserve. This FREE location is accessible seven days a week, 365 days a year. Get the trail guide, and spend the day outdoors.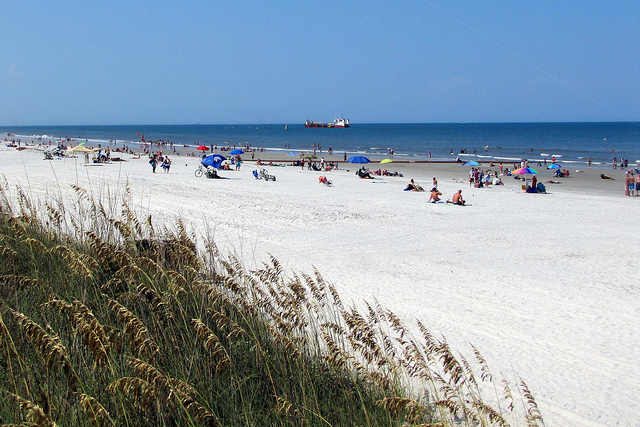 Little Talbot Island State Park is a quiet destination for those deserving some rest and relaxation. At only $5 per vehicle, you can pick a spot along the park's five miles of beach to work on your tan or build a sand castle with the kids. If you want a more active day, the park offers ideal locations for fishing, kayaking and surfing. For those who prefer to stay dry, you can utilize the trails for biking or hiking. This park is open 8 a.m. to sundown daily. Little Talbot Island State Park is located at 12157 Heckscher Drive.
Boneyard Beach at Big Talbot Island State Park boasts a haunting collection of fallen live oak and cedar trees. Beach erosion and salt-washing from the ocean helped these trees create the look of bones strewn about. This park is an ideal location for nature study, bird watching and photography. The entrance fee is only $3 per vehicle, and the park is open from 8 a.m. to sundown daily. Big Talbot Island State Park is located at State Road A1A North, immediately north of Little Talbot Island State Park.
Kingsley Plantation provides a look into a piece of Northeast Florida history in the Old South. Admission is FREE to explore the kitchen house, slave quarters, barn and gardens. Enjoy the self-guided audio tour, and on weekends join a FREE tour of the plantation house as well. Reserve your spot for the weekend tour in advance, by calling 904-251-3537. Kingsley Plantation is open 9 a.m. to 5 p.m. daily. It is located at 11676 Palmetto Avenue.
Hanna Park Beach & Splash Park is a great bang for your buck – especially if you are searching for whole-family destinations. The entrance fee is a minimal $5 per vehicle, which gives you access to so much. Not only does Hanna Park provide beautiful beaches for swimming and surfing, it is also home to a 60-acre lake. Family members enjoy fishing, kayaking and paddleboats. Biking and hiking trails abound, as well as picnic areas. For the younger children in your group, this location provides a FREE splash park as well. Everyone is sure to find something that interests them at this park,which is open from 6 a.m. to 8 p.m. Monday through Friday, and 7 a.m. to 8 p.m. on weekends. Hanna Park Beach & Splash Park is located at 500 Wonderwood Drive.
Tree Hill Nature Center provides three hiking trails and loads of hands-on fun for everyone. This cheap location offers a butterfly house, a hands-on children's museum and numerous roaming animals such as goats, chickens, turtles, snakes and alligators. Admission is $5 for adults and $3 for children. Tree Hill is open from 8 a.m. to 4:40 p.m., Monday through Saturday. It is located at 7152 Lone Star Road.
Celestial Farms provides tours of their many gardens for FREE to the public, although donations are appreciated. This organization educates others on how to grow and maintain healthy gardens. It offers a community garden as well as a children's play garden. You can find several types of animals on the farm, such as rabbits, chickens, goats, horses and more. Tours occur from 9 a.m. to 3:30 p.m. on Saturdays. Celestial Farms is located at 13958 Duval Road.
The Jacksonville Skyway is an automated monorail provided for FREE by the Jacksonville Transportation Authority. With several stations on both sides of the river, the Skyway is a cheap option for transportation downtown. The train makes stops every three to six minutes and operates from 6 a.m. to 9 p.m on weekdays. Click here for extended hours.
Sally Corp Robot Tours offers a unique experience for everyone. These FREE tours take you behind the scenes into the creation of animatronics. At Sally Corp you will see how robots are made – you may even interact with a few. The tour shows guests how the company uses animatronics in theme park rides, such as those at Disney and Universal Studios. FREE tours are offered from 9 a.m. to 1 p.m. on Tuesdays and Thursdays to anyone 7 years old and older. Make your reservation by calling 904-355-7100 or clicking here. Sally Corp is located at 745 W Forsyth Street.