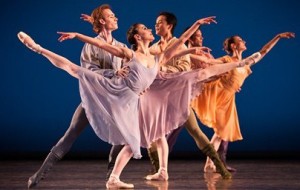 You can get discount tickets to Miami City Ballet's "Broadway and Ballet," featuring a guest appearance by former baseball All-Star Mike Piazza, for 50% off.
The TravelZoo deal is for performances May 3-5 at the Adrienne Arsht Center. (Piazza appears Friday night only.)
These deals are available for the 8 p.m. performances Friday, May 3, and Saturday, May 4, and the 2 p.m. performance Sunday, May 5:
Tiers 3 & 4 (regularly $35 to $65): discount price of. $17.50 to $32.50.
Tier 2 (regularly $65 to $95): discount price of $32.50 to $47.50.
Orchestra & Tier 1 (regularly $95): discount price of $47.50.
Premium Front Orchestra & Tier 1 (regularly $175): discount price of $87.50.
There is a service fee of $5 per order. To get the deal for 50% off the Miami City Ballet, follow the instructions here.
Here's the information about the program:
'Slaughter on Tenth Avenue' is considered a classic piece in Miami City Ballet's repertoire, but with gangsters, strippers, an attempted murder plot and even some tap dancing worked in, it's anything but traditional. Taken from the Balanchine-choreographed Broadway musical 'On Your Toes' and made into a full, standalone ballet in the 1960s, it's more fabulous on every viewing, says The New York Times. Piazza will play a gangster. Robbins' 'Dances at a Gathering,' another favorite for the company, is set to the music of Chopin.
This deal is good through May 1 or until it sells out, whichever comes first.
The Adrienne Arsht Center is at 1300 Biscayne Blvd., Miami, FL 33132.
Tell Your Friends