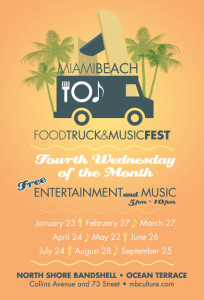 The Miami Beach Food Truck & Music Fest takes place the last Wednesday of every month at Northshore Bandshell-Ocean Terrace.
The food and music fest features mobile food trucks, free entertainment and participation by area restaurants from 5 p.m. to 10 p.m.
The food truck lineup includes the following: Ms Cheezious, Latin Burger, Sakaya, Catered Bliss, Health Nut, Garcia Brothers, Arepa Box, Gastropod, The Mexican, Moty's, Mushaboom, Dolci Pecati, Sugar Yummy, Boba Station, Fireman Derrick, Hip Pop and Coffee Break.  They will be offering varied menus from burgers to healthy bites and to their popular dishes.
Participating Local Restaurants include Lou's Beer Garden, Sazon, El Tumi De Oro and Mixtura. Food trucks and restaurants are subject to change.
For more information, visit www.mbculture.com.
Upcoming Events:
May 22
June 26
July 24
August 28
September 25
Leave a Reply