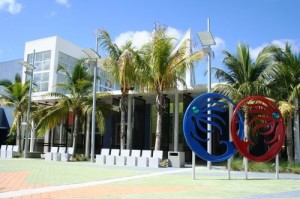 The holiday performances aren't over yet so carve out some time for the Delou Africa Kwanzaa concert and program on Sunday, Dec. 29, from 4 to 7:45 p.m. at the Little Haiti Cultural Center, 212 NE 59th Terr. Admission is free with the donation of two canned or non-perishable food items or fresh fruits and vegetables the day of the event.
The festivities begin with a traditional Kwanzaa ceremony, a concert featuring several adult and youth performance groups, including Urgent Inc's Youth Production Group, Delou's Youth Program, Chief Styles and the Orsundara Yoruba Dance Theater, Delou Africa Dance Ensemble, Prince Emmanuel Abiodun Aderele, Ibrahima Dioubate, Nantambu Abdul-Ahota, Shandella Johnson, The Power of Color, Mrs. Shamele Jenkins, Nzingah Oniwosan, The Haiti Fellaz and 0ther guest artists.
A Kwanzaa book giveaway, keynote address on Ujamaa – Cooperative Economics by Florida State Senator Dwight Bullard-39th District and Kwanzaa artistic design display by the second grade class at Broadmoor Elementary School round out the event.
For more event information call 305-978-3866.