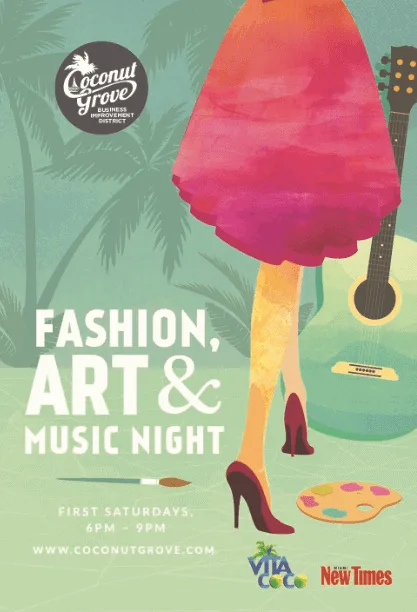 Get your fill of cultural fun during F.A.M. (Fashion Arts Music) night on the first Saturday of the month from October through April in Coconut Grove along Grand Avenue, Commodore Plaza, Main Highway and Fuller Street from 6-9 p.m.
Entertainment on April 7, the last event of the season, includes:
American Darling
Coconut Grove Arts Festival Gallery
7-10 pm
R.C. Bailey
Allie & Chica
6-9 pm
Gu Fidelis
Atchana's Homegrown Thai
6-9 pm
Mario Vuksanovic
The Spillover
6-9 pm
Three Sheets to the Wind
The Grove Spot
6-9 pm
Tarot by Nicky (Ninoska Prince)
Ramona La Rue
6-9 pm
In addition to the Gallery Art Walk, F.A.M. Night affords visitors entertainment and shopping, with more than 20 boutiques, art galleries and musicians participating.
Call 305-461-5506 for information.