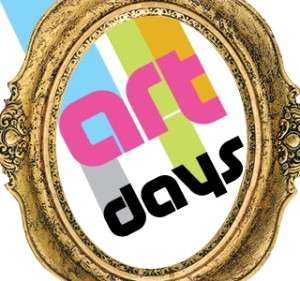 The Miami Downtown Development Authority and dozens of artists and cultural organizations are joining forces this weekend to present DWNTWN Art Days, three days of mostly free celebrations of art and culture from Friday, Sept. 20, through Sunday, Sept. 22. More than 125 separate events are planned in and around downtown Miami.
Artist Thom Wheeler will conduct a series of free walking tours of some of downtown's most interesting galleries and spaces. Car2Go will sponsor a tour by car, and Beached Miami and Deco Bike will host bicycle tours (RSVP required here). The Miami Trolley also will run between events.
Most DWNTWN Art Days events are free, though a few have an admission charge. You can download a schedule here. Events will take place at venues stretching from Temple Israel, 137 NE 19th St., south to Mary Brickell Village, 900 S. Miami Ave.
These are some of the DWNTWN Art Days events:
Miami Children's Museum: "Now Read This" Stories through Drama and Design, Sept. 20-22 from 10 a.m. to 6 p.m.
PAMM: "Discussing the Architecture of the Perez Art Museum Miami presented by AIA and PAMM", Friday, Sept. 20 at 6 p.m.
Freedom Tower: "Activate: MDCulture", Friday, Sept., 20 from 6-9 p.m.
McCormick Place: "2nd Annual Art Days Fair @ McCormick Place,"Friday, Sept. 20 from 6 p.m. to midnight.
Dimensions Variable: "Psychogeography Opening Reception," Friday, Sept. 20 from 6 to 10 p.m.
Wine by the Bay: "September's Storm" – A California Wine Tasting and Cultural Event, Sept. 20-21 at 7 p.m.
The Vagabond: "DWNTWN Art Days I – Launch Party" Friday, Sept. 20 at 10 p.m.
PAMM: "PAMM Family Art Making," Saturday, Sept. 21 from noon to 3 p.m.
Bayfront Park: "National Redbull Flugtag," Saturday, Sept. 21 from noon to 5 pm.
CIFO: "Water-Balloon Kickball, Round Two / Cannonball vs. CIFO," Saturday, Sept. 21 from 1 to 4 p.m.
Olympic Theater at the Gusman Center: "Miami Lyric Opera: Cavalleria Rusticana and Suor Angelica," Saturday, Sept. 21.
The Vagabond: "DWNTWN Art Days II – After-Party," Saturday, September 21 at 10 p.m.
The event also will include "The Fringe," temporary public artworks around downtown curated by Amanda Sanfilippo.
The best place to start will be the hub at Grand Central Park at Miami Worldcenter,700 N. Miami Ave., where you can park, get information, design your own T-shirt and plot out your route via the Art Days trolley, Metromover, bike or Car2Go. The Hub will be open 9 a.m. to 6 p.m. all three days.