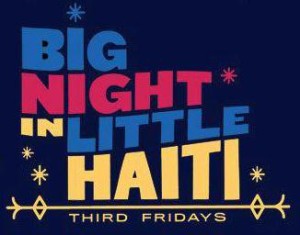 Big Night in Little Haiti takes place on the third Friday of the month, with children's activities as well as artists, arts and crafts and food vendors from 6 p.m. to 10 p.m. Free admission and free parking.
Entertainment on Friday, Feb. 21, will be by singer Alan Cavé, known for his work as lead singer with Zin. At this concert, he is performing with his own band. Tradisyon Lakou Lakay, Little Haiti Cultural Center's resident percussion and dance ensemble, will be the opening act.
DJ Mack of Mizikpam.com will play between sets.
The gallery will feature Global Caribbean V, an Art Basel-sanctioned exhibition presented by the Haitian Cultural Arts Alliance. Hands-on art activities for kids are sponsored by Positive Impact Foundation/Kose Famn and the Bass Museum of Art.
There's free secured parking for the event at the Little Haiti Cultural Center, 212 NE 59 Terrace; find a detailed schedule here.