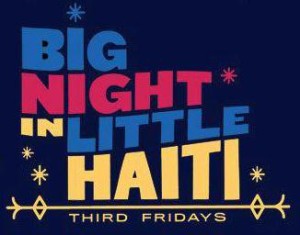 Big Night in Little Haiti takes place on the third Friday of the month, with children's activities as well as artists, arts and crafts and food vendors from 6 p.m. to 10 p.m. There is free admission and free parking.
The Aug. 15 event will feature two headliners:
Shleu Shleu Miami All Stars, with "Kompa Direk," the classic dance music of Haiti.  They are among the longest running groups in the history of kompa.
Ayabonmbe, an eight-member rasin (roots) music and dance group based in Haiti.
Haitian cuisine will be offered by Leela's Lakay, with Prestige Beer and Clairin Rum from Haiti at the bar.
The gallery will feature the Guantanamo Bay Memory Project.
The hands-on art activities for kids will be sponsored by Positive Impact Foundation/Kose Famn and the Bass Museum of Art.
After the event, there will be an after-party at 7th Circuit, 228 NE 59th St, Miami, FL 33137, with the Moksha Roots Allstars and special guests.
There's free secured parking for the event at the Little Haiti Cultural Center, 212 NE 59 Terrace; find a detailed schedule here.