In South Florida and other parts of the Sunshine State, farms are selling produce to the public.
The Florida Fruit & Vegetable Association offers a list of participating farms. But before shopping, the site suggests verifying supply availability, preferably on the Facebook page of the farm you are interested in, or phoning. Get more details online.
Additionally, the Florida Department of Agriculture site has added a "Florida Farm to You" section where you can search for farm-fresh items, including milk and seafood. Call 800-HELP-FLA for more information.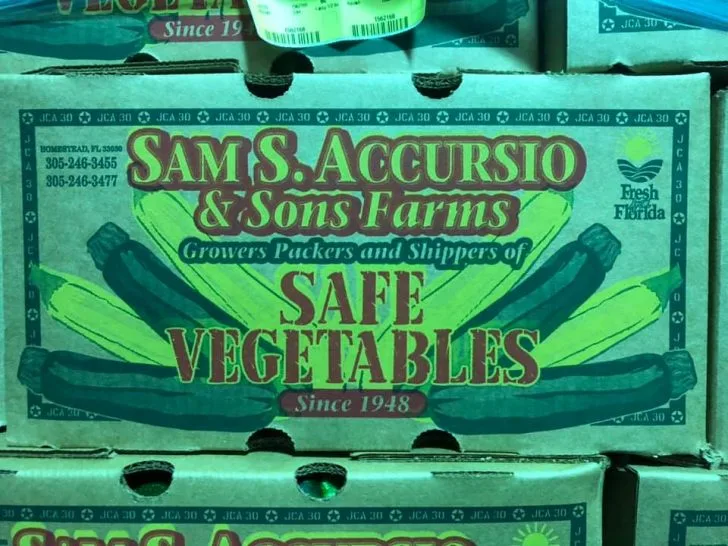 MIAMI-DADE
Bee Heaven Farm, 19000 SW 264th St., Redland; 305-247-8650
2 p.m. to 6 p.m. Fridays
Organic fruits, vegetables, herbs, edible flowers, eggs & honey
Please check the Facebook page for updates.
Richard Lyons Nursery, 20200 SW 134th Ave., Miami; 305-252-6293
Mondays, Tuesdays, Thursdays, Saturdays & Sundays: 8 a.m. to 4:30 p.m.
Selling fruit and fruit trees, like Sapodilla , Star Apple (caimito), Jakfruit, Carambola, Wax Jambu and many other varieties
Please check Facebook page for updates
Sam S. Accursio & Sons Farm, 1225 NW Second St., Homestead
April 11, 6 a.m. to 9 a.m.
Blueberries, yellow squash, zucchini, pickling cucumbers, tomatoes, green beans (cash only)
Please use Facebook page for updates
Keez Beez Farm, 15900 SW 242nd St., Miami; 305-798-7633
By appointment
Fresh magaga mamey honey
Please use website page for information
BROWARD
Harpke Family Farm, 2781 SW 36th St., Dania Beach
Mondays to Saturdays 10 a.m. – 6 p.m.
Lettuce, microgreens, tomatoes, honey, eggs and juice
Order on website and pickup next day; use Facebook page for updates
PALM BEACH COUNTY
Mobile Green Markets
, 9677 Clint Moore Road, Boca Raton; 561-886-8668
Tuesdays to Sundays 9 a.m. to 5 p.m.; drive-through, cash only
$10 prepackaged assorted veggie boxes
Please check the
Facebook page
for updates
Branch – A Family of Farms, 330 US-27 South Bay; 561-996-0335
10 a.m. to 4 p.m. most days
Bulk corn, beans, cabbage and leaf items
Family Essential Box for $12 includes 12 ears of corn, 5 lbs. snipped beans and 2 heads of cabbage
Swank Specialty Produce, 14311 North Road, Loxahatchee; 561-202-5648
Mondays to Fridays, noon to 7 p.m.
Swank Sack for $60 with 2 lettuce mixes, 2 cooking greens, tomatoes, strawberries, and additional seasonal vegetables
Reserve a swank sack by emailing prores1@aol.com; use Facebook page for updates
Alderman Farms, 9005 W. Boynton Beach Blvd., Boynton Beach; 561-364-7002
8 a.m. to 5 p.m. for drive-through or delivery
Organic and conventionally grown vegetables and herbs including green beans, eggplant, bell peppers, corn, squash, tomatoes, cilantro, basil, parsley, dill and mint
Order on the website; use Facebook page for updates
Farmhouse Tomatoes Inc., 1001 Okeechobee Road, West Palm Beach; 561-718-4733
April 1 to June 1, 10 a.m. to 3 p.m.
10-pound box of greenhouse-grown authentic family beefsteak heirloom tomato varieties
Visit website for more information
Bedner's Farm Fresh Market, 10066 Lee Road, Boynton Beach; 561-733-5490
Sales hours: every day 9 a.m. until sellout
What's for sale: varies each day – mixed box of colorful produce
Please use Facebook page or website for updates
Oli's Fashion Cuisine using local farm vegetables, 10610 Forest Hill Blvd., #20, Wellington; 561-792-2220
April 9-11, 10 a.m. to 6 p.m.
Varies, mixed box vegetables and fruit
parking lot curbside pickup
Please use Facebook page for updates and for information on future sales
Wilkinson-Cooper Produce, 701 NW 12th St., Belle Glade; 561-996-6537
8 a.m. to 8 p.m.
Sweet corn, celery, eggplant, pepper, cabbage, radishes, and beans
For more information, go to website.
Pioneer Growers, 227 NW Avenue L, Belle Glade; 561-996-2020
Every day 9 a.m. – 5 p.m.
48 ct. corn, 30 lb. green beans, 16-18 ct. radishes and green, red, and savoy cabbage Please use Facebook page for updates
Mecca Family Farms, 7965 Lantana Road, Lake Worth; 561-718-5381
Mondays to Saturdays 8 a.m. to 3 p.m.
Locally grown vegetables at $10 a box containing 20-25 pounds of mixed vegetables or mixed fruit, depending on what is fresh that day.
Please use Facebook page for updates
Erneston and Sons Produce, 7965 Lantana Road, Lake Worth; 561-832-2446
Mondays to Saturdays 7 a.m. to 2 p.m.
$10 a bag: "Salad Bag" may include chopped romaine lettuce, cucumbers, red, green and yellow peppers, red onions and tomatoes. "Veggie Bag" may include onions, squash, zucchini, carrots, green beans and asparagus. "Fruit Bag" may red and golden apples, oranges, strawberries, lemons, limes, pineapples and bananas
Please check the Facebook page for updates
Yee Farms, 9851 W. Boynton Beach Blvd., Boynton Beach; 561-732-0162
Mondays to Fridays 9 a.m. to 5 p.m.
$15 veggie box of a variety of Asian vegetables: napa cabbage, bok choy, kohlrabi and more. Cash only.
Please use Facebook page for updates
J & J Family of Farms, 4003 Seminole Pratt Whitney Road, Westlake; 561-422-9777
Mondays to Fridays, 9 a.m. – 4 p.m.
$10 produce variety boxes. Squash, cucumbers, beans, corn and more while supplies last. Contents may vary, subject to availability.
Please use Instagram page for updates
OTHER FOOD RESOURCES:
More Food Resources: