Trick or treating, costumes, candy and plenty of ghosts and goblins must mean we're talking about Halloween!
Oct. 31 might be the actual holiday but there are plenty of events leading up to the big night and we've got them rounded up for you right here.
NOTE: We are constantly updating this list, so scroll down and check back often!
HALLOWEEN 2022 IN MIAMI
Sept. 23-Oct. 23, 2022
Horroland Scream Park
Jungle Island, 1111 Parrot Jungle Trail, Miami
Wed.-Fri. and Sunday 7-11 p.m.; Sat. 7 p.m. to midnight
$38.99-$68.99, discounts available
The park includes 15 haunted attractions, outdoor scares zones, sinister carnival games, a horror art exhibition, fear gift shop, creepy beer garden, coffin bar, macabre food village and a circus show featuring The Vampire Circus.
Sept. 29-Oct. 31, 2022
House of Horror Haunted Carnival
Miami International Mall, 1625 NW 107 Ave., Doral
Tues.-Thurs. 6-11 p.m.; Friday-Sunday 5:30 p.m. to midnight; closed Mondays except Oct. 31.
$20-$30 on weekdays, discounts available
Four unique haunted experiences in an abandoned mall including "Drown Town," "Silent Mall," "Insanitorium" and "Scare X Studios" plus carnival rides and games.
Oct. 13, 20 & 27
Historic Ghost Tour
Deering Estate, 16701 SW 72 Ave.
7:30-9:30 p.m.
$40
Take a guided tour of the historic house and learn about its ghostly past including recorded paranormal activity, historic events and past inhabitants.
Oct. 13-16; 21-23 & 28-31
Haunted House – Cortez Manor The Revenge
Curtiss Mansion, 500 Deer Run, Miami Springs
Oct. 13 8-10 p.m.; Oct. 13-16; Oct. 21-23 & Oct. 28-30 7:30-11 p.m.; Oct. 31 7:30-10 p.m.
$10-$15
A haunted house that tells the story of Dr. Alfred Cortez and his sinister sanitarium The Cortez Manor and his enraged botanist wife Ofelia.
Oct. 22
Halloween Half Marathon and Freaky 4-Miler
South Pointe Park, 1 Washington Ave., Miami Beach
6:30 a.m.
Registration fee starts at $35
The Halloween Half Marathon and Freaky 4-Miler is a great way to work off the week's Halloween candy before getting to the real festivities at night. Come decked out in full costume – and be ready to sweat it off – while running a half-marathon or an easier 4-mile run for those who want to jump right into the Halloween fun.
Oct. 28
Track or Treat
Evelyn Greer Park, 8200 SW 124th St., Pinecrest
5-9 p.m.
Free
The Pinecrest Parks and Recreation Department, along with local businesses, will present an evening of trick or treating and a screening of "Casper" at 7:30 p.m. Bounce houses, photo opps, music, and more will be available for all ghosts, goblins and witches to enjoy!
Oct. 29
Frost Science 6th Annual Spooky Science Monster Mash
Phillip and Patricia Frost Museum of Science, 1101 Biscayne Blvd., Miami
11 a.m.-4 p.m.
Included with regular admission
Want to give yourselves goosebumps then understand the science behind them? Then don your most creative costume and join this safe and unique spin on Halloween with eye-catching and eerie hands-on scientific experiments.
Hallowave Fun Fest
Española Way East, 1445 Washington Ave., Miami Beach
3 p.m.-Midnight
Free
A family fun fest on the night of Halloween where kids can meet their favorite superhero and trick-or-treat along the 1.5 mile stretch of Washington Ave. For pet parents, enter a costume contest to win a prize for the best costume! There will be live music, Food Trucks, a dunk tank, and so much more.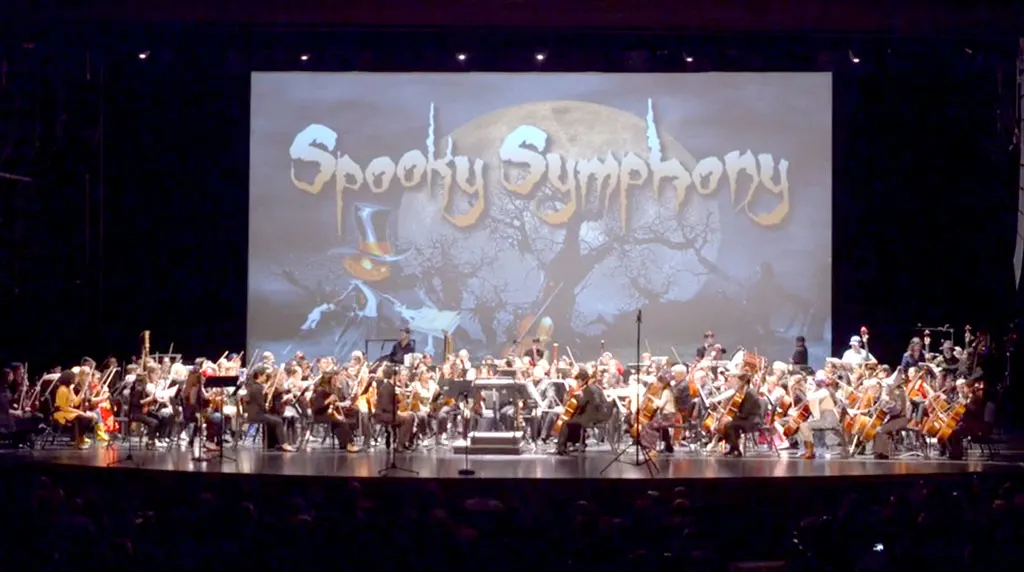 Oct. 30
Spooky Symphony
Miami-Dade County Auditorium, 2901 West Flagler St., Miami
4-5 p.m.
Free but tickets required
Spooky Symphony is a one-hour free performance for families and children to enjoy movie themes from the Superman, Batman, Star Wars and Pirates of the Caribbean sagas, and dramatic classical showpieces with eerie themes.
Got a Halloween event to list here? Submit here.
More free and cheap Halloween events