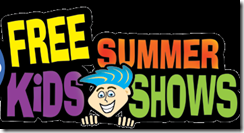 Cobb Theatres are showing free kids' movies this summer at 10 a.m. every Tuesday, Wednesday and Thursday. Doors open at 9:30 a.m., and many of the theaters fill quickly with summer campers, so arrive early if you want a seat.
The 2013 season runs June 11-Aug. 1.
The free films will be at three Miami-Dade theaters:
The schedule varies by theater, so click through to find out which movie is playing when at your favorite cinema.
If these theaters aren't convenient, check out the $1 Summer Film Express at Regal theaters.