All aboard! The Gold Coast Railroad Museum offers free admission on the first Saturday of every month, so get the family or friends together and head on out!
The museum, at 12450 SW 152nd St. (next to Zoo Miami) houses historic trains as well as a number of interactive displays. Hours are 10 a.m. to 4 p.m. Mondays, Wednesdays and Fridays, and 11 a.m. to 4 p.m. Saturdays.
Admission typically is $10 for adults, $8 for children age 3-12, free for children younger than 2 and military. Seniors age 55 and older pay $5 year-round.
However, there are other discounts available, so see if you're eligible: The museum offers a buy-one-get-one deal if you're a Miami-Dade County employee, a teacher, a WLRN/WPBT member, or a Zoo Miami member. You'll need to show some form of identification. You can also enjoy a BOGO if you bring your zoo tickets or have AAA.
The cost to ride a train ranges from $3 to $15 per ticket. It's great for any train enthusiast, Thomas the Train lover or young kids. The food is reasonably priced (Frankie's pizza food truck!) and there are plenty of trains to explore.
For more information, call 305-253-0063 or visit gcrm.org.
If you're looking for other ways to visit museums free of charge, check out our list of free museum days in South Florida.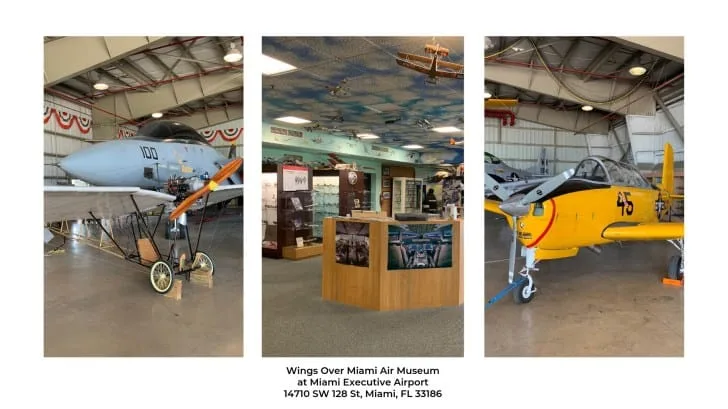 Miami also has a planes museum
If airplanes are more your thing, we have the perfect museum for you!
Let your spirits soar at the Wings Over Miami Air Museum. Located at Miami Executive Airport, the museum is open to the public and ready for action.
Hours are 10 a.m. to 5 p.m. Wednesdays through Sundays, but there's a 4:30 p.m. ticket cut-off time. Find all about prices and more by clicking here.
To keep up with latest news, sign up for the daily Miami on the Cheap newsletter. You can also follow us on Facebook, Twitter and Instagram.
Other free and cheap things to do
Monday, March 27, 2023
Tuesday, March 28, 2023
Wednesday, March 29, 2023
Thursday, March 30, 2023
Friday, March 31, 2023
Saturday, April 1, 2023
Sunday, April 2, 2023
Gold Coast Museum free first Saturday
When
All Day, Monthly on the 1st Saturday (starting September 4, 2021)
What
Gold Coast Museum free first Saturday
Where
Gold Coast Railroad Museum
Gold Coast Railroad Museum
12450 SW 152nd St.
Miami, FL 33177
(305) 253-0063