We may never have a white Christmas, unless the snow is fake, and chestnut roasting on an open fire are unlikely. But despite our tropical winter weather, or maybe because of it, South Florida goes all out for Christmas, Hanukkah, Kwanzaa and the winter holiday season.
Palm trees look great in holiday lights, as do zoos, entertainment complexes and, of course, homes in Miami-Dade, Broward and Palm Beach counties. We have boat parades as well as land parades, holiday concerts inside and outside, festivals, family fun, visits from Santa and even snow, though we know it is fake.
To help you enjoy the holiday season in South Florida, we have compiled a mega day-by-day list of all the free and cheap holidays events in South Florida. We also have found some discounts on more expensive holiday events.
If you are looking for county-specific information, we also have big lists of free and cheap holiday events in Miami-Dade, free and cheap holiday events in Broward and free and cheap holiday events in Palm Beach County.
And some of those events are worth traveling for!
If you know of a free or cheap event in South Florida, please submit the information, with all the details and a jpeg photo, by clicking here.
Be sure to check back often as we add to this listing regularly!
If you'd like to see your business or event featured prominently on this popular page, email ads@southfloridaonthecheap.com and ask about sponsorships. There is a limit of one sponsor per week, so get your reservation in soon.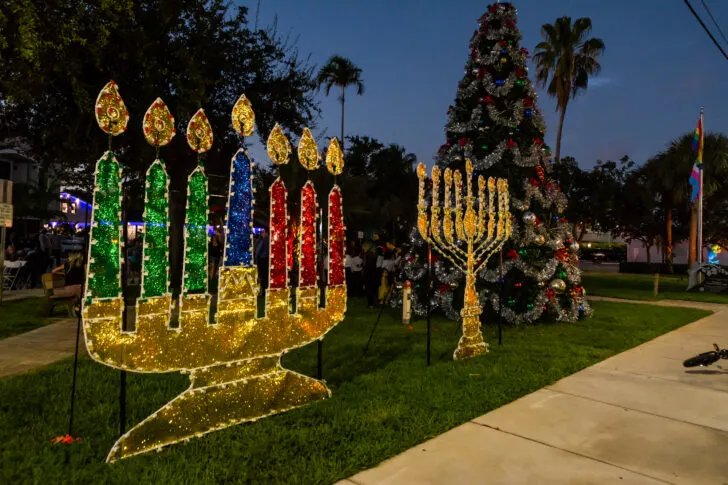 Looking for more free and cheap things to do?
Free and cheap holiday events in South Florida
Here's the day-by-day schedule of free and cheap holiday events in South Florida. Click on each link for more information:
Friday, December 1, 2023
Saturday, December 2, 2023
Sunday, December 3, 2023
Monday, December 4, 2023
Tuesday, December 5, 2023
Wednesday, December 6, 2023
Thursday, December 7, 2023
Friday, December 8, 2023
Saturday, December 9, 2023
Sunday, December 10, 2023
Monday, December 11, 2023
Tuesday, December 12, 2023
Wednesday, December 13, 2023
Thursday, December 14, 2023
Friday, December 15, 2023
Saturday, December 16, 2023
Sunday, December 17, 2023
Monday, December 18, 2023
Tuesday, December 19, 2023
Wednesday, December 20, 2023
Thursday, December 21, 2023
Friday, December 22, 2023
Saturday, December 23, 2023
Sunday, December 24, 2023
Monday, December 25, 2023
Tuesday, December 26, 2023
Wednesday, December 27, 2023
Thursday, December 28, 2023
Friday, December 29, 2023
Saturday, December 30, 2023
Sunday, December 31, 2023
Monday, January 1, 2024
Tuesday, January 2, 2024
Wednesday, January 3, 2024
Thursday, January 4, 2024
Friday, January 5, 2024
Saturday, January 6, 2024
Sunday, January 7, 2024
Monday, January 8, 2024
Tuesday, January 9, 2024
Wednesday, January 10, 2024
Thursday, January 11, 2024
Friday, January 12, 2024
Saturday, January 13, 2024
Sunday, January 14, 2024
Monday, January 15, 2024
Tuesday, January 16, 2024
Wednesday, January 17, 2024
Thursday, January 18, 2024
Friday, January 19, 2024
Saturday, January 20, 2024
Sunday, January 21, 2024
Monday, January 22, 2024
Tuesday, January 23, 2024
Wednesday, January 24, 2024
Thursday, January 25, 2024
Friday, January 26, 2024
Saturday, January 27, 2024
Sunday, January 28, 2024
Monday, January 29, 2024
Tuesday, January 30, 2024
Wednesday, January 31, 2024
Thursday, February 1, 2024
Friday, February 2, 2024
Saturday, February 3, 2024