This weekend the Boynton Beach Mall will host a Black Friday weekend craft fair featuring food and drink vendors, jewelry, handmade crafts, home decor, fashion, art, decorations, design, and more.
When: Friday, Nov. 24, 2023, from 8 a.m. to 7 p.m.; Saturday, Nov 25, from 10 a.m. to 9 p.m.; and Sunday, Nov. 26, from 10 a.m. to 6 p.m.
Cost of admission: Free
Now's your chance to find some unique and handcrafted items. For more details, see hometownvendormarket.com/fallcraft.
Also check out more discounts and steals in our post about more Thanksgiving & Black Friday deals in South Florida.
Plus, mark your calendar for the upcoming winter craft fair, Dec. 16-17.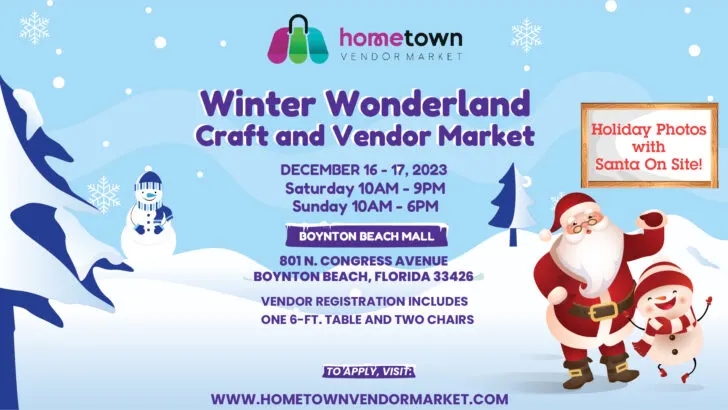 To keep up with the latest news, sign up for the South Florida on the Cheap newsletter. Follow on Facebook, Twitter and Instagram.
More free and inexpensive holiday events
Wednesday, November 29, 2023
Thursday, November 30, 2023
Friday, December 1, 2023
Saturday, December 2, 2023
Sunday, December 3, 2023
Monday, December 4, 2023
Tuesday, December 5, 2023
Wednesday, December 6, 2023
Thursday, December 7, 2023
Friday, December 8, 2023
Saturday, December 9, 2023
Sunday, December 10, 2023
Monday, December 11, 2023
Tuesday, December 12, 2023
Wednesday, December 13, 2023
Thursday, December 14, 2023
Friday, December 15, 2023
Saturday, December 16, 2023
Sunday, December 17, 2023
Monday, December 18, 2023
Tuesday, December 19, 2023
Wednesday, December 20, 2023
Thursday, December 21, 2023
Friday, December 22, 2023
Saturday, December 23, 2023
Sunday, December 24, 2023
Monday, December 25, 2023
Tuesday, December 26, 2023
Wednesday, December 27, 2023
Thursday, December 28, 2023