June 19, or Juneteenth, as it is known, is a day that recognizes the end of slavery and celebrates the culture and achievements of African-Americans.
It marks the day in 1865 when the Emancipation Proclamation – which had been issued more than two years earlier – was finally read to enslaved African-Americans in Texas. Many groups in Miami-Dade, Broward and Palm Beach counties are planning events to celebrate Juneteenth.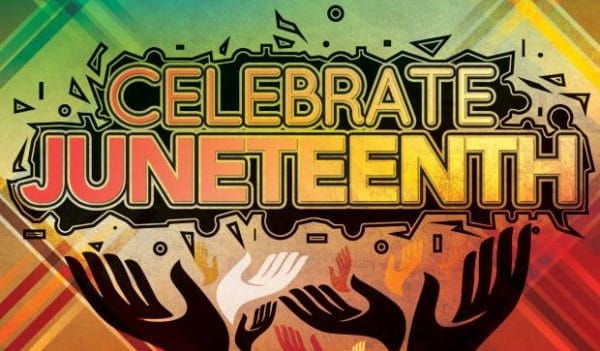 2022 MIAMI-DADE JUNETEENTH EVENTS
Juneteenth Juke Joint
Thursday, June 16, 2022
Doors open at 6:30 p.m.
Tickets start at $25*
Ziff Ballet Opera House, Miami
The Adrienne Arsht Center for the Performing Arts of Miami-Dade County is proud to announce its first JUNETEENTH JUKE JOINT, a community celebration of Black freedom and culture. Inspired by the vibe created by the backwoods, roadside establishments run and patronized by Black Americans in the years after slavery ended, the JUNETEENTH JUKE JOINT will transform the Arsht Center's Peacock Foundation Studio into a one-night-only hotspot for dancing, live music, cocktails and celebrating with neighbors and friends.
Tickets may be purchased beginning today at the Adrienne Arsht Center box office by calling (305) 949-6722, or online at arshtcenter.org.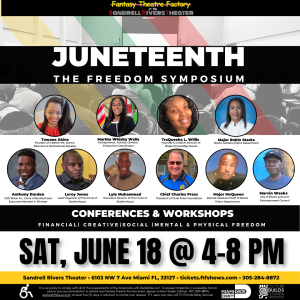 Juneteenth: The Freedom Symposium
Saturday, June 18, 4-8 p.m.
$5 early bird ticket promotion using coupon code EARLYBIRD at checkout
Sandrell Rivers Theater, 6103 NW Seventh Ave., Miami
Fantasy Theatre Factory will offer powerful conference workshops presented by prominent community leaders, providing valuable discussion on financial freedom, creative freedom, social freedom, and mental and physical freedom.
Confirmed presenters include Tawana Akins, Major Robin Stark and Traquesha Willis, with additional speakers Anthony Durden, Leroy Jones, Major Craig McQueen, Lyle Muhammad, Chief Charles Press, Marvin Weeks and Martha Wells.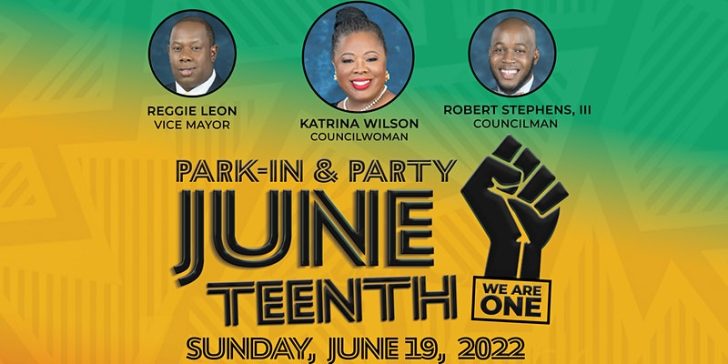 Juneteenth Park-In & Party: We Are One!
Sunday, June 19, 3 p.m.
Calder Casino, 21001 NW 27 Ave., Miami Gardens
Free
Join the City of Miami Gardens for the 2nd Annual Juneteenth Drive-In Celebration: "We Are One!" The Park-In and Party is hosted by Miami Gardens' own Comedian Marvin Dixon with music by DJ Bo Weezy. This year's fest will again be free and at Calder Race Track in the great City of Miami Gardens, South Florida's epicenter of black culture. Doors open at 3 and the program will begin at 4 pm.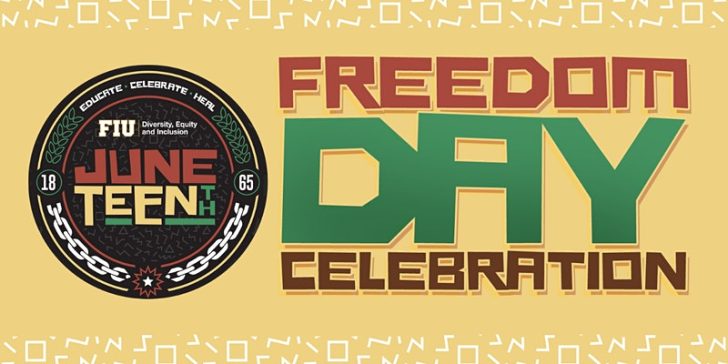 Juneteenth Freedom Day Celebration
Saturday, June 18, 10 a.m. – 4 p.m.
Florida International University, 11200 SW 8 St., Miami
Free
Florida International University invites the entire South Florida Community for its second annual Juneteenth Freedom Day Celebration.
The Juneteenth Experience
Sunday, June 19, 6:30 p.m.
North Beach Bandshell, 7275 Collins Ave., Miami Beach
Free
The Juneteenth Experience is set to be an immersive performance celebrating Freedom, Black artists, Black culture, Black community, and Black Miami. The performance includes a diverse cast of local artists ranging from spoken word, song, dance, and animation.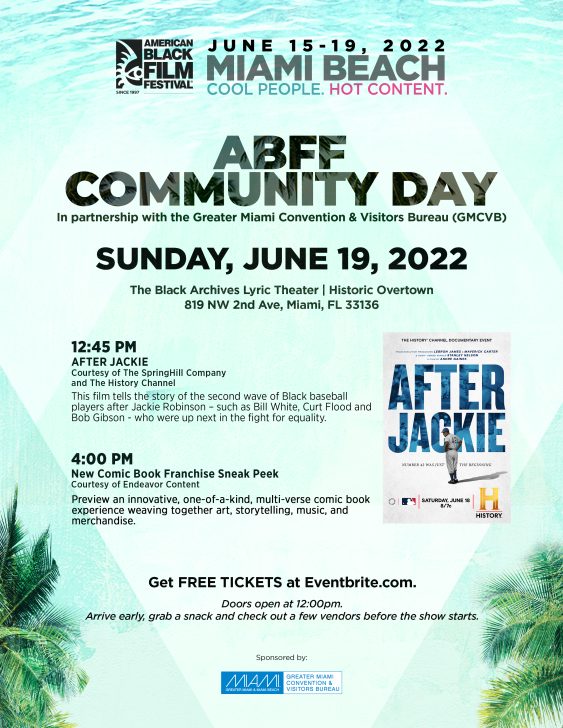 American Black Film Festival Community Day
Sunday, June 19, 12-8 p.m.
Black Archives-Historic Lyric Theater, 819 NW Second Ave.
Free
The American Black Film Festival (ABFF), in partnership with the Greater Miami Convention & Visitors Bureau (GMCVB) will be hosting its Annual Community Day Showcase. The joint annual Community Day Showcase will be held Sunday, June 19 from 12 to 6 p.m. at the Historic Lyric Theater, 819 NW 2nd Ave, Miami.
Third Annual Juneteenth Freedom Day Celebration
Saturday, June 18, 9-10 a.m.
Pride Park, 1809 Meridian Ave.
Free
Speakers include Miami Beach Commissioner David Richardson, Miami-Dade County Mayor Daniella Levine Cava and keynote speaker Florida International University Professor and Vice Provost Heather Russell. A professor of literature and vice provost for faculty leadership and success in the Office of the Provost, Russell specializes in African Diaspora, African American and Afro Caribbean literature and theory. She is the author of "Legba's Crossing: Narratology in The African Atlantic." The event will be livestreamed on the city's Facebook page at www.facebook.com/cityofmiamibeach.
Juneteenth Food & Wine Festival Presents Beachside Cookout Village & Concert
Saturday, June 18, 4-11 p.m.
Lummus Park, 1130 Ocean Dr.
Free
Featuring celebrity performer Ronnie VOP with help from the Hardemon Project. This soulful seaside foodie village is comprised of African American cuisine from all over the United States. The event features Creole, Cajun, barbecue, soul food and even Caribbean and African foods as well as vegan dishes. Entry to this event is free. Food and drinks are available for purchase onsite.
Lift Up Your Voice and Sing!
Sunday, June 19, 7-8:30 p.m.
Lummus Park, Ocean Dr. between 14 Street and 14 Place
Free
Vocalists will present selections from the Great American Songbook selected by Miami Beach Classical Music Festival Director Michael Rossi. The Peter London Global Dance Company, poet Geoffrey Philp and musician Gregory LeDon (aka The Saxophone Guy) will perform at the event.
Live Jazz at The Betsy Hotel
Sunday, June 19, 6-11 p.m.
The Betsy Hotel, 1440 Ocean Dr.
Free
Featuring award-winning vocalist LeNard Rutledge from 8 p.m. to 11 p.m. with pianist Jim Gasior performing from 6 p.m. to 11 p.m. on Sunday, June 19. Patrons are also invited to visit The Betsy Poetry Rail located in the breezeway adjacent to the hotel (between Ocean Drive and Collins Avenue) to read "A Dream Deferred" by Langston Hughes. It has been called one of the most influential poems of the 20th century with 11 lines that provide profound reference to the African American experience and to the meaning of Juneteenth, a celebration of our nation's most infamous deferred dream, the long prayed for abolishment of slavery. These events are free and open to the public.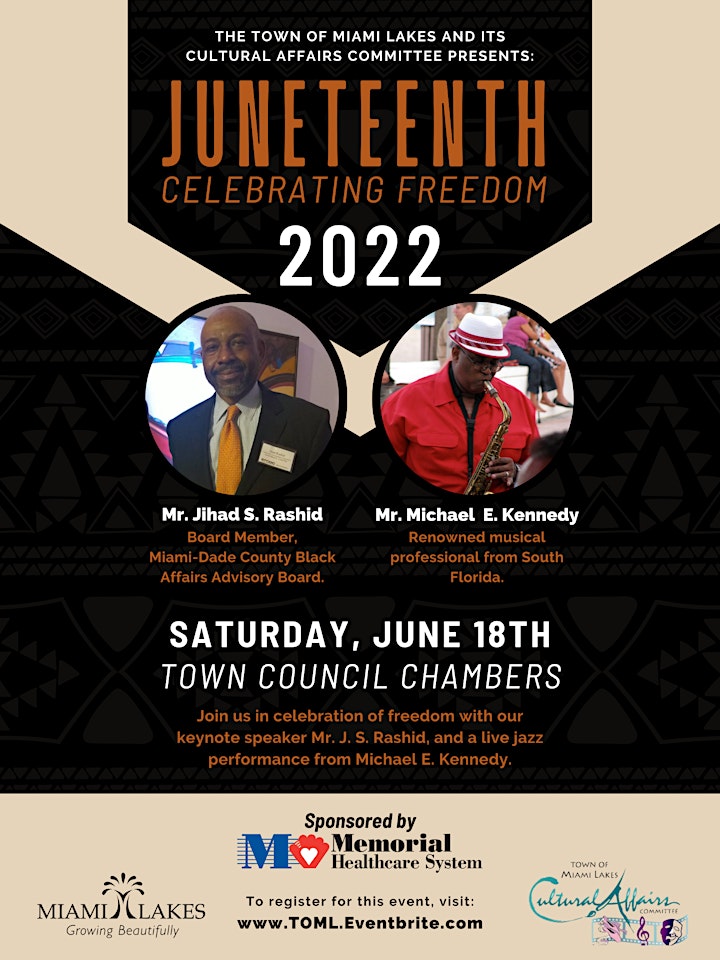 Juneteenth Celebrating Freedom
Saturday, June 18, 4-5:30 p.m.
Miami Lakes Town Hall, 6601 Main Street
Free
The Town of Miami Lakes and its Cultural Affairs Committee is proud to host this year's Juneteenth celebration, commemorating the announcement of the abolition of slavery in the United States on June 19th, 1866. This year's event will consist of our keynote speaker in Mr. J. S. Rashid from the Miami-Dade County Black Affairs Advisory Board, as well as live jazz music from the great Michael E. Kennedy.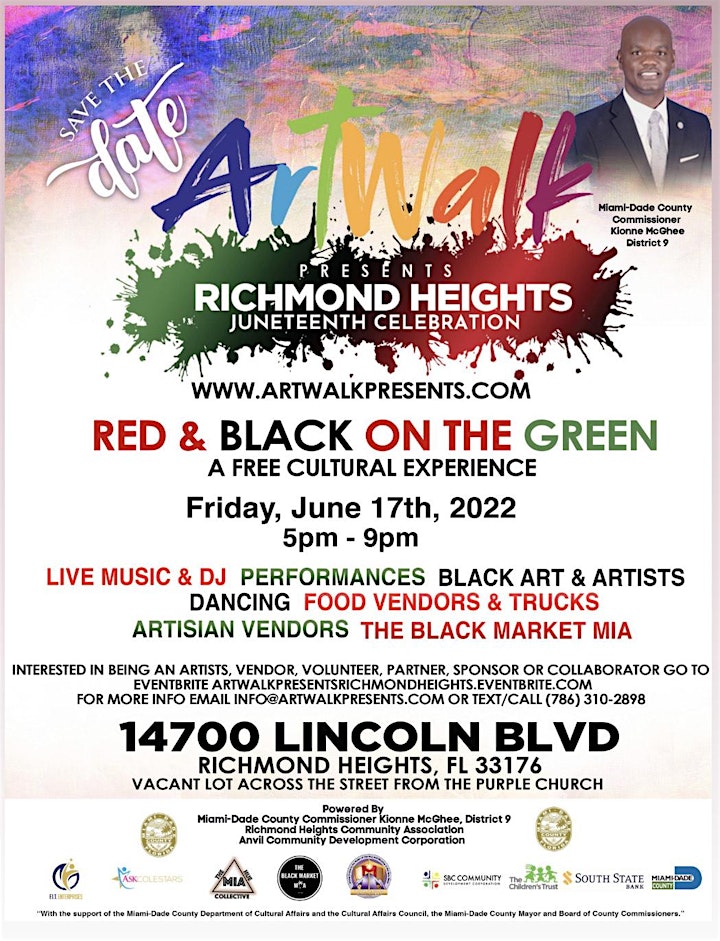 Artwalk Richmond Heights Juneteenth Celebration
Friday, June 17, 5-9 p.m.
14700 Lincoln Blvd.
Free
This free event includes black art and artists, intergenerational activities, live music & DJ, dancing, performances, food and artisan vendors, and the Hue Collective MIA Black Market.
2022 PALM BEACH COUNTY JUNETEENTH EVENTS
Juneteenth Festival
Sunday, June 19, 12-4 p.m.
Sara Sims Park, 209 NW 9 Ave., Boynton Beach
Free
This free event will be celebrating the Freedom of the Slaves in the US. Food, entertainment, music, activities and more are to be expected but still TBD.
Juneteenth Celebration and Blackmer's Market
Saturday, June 18, 9 a.m.-3 p.m.
Pompey Park, 1101 NW Second St.
Free
Celebrate the emancipation of those enslaved in the United States with speakers, performers, PEACE walk and Blackmer's Market. From delicious food to beautiful clothing and accessories to community organizations and service providers.
Juneteenth Family Celebration
Saturday, June 18, 12-5 p.m. (doors open at 10 a.m.)
Norton Museum of Art, 1450 S. Dixie Highway, West Palm Beach
Free
This intergenerational event celebrates freedom and spotlights the African American experience with live musical performances, dance, gallery talks on art by African American artists, storytelling, and art-making activities.
Second Annual Juneteenth Unity and Black Excellence Festival
Sunday, June 19, 3-10 p.m.
600 West Blue Heron Blvd., Riviera Beach
Free
Join in on the festivities during the 2nd Annual Juneteenth Celebration at Riviera Beach where you can enjoy music, food, local Black businesses, and community resources.
Juneteenth Family Celebration Day
Saturday, June 18, 12-5 p.m.
Norton Museum of Art, 1450 S. Dixie Highway, West Palm Beach
Free
This intergenerational event celebrates freedom and spotlights the African American experience with live musical performances, dance, gallery talks on art by African American artists, storytelling, and art-making activities.
Palm Beach County Library System Celebrates Juneteenth
The Palm Beach County Library System first recognized Juneteenth in 2020 and expanded their offerings in 2021 through book displays, public events and a Proclamation presented by Commissioner Mack Bernard. A variety of digital and in-person events will be taking place to celebrate.
Preregister on their website for both in-person and digital Juneteenth activities: www.pbclibrary.org/juneteenth
2022 BROWARD JUNETEENTH EVENTS
Juneteenth Freedom Festival
Saturday, June 18, 5-8 p.m.
Tamarac Sports Complex, 9901 NW 77 St., Tamarac
Free
Celebrate Juneteenth, a day that symbolizes the abolition of slavery in the United States of America. Event will include performances by Ashanti Cultural Arts, guest speakers, live music by the Valerie Tyson Band, food vendors, kids area and much more.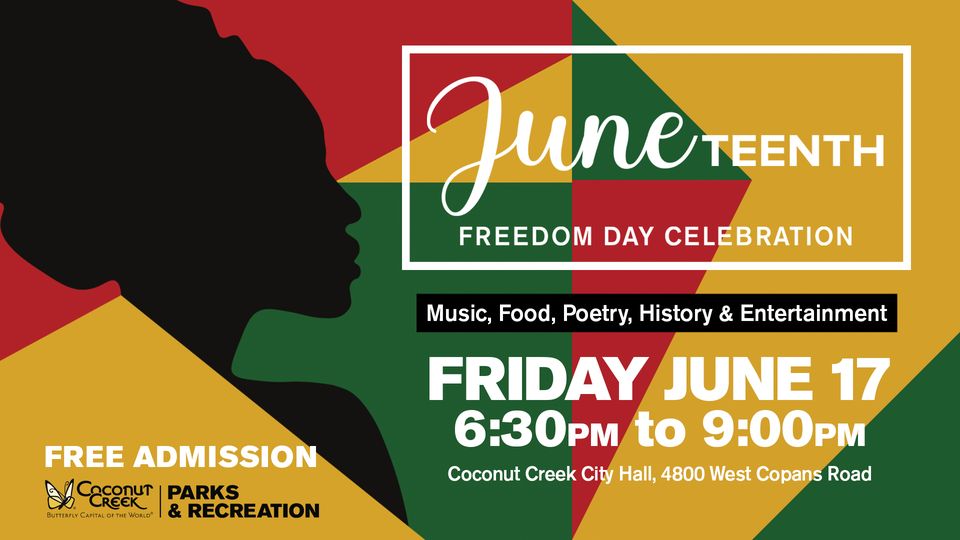 Juneteenth Freedom Day Celebration
Friday, June 17, 6:30-9 p.m.
Coconut Creek City Hall, 4800 West Copans Road, Coconut Creek
Free
Join in for a free concert in celebration of Juneteenth. The featured band is electrifying and soulful that performs classic and modern music. This event will also feature literary readings and guest speakers on the history of Juneteenth.
Black Theatre Fringe Festival of SoFlo 2022
Thursday, June 16-Sunday, June 19, 2022
Liberia Sankofa Cultural Center, 2254 Douglas Street
$10-$85
This festival gives opportunity to the local Arts community by main-staging new works of art by Playwrights who otherwise may not get the chance to perform their works. Never before seen shows, hot off the press scripts, artists at all levels of their careers!
Juneteenth Celebration in Coral Springs
Saturday, June 18, 5:30-9:30 p.m.
Coral Springs City Hall Lawn, 9500 W. Sample Road, Coral Springs
Free
The City of Coral Springs is holding its second annual Juneteenth Celebration with an exciting night of entertainment on the City Hall Lawn. The celebration features messages of hope from community leaders, dance performances by local dance groups, giveaways from local vendors, and live music. Children will enjoy inflatable activities, lawn games, and arts and crafts. Specialty food and drinks from food trucks will also be available for purchase.
BAM! It's Juneteenth
Saturday, June 11, 7 p.m.
African-American Research Library and Cultural Center, 2650 Sistrunk Boulevard
Free
Be Alive through Music (BAM) is an annual celebration of Juneteenth, Black Music Month, and LGBTQ Pride Month. BAM is a series of experiences that highlight the musical diversity and the historical intersections of race, gender, and sexuality. Through live performances of music and storytelling, celebrate the significance of the month of June to music enthusiasts, members of the queer community, and people of African descent.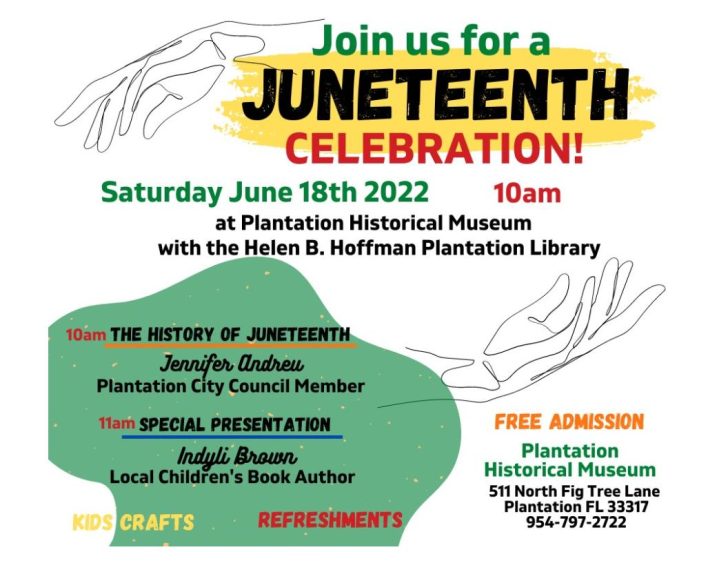 Juneteenth Celebration: Plantantion's Historical Museum
Saturday, June 18, 10 a.m.
Plantation Historical Museum, 511 N. Fig Tree Lane, Plantation
Free
The celebration kicks off at 10:00 AM with The History of Juneteenth, presented by Councilmember Jennifer Andreu. Attendees will learn about the history and importance of Juneteenth as well as view a historical display. At 11:00 AM there will be a special presentation by local children's book author and the City of Plantation's very own Environmental Arborist/Horticulture Supervisor, Indyli Brown. The celebration will also have kids' crafts, refreshments, and more!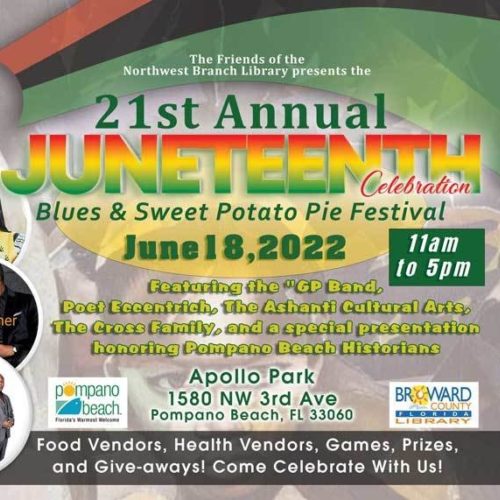 21st Annual Blues & Sweet Potato Pie Festival
Saturday, June 18, 11 a.m.-5 p.m.
Apollo Park, 1580 NW Third Ave., Pompano Beach
Free
This day of free family fun, live entertainment, art and history includes performances, activities, exhibits and the legendary pie-tasting contest to crown the community's best sweet potato pie maker. From children's fun to great music and food, the Blues and Sweet Potato Pie Festival offers a good time for all ages. Festival highlights include: The Gary Palmer Band, Gospel Artists, Civil War re-enactors, Delt the DJ, storyteller Beverly Jones, Ashanti Cultural Arts Performers, dancing, hoola-hoop contest, multiple raffles and Delicious food vendors.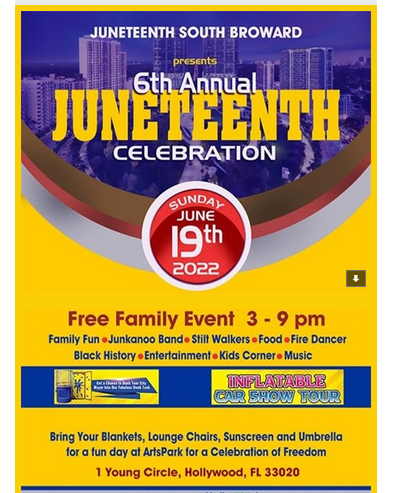 6th Annual Juneteenth Celebration
Sunday, June 19, 3-9 p.m.
ArtsPark, 1 Young Circle, Hollywood
Free
Bring your blankets, lounge chairs, sunscreen, umbrellas for a Celebration of Freedom.
The Third Annual Juneteenth for Joy Festival
Sunday, June 19, 10 a.m.-12 p.m.
Dr. Von D. Mizell-Eula Johnson State Park, 6503 N. Ocean Drive, Dania Beach
Free (must pay for park admission $6/vehicle)
The 3rd Annual Juneteenth for Joy Festival is a family-friendly celebration of joy, play and well-being in the beautiful South Florida sun, on the Von D. Mizell – Eula Johnson State Park Beach. Since Juneteenth falls on Father's Day this year, it's a Family affair! The first 75 participants will receive complimentary refreshments.
Miramar Juneteenth Celebration
Monday, June 20, 5-8 p.m.
Miramar Multi-Service Complex, 6700 Miramar Pkwy.
Free
Soul Food, music, pop-up African Art Museum, spoken word and dance groups! Must register to attend. Limited spaces available, only one ticket per registrant.
Juneteenth Flash Mob at Stonewall Pride
Saturday, June 18, 5:20 p.m.
Wilton Manors, 2434 N. Dixie Highway
Admission is $10
The Juneteenth Flash Mob is a flash mob performed at Stonewall Pride with music that speaks to the LGBTQ+ experience with the selected songs on the track either produced, sung and/or performed by blacks in observance of the June 19th, an American national holiday that commemorates the abolition of slavery and the celebration of African American culture.
VIRTUAL EVENTS
Juneteenth: A Celebration of Freedom
Saturday, June 11, 1-2:30 p.m.
Free
Broward County Library is hosting a star-studded presentation to recognize Juneteenth. The program will discuss why Juneteenth matters, what happened, and what it means.
Entertainment Calendar
Wednesday, February 8, 2023
Thursday, February 9, 2023
Friday, February 10, 2023