June 19, or Juneteenth, as it is known, is a day that recognizes the end of slavery and celebrates the culture and achievements of African-Americans.
It marks the day in 1865 when the Emancipation Proclamation – which had been issued more than two years earlier – was finally read to enslaved African-Americans in Texas.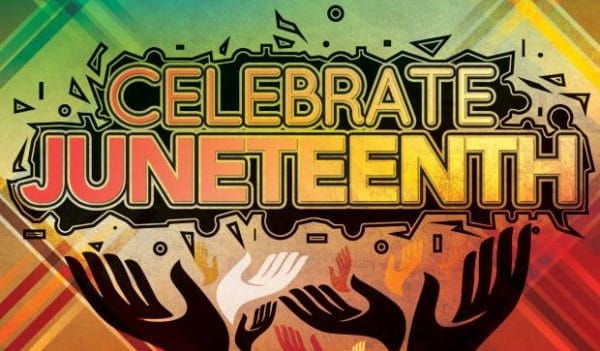 2021 JUNETEENTH EVENTS
The Miami area will host myriad events to commemorate the date's historic importance. Each may have its own COVID-19 rules, so you may want to learn those details before heading out.
Here are some events happening around the Miami area. Please note: Not all events are scheduled for June 19, so please pay attention to the dates.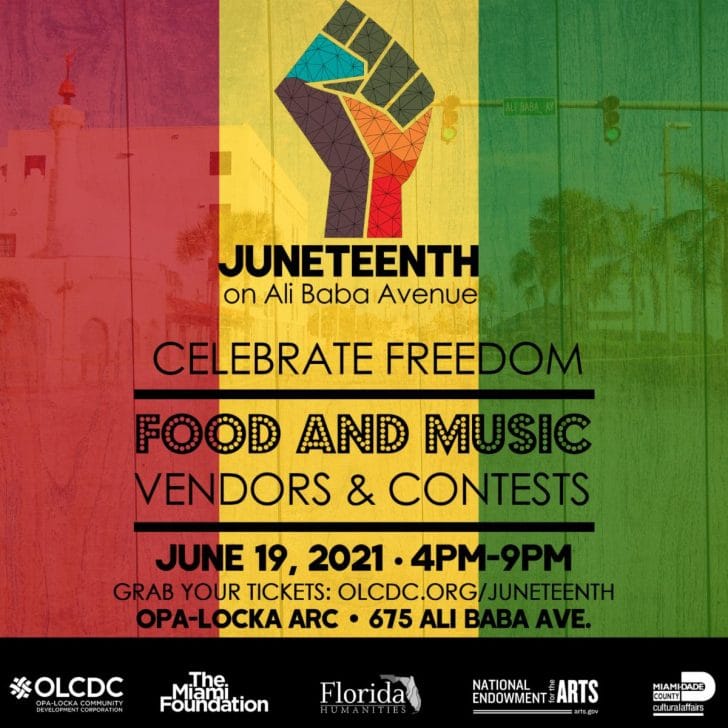 Juneteenth on Ali Baba Avenue
4-9 p.m. June 19
Opa-locka ARC, 675 Ali Baba Ave., Opa-locka
Free
Enjoy live entertainment, visual and performing arts, interactive workshops, food and more at the Opa-locka ARC and surrounding areas. Dr. Joanne Hyppolite, a curator at the Smithsonian Institution's National Museum of African American History and Culture, is expected to lead a remembrance of the emancipation. For more information, click here.
City of Miami Beach presents: Juneteenth Day of Freedom
9-10 a.m. June 19
Pride Park, 1809 Meridian Ave.
Free
Click here for details
This ceremony is planned at the Rainbow Eucalyptus tree, which was planted in 2020, according to event organizers. It will be streamed live at Facebook.com/cityofmiamibeach – with scheduled performances by Rebecca "Butterfly" Vaughns and the Peter London Dance Co.
The Juneteenth Experience
6 p.m. June 19
North Beach Bandshell, 7275 Collins Ave., Miami Beach
Free
The Juneteenth Experience – presented by Hued Songs and the Rhythm Foundation, through the City of Miami Beach's Arts in the Parks – will feature a multidisciplinary, immersive performance. The show, which organizers describe as "celebrating Freedom, Black arts and culture, Black community, and Black Miami," will be available in-person and online.
The schedule includes: Vanya Allen, J'Von Brown, Troy Davidson, Wilkie Ferguson III, Gentry George, Miriam King, Thandolwethu Mamba, Arsimmer McCoy, Jasmine Williams and Shanna Woods.
You can RSVP for either option here. Please note: The in-person audience will be limited to allow social distancing and have COVID-19 safety protocols in place.
Juneteenth Music & Food Festival
Noon-6 p.m. June 19
The Sand Bowl @ Bandshell Park, 7275 Collins Ave., Miami Beach
Free
The event is hosted by The Hungry Black Man, a self-described "unique media company focused on sharing the amazingness of the national Black and minority food and drink ecosystem," according to its Instagram account.
Shorts Under the Stars: Amplifying Black Stories
7 p.m. June 13
Deering Estate, 16701 SW 72nd Ave., Miami
$20 per person; tickets available

online only
In partnership with the MIAMI short FILM FESTIVAL (MIAMIsFF), Deering Estate presents its Juneteenth edition of Shorts Under the Stars. Visitors are invited to bring blankets, lawn chairs, and small picnic baskets and grab a spot on the lawn to watch a selection of short films. Doors open at 5:30 p.m. Safety protocols include social distancing, face coverings and groups no larger than 10 people. For more information, click here.
Celebrate Juneteenth with 500 Free Trees
9 a.m. Saturday, June 19, until supplies last
Historic Hampton House, 4240 NW 27th Ave., Miami
Free
Click here for more information
The Million Trees Foundation and the Miami Marlins are teaming up to give away 500 trees, while supplies last, at the Historic Hampton House. If you're not sure which plant to choose, don't fear, volunteers from the Master Gardener Volunteer Program will be there to help you choose the best plant! For more information from the Historic Hampton House, click here.
IN BROWARD COUNTY
5th Annual Juneteenth Celebration
11 a.m.-8 p.m. Saturday, June 19
Washington Park Community Center, 5188 Pembroke Road, Hollywood
Free
Click here for more information
Juneteenth South Broward is organizing the festivities, which include spoken word, music, Black history presentations, basket weaving, contests and more. Host is Johnethia Tc Mack. Performers include: $auc3, gospel artist Vell P, literary artist Demetres Parrish, stilt walkers and Junkanoo dancers, among others. Click here for the schedule.
For more Juneteenth 2021 events in Broward County, click here.
VIRTUAL EVENTS
"Celebrate Juneteenth 2021 with South Florida PBS"
South Florida PBS is offering several programs in honor of Juneteenth.
10 p.m. June 18 on WPBT: "HUSTLE TO SCALE: REDEFINING THE BLACK FOUNDER EXPERIENCE IN OVERTOWN"
Noon June 19 on WPBT: "HENRY LOUIS GATES, JR. – UNCOVERING AMERICA"
2 p.m. June 19 on WPBT: "DRIVING WHILE BLACK: RACE, SPACE AND MOBILITY IN AMERICA"
10 p.m. June 21 on WPBT & 3p.m. June 26 on WXEL: "INVISIBLE HISTORY: MIDDLE FLORIDA'S HIDDEN ROOTS"
Online Juneteenth Celebration: West African Dance Class
The Ailey Extension, presented by The Alvin Ailey American Dance Theater, will offer a free virtual West African dance class for any interested in joining! Choreographer Maguette Camara will lead the 75-minute session, which will include live drumming and the fundamentals of traditional West African dance and rhythms.
2020 JUNETEENTH EVENTS
The following South Florida events were organized last year in honor of Juneteenth. We will update them as more information becomes available. Keep checking back!
Say Their Names Vigil and Memorial Service
7-9 p.m. June 19
Miami Urban Contemporary Experience (MUCE) Campus, 246 NW 54th St.
Free
Organizers bill this as a community healing event. Throughout the evening, there will be meditation sessions, musical performances and a photography exhibition, "No More Blues" by photographer Cendino Teme, among other activities. Face coverings are required at this event, and social distancing measures will also be in place.
Screening of "When Liberty Burns"
Showing throughout the day on June 19 via the Miami Film Festival website.
Tickets are $10 for film festival members and $13 for nonmembers.
Click here to purchase tickets and view.
The Miami Film Festival is hosting a virtual screening of this powerful and important documentary by Dudley Alexis, taking a look at the 1980 McDuffie riots in Miami's Liberty City and other neighborhoods. The riots were the result of the acquittal of four Miami-Dade County police officers charged with killing Arthur McDuffie during a traffic stop.
Screening of "Toni Morrison: The Pieces I Am"
Showing starting at 2 p.m. June 21 until midnight June 22 on the O Cinema website
Free, click here to reserve your ticket
The documentary follows author Toni Morrison and follows her life and looks at her literary career and the powerful, thought-provoking and powerful themes she's examined in her books.
Community Conversation: Race, Relationships and Resources
This is the first in a series of conversations hosted by Big Brothers Big Sisters of Miami and led by their president and CEO, Gale S. Nelson. The talks will bring together more than 15 community leaders from all industries to present solution-based interactive discussions.

Sounds for Healing live stream concert
The concert, live streamed from The Citadel in Little River, features a line-up of diverse artists. Performing will be:
Jahidi a musician and sound healer
Actor/writer/poet Jesus Carbonell
Miami Sound Choir
Duo Afrobeta
Singer/songwriters Gitanjali Deen and Shakyiah
Kolor the Rapper
Miami-based seven-piece band The Poppies and Latino hip hop artist Cyrex
R&B artist Kiera Myrthil
The Children's Voice Choru
Dancers Nayah Merisier and Lauryn LaPread
Multiethnic trio Glory Box.
Jazz on Juneteenth Drive-in concert with Maryel Epps
5:30-8 p.m. June 20 at Historic Hampton House, 2800 NW 43rd Terrace, Miami
Free
Click here for information
South Florida jazz legend Maryel Epps performs jazz standards and melodies in a drive-in concert emceed by Traci Pollock and simulcast live on WDNA 88.9 FM with host John Dixon.
Entertainment Calendar
North Beach Bandshell
7275 Collins Ave
Miami Beach, FL 33141
(305) 672-5202