Art Basel is here! Find out how to get to the fairs and avoid traffic woes and high parking costs with our comprehensive guide to Art Basel free transportation.
Miami on the Cheap has compiled a guide to getting to and from all the Art Week/Art Basel events for free or at low cost. Most of the fairs offer complimentary shuttles and all of the Art Basel events and satellite fairs can also be easily reached using Miami-Dade County Public Transit. That means you won't have to deal with art week traffic nor pay for parking or gas.
Check out our free shuttle options and maps below and if you plan on using public transit, make sure to get yourself a re-loadable EASY Card and to get free bus transfers when available. Click here to get all the necessary info on how to obtain and use EASY Cards.
---
Free Art Basel Shuttles and Trolleys
There are several options to move around between the fairs in comfortable buses and shuttles:
The city of Miami Beach will offer free trolley shuttles from the Miami Beach Convention Center to several locations throughout Miami Beach. Many stops will be near municipal parking garages to encourage people to park and ride to the different fairs. There are North, Middle and South Beach loops along with the Collins Express. Check out the schedules and maps here.
The city of Miami offers several regular Trolley Routes, and the Biscayne Route will get you from Brickell right into the heart of where many of the fairs are held off Biscayne Blvd. If you want to get to the eclectic galleries of Wynwood the Allapattah Route drops you at the southern edge of the neighborhood. Check out all the Miami trolley schedules and routes here.
If you are in the Miami Beach or Brickell and Biscayne Areas of Miami you can always flag down a Freebee ride to get a free lift on one of their fun and colorful extended seating golf carts. Simply keep an eye out for them on the main streets and flag one down. More info on the Freebee can be found here.
UBER is a great option for getting around and avoiding parking issues and their advanced GPS also helps drivers navigate you out of congested areas faster. They are usually less expensive than cabs. You can get free ride credits If you have never tried the service by downloading their app using this link to get to the UBER site.
---
Public Transportation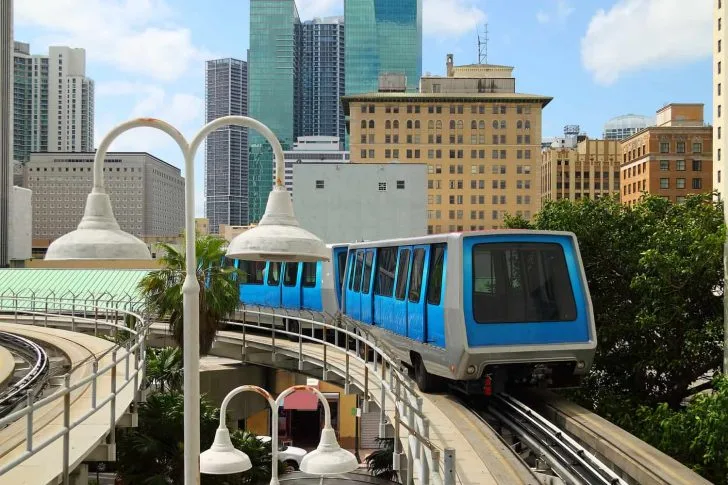 Getting to Wynwood/Midtown/Design District
Transfers: You can use the Metrorail or another bus to get a transfer to the Art Basel satellite events. You can also take the MetroMover to the Adrienne Arsht Center/Omni Terminal Station and hop on just about any bus or Trolley that goes to Wynwood.
Bus routes include 32 and 2. If you're getting a transfer at the Omni Terminal make sure to hop on the Omni Loop to get to the Adrienne Arsht Center using the MetroMover.
Getting to and around Miami Beach
Transfers: You can get just about every bus that heads out to Miami Beach from downtown, and they are all accessible by MetroRail, MetroMover and other bus routes.
Bus routes include C, S, M, and 120 for MacArthur Causeway. or you can take the J, 62 or 150 if you are closer to the Julia Tuttle Causeway. To get around the beach you can also hop on Route L or use the South Beach Local.
Getting to Brickell
Several bus routes go to Brickell including 8, B, 207, and 208. It is also home to one of the busiest Metro Rail stations. All buses and trains, will drop you off across the street from Mary Brickell Village. If you are using the MetroMover make sure to hop on the Brickell loop.
If you aren't sure which transfers to use or where to get them, use the Miami-Dade Transit Trip Planner. It will give you a Google Map and written directions with alternate routes.
Coming From Broward or Palm Beach?
If you're heading into Miami for Art Basel from Broward or Palm Beach you'll need to use the Tri Rail. Fares vary depending on how far you are going. Fortunately, they have a calculator to help you figure it out. Make sure to purchase an EASY Card since you'll need it for a transfer in Miami Dade.
Take the Tri Rail heading South to the Metrorail Transfer Station. From there you hop on the Southbound Train and take it to Government Center. From Government Center take the Omni Loop to Miami Dade Wolfson Campus where you will find a stop for the Art Basel Miami Week Trolley.
Brightline is another option for traveling from Broward and Palm Beach. They offer both one-way and round-trip options in a comfortable, luxurious fast train. Train times vary by weekend and weekday. Maximum time of one-way trip from Palm Beach to Miami is 41 minutes. View schedules, prices and special offers here https://gobrightline.com
Miami-Dade Transit Fares
Bus: $2.25, Express Bus $2.65
Bus Transfer: Free with EASY Card
Downtown Metro Mover: Free
Metro Rail: $2.25 (Only accepts EASY Card)
Bus-to-Rail/Rail-to-Bus Transfer: 60 cents
Discounted fares are available for children, students and seniors. Daily and weekly passes can save you money as well. Click here for full details.
---
Additional transport options

If you mainly plan to visit fairs around Miami Beach you can always avail yourself of Citi Bikes, to get around. Plentiful stations are placed across town and several different rental options make this a great choice to zip around town with ease. Click here for more information on renting a bicycle.
To keep up with latest news, sign up for the daily Miami on the Cheap newsletter. You can also follow us on Facebook, Twitter and Instagram
More transportation tips