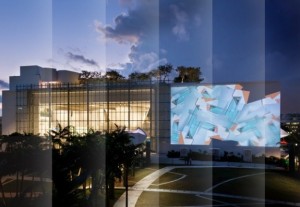 The SoundScape Cinema Series screens free films on the 7,000-square-foot outdoor projection wall at the New World Center's ExoStage, corner of 17th Street and Washington Avenue, Miami Beach. Movies usually are at 8 p.m. on Wednesdays but there are also some films on Thursday.
Film schedule for 2014-2015:
Wednesday, Oct. 1: CAPTAIN AMERICA: THE WINTER SOLDIER (2014) Directed by Anthony Russo, Joe Russo; with Chris Evans, Samuel L. Jackson, Scarlett Johansson.
Thursday, Oct. 2: DUNE (1984) Directed by David Lynch; with Kyle MacLachlan, Virginia Madsen, Sting, Brad Dourif, Jose Ferrer, Linda Hunt, Virginia Madsen, Silvana Mangano
Wednesday, Oct. 8: STEP UP REVOLUTION (2012) Directed by Scott Speer; with Kathryn McCormick, Ryan Guzman
Thursday, Oct. 9: TO CATCH A THIEF (1955) Directed by Alfred Hitchcock; with Cary Grant, Grace Kelly, Jessie Royce Landis, John Williams
Wednesday, Oct. 15: WHO FRAMED ROGER RABBIT? (1988) Directed by Robert Zemeckis; with Bob Hoskins, Christopher Lloyd, Joanna Cassidy
Wednesday, Oct. 22: THE FAULT IN OUR STARS (2014) Directed by Josh Boone; with Shailene Woodley, Ansel Elgort, Nat Wolff, Laura Dern, Willem Dafoe
Wednesday, Oct. 29: THE BIRDS (1963) Directed by Alfred Hitchcock; with Rod Taylor, Tippi Hedren, Suzanne Pleshette
Wednesday, Nov. 5: X-MEN: DAYS OF FUTURE PAST (2014) Directed by Bryan Singer; with Patrick Stewart, Ian McKellan, Hugh Jackman, Jennifer Lawrence, Halle Berry
Thursday, Nov. 6: THE STING (1973) Directed by George Roy Hill; with Paul Newman, Robert Redford, Robert Shaw, Eileen Brennan
Wednesday, Nov. 12: MALEFICENT (2014) Directed by Robert Stromberg; with Angelina Jolie, Elle Fanning, Sharlto Copley
Thursday, Nov. 13: OCEAN'S TWELVE (2004) Directed by Steven Soderbergh; with George Clooney, Brad Pitt, Julia Roberts, Matt Damon, Catherine Zeta-Jones
Wednesday, Nov. 19: PILLOW TALK (1959) Directed by Michael Gordon; with Rock Hudson, Doris Day, Tony Randall, Thelma Ritter
Thursday, Nov. 20: GODZILLA (2014) Directed by Gareth Edwards; with Bryan Cranston, Aaron Taylor-Johnson, Elizabeth Olsen
Wednesday, Nov. 26: THE LEGO MOVIE (2014) Directed by Phil Lord, Christopher Miller; with Will Arnett, Elizabeth Banks, Will Forte, Morgan Freeman, Jonah Hill
Wednesday – Saturday, Dec. 3-6: Art Basel in Miami Beach will be presenting video and sound art.
Wednesday, Dec. 10: 2 FAST 2 FURIOUS (2003) Directed by John Singleton; with Paul Walker, Tyrese Gibson, Cole Hauser, Eva Mendes, Ludacris
Thursday, Dec. 11: CLEOPATRA (1963) Directed by Joseph L. Mankiewicz; with Elizabeth Taylor, Richard Burton, Rex Harrison
Wednesday, Dec. 17: THE OUTSIDERS (1983) Directed by Francis Ford Coppola; with Matt Dillon, Patrick Swayze, Rob Lowe, Tom Cruise, Emilio Estevez, Diane Lane, C. Thomas Howell
Thursday, Dec. 18: LAWRENCE OF ARABIA (1962) Directed by David Lean; with Peter O'Toole, Alec Guinness, Anthony Quinn, Omar Sharif, Jose Ferrer, Claude Rains
Wednesday, Dec. 24: DAWN OF THE PLANET OF THE APES (2014) Directed by Matt Reeves; with Gary Oldman, Keri Russell, Andy Serkis
Wednesday, Dec. 31: FROZEN (2013) Directed by Chris Buck, Jennifer Lee; with Kristen Bell, Idina Menzel, Jonathan Groff
The rest of the schedule will be announced Dec. 1.
Tell Your Friends