Save $5 on a performance featuring Nova Singers by purchasing tickets online before the show. And, if you're a student with ID, you can see the performance for free.
Nova Singers will celebrate the holidays – and the joy of singing together again – with "Jingle Bells Again!," a concert of holiday music.
"Jingle Bells Again!" will feature holiday favorites, including "Jingle Bells," "Silver Bells," "Carol of the Bells," "Light One Candle," "Silent Night," and more songs of Christmas and Hanukkah. The group's first live concert in two years also will feature pieces that celebrate the joy of singing together.
All performances are $15 in advance and $20 at the door. Admission is free for children 12 and younger and students (any age) with school identification.
Tickets are available from any member of the chorus or from the group's website: tinyurl.com/NSTickets2021
COVID PROTOCOLS: Audience members will be required to wear masks.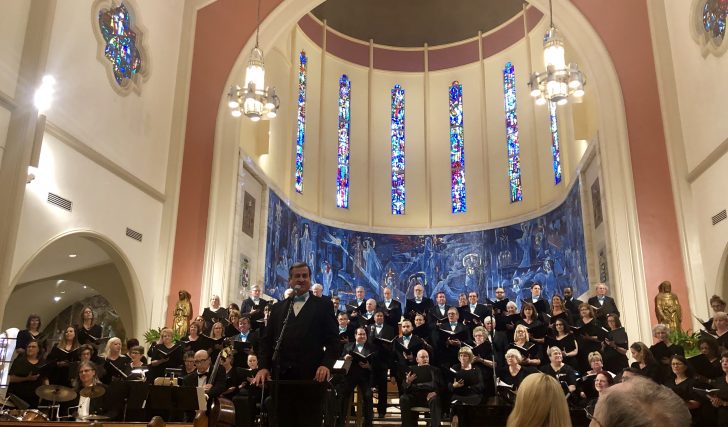 Concert schedule 2021
The concert will be performed three times, in three venues:
Friday, Dec. 3, 2021 | 8 p.m. (This performance has very limited seating and is nearly sold out.)
St. Matthew Catholic Church
542 Blue Heron Drive, Hallandale Beach
Sunday, Dec. 5, 2021 | 4 p.m.
St. Paul Lutheran Church
701 W. Palmetto Park Road, Boca Raton
Tuesday, Dec. 7, 2021 | 7:30 p.m.
Sunshine Cathedral
1480 SW Ninth Ave., Fort Lauderdale
The Nova Singers is Nova Southeastern University's community chorus, whose members range from Nova undergraduate students to senior members of the local community. Auditions are held each year in September, January and March.
More free and cheap music events and concerts this week:
Monday, December 6, 2021
Tuesday, December 7, 2021
Wednesday, December 8, 2021
Thursday, December 9, 2021
Friday, December 10, 2021
Saturday, December 11, 2021
Sunday, December 12, 2021
More Music
//cdn.cityspark.com/wid/get.js