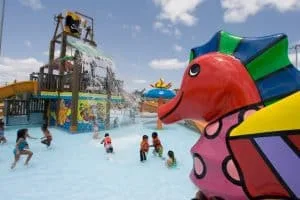 Note: There will be no dive-in movies in 2018.
Imagine sitting in a pool and staying refreshed while watching a funny animated movie. That's the experience during Dive-In Movies, the City of Miami Parks & Recreation Department's outdoor movie night every last Friday of the month at Grapeland Water Park, 1550 NW 37 Ave., Miami. Admission is $5.
The water park opens at 5:30 p.m. so kids can enjoy the slide pools on Pirate's Plunge or Shipwreck Island. Those close at 7:30 p.m. and everyone moves to Captain's Lagoon, the big recreation pool and watch the movie while swimming or lounging in a float tube.
Here's the schedule of 2017 films, which all begin at 8 p.m.:
May 26: Jungle Book
June 23: Pete's Dragon
July 28: Finding Dory
Aug. 25: Moana
Sept. 22: Beauty and the Beast
See the 2017 calendar here. Call 305-960-2950 for more info.