For frugal fun and entertainment with the kiddos, Pembroke Pines is featuring a free Family Film Fest.
Family Film Fest flicks in 2023 are Saturdays 10 a.m. June 17 to August 5 in the Theater of The Performing Arts, 17195 Sheridan Street, Pembroke Pines.
The films rated P and PG include these and others:
June 24 "Big Hero 6"
July 1 "Into The Spiderverse"
July 8 "Ponyo"
July 22 "Princess and The Frog"
August 5 "Luca"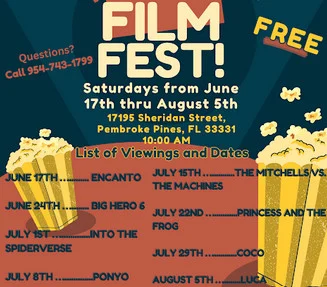 Information is available via phone 954-986-5027 or online.
Nibble on snacks prior to the event. No food or beverages are permitted inside the theater. Parking is free.
Other Free Fun Events & Activities
Friday, June 2, 2023
Saturday, June 3, 2023
Sunday, June 4, 2023
Monday, June 5, 2023
Tuesday, June 6, 2023
Wednesday, June 7, 2023
Thursday, June 8, 2023