Behold! The 71st annual Beaux Arts Festival of Art has been scheduled for Jan. 15-16, 2022.
The 2021 edition took place online, but organizers have announced a new location at the University of Miami campus in Coral Gables this year. Their official event Facebook page promises: "We are back and better than ever!"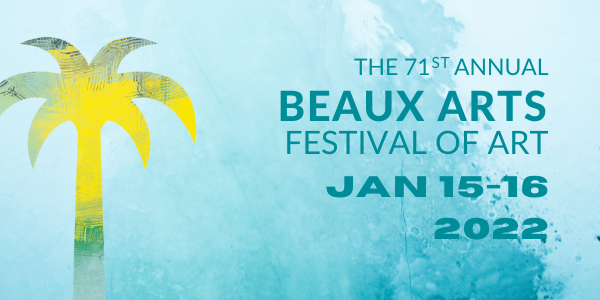 Each year, this free festival features more than 200 juried artists. Displayed artwork includes wood, watercolor, photography, oil and acrylics, mixed media, jewelry, graphics, glass, ceramics and 3-D sculpture.
Hours are 10 a.m.-5 p.m. both days. Admission is free.
The Beaux Arts' Festival of Art offers art for many budgets, so peruse your favorite genre and you just might find an original piece to adorn your walls! For more information, click here.
Entertainment and Events Calendar
Friday, August 19, 2022
Saturday, August 20, 2022
Sunday, August 21, 2022
Monday, August 22, 2022
Tuesday, August 23, 2022
Wednesday, August 24, 2022
Thursday, August 25, 2022