Save $5 on a performance featuring Nova Singers by purchasing tickets online before the show. And, if you're a student with ID, you can see the performance for free.
Nova Singers will celebrate the joys of music, even in difficult times, in a concert series called, "Turn The World Around."
The concert will include Broadway favorites from "Les Miserables," "West Side Story," "Wicked," "Company," "Charlie & The Chocolate Factory" and more, plus timely choral selections by Dan Forrest, Harry Belafonte and others.
All performances are $15 in advance and $20 at the door. Admission is free for children age 12 and younger and students (any age) with school identification.
Tickets are available from any member of the chorus or from the group's website: tinyurl.com/NSSpring2022tickets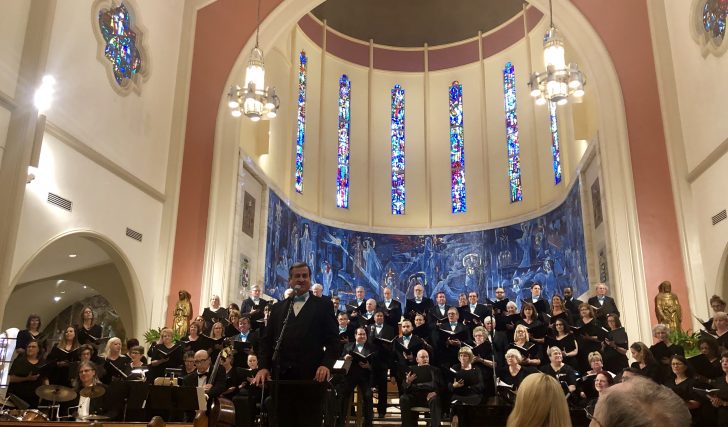 Spring Concert schedule 2022
The concert will be performed three times, in three venues:
Friday, April 29, 2022 | 8 pm
First Presbyterian Church
1530 Hollywood Blvd.
Hollywood, FL 33020
Sunday, May 1, 2022 | 4 pm
First Presbyterian Church
33 Gleason Street
Delray Beach, FL 33483
Tuesday, May 3, 2022 | 7:30 pm
Christ Lutheran Church
1955 E. Oakland Park Blvd.
Fort Lauderdale, FL 33306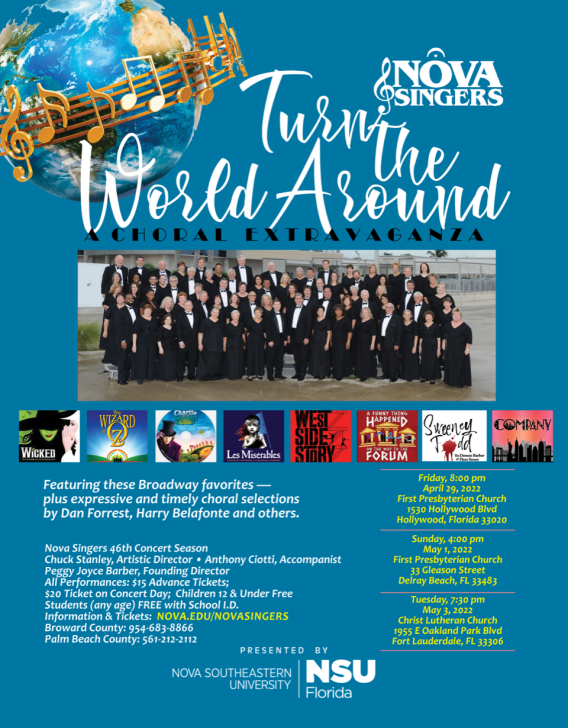 The Nova Singers is Nova Southeastern University's community chorus, whose members range from Nova undergraduate students to senior members of the local community. Auditions are held each year in September, January and March.
More free and cheap music events and concerts this week:
Friday, August 12, 2022
Saturday, August 13, 2022
Sunday, August 14, 2022
Tuesday, August 16, 2022
Wednesday, August 17, 2022
Thursday, August 18, 2022
More Music