Boynton Beach is gearing up for the holidays and the future looks bright. Following are some of the events we think you'll enjoy.
Winter Nights & Magic Nights in Boynton Beach
This free event is from 5 to 9 p.m., Friday, Dec. 1, at the Centennial Park & Amphitheater, 120 E. Ocean Ave., Boynton Beach.
Enjoy a night of music, with food trucks, a holiday market and the lighting of the city's holiday tree. There will performances by the Boynton Beach Community High School choir & drumline, Young Singers of the Palm Beaches and more.
See more details at: boynton-beach.org.
---
Boynton Beach Holiday Parade
The city's 52nd annual Holiday Parade will feature award-winning marching bands, plus dance and cheer squads from local schools and more.
The parade is set from 4 to 6 p.m. on Saturday, Dec. 2, 2023, in downtown Boynton Beach on Federal Highway between Boynton Beach Boulevard and Woolbright Road. The parade is free for spectators.
For the safety of vendors and attendees, the following roads will be closed from noon to 8 p.m. to accommodate event traffic:
Federal Highway. from Woolbright Road to Boynton Beach Boulevard
All Federal Highway access roads within the affected area
For more details and a list of participants, visit boynton-beach.org.
Boynton Beach Gold Coast Band presents 'Holidays around the World'
The concert is at 3 p.m. on Sunday, Dec. 3, 2023. It will be held in the Boynton Beach High School Auditorium at 4975 Park Ridge Blvd., Boynton Beach. Tickets are $10. Visit goldcoastband.org for more details.
The performance will take the audience to "France with "Patapan," "Italy with "Gesu Bambino," Russia and Germany with "Themes from the Nutcracker Suite," and more. It will be conducted under the baton of Barbara Rubenstein, with vocalist Donna Singer highlighting the English custom with "Sweet Mistletoe."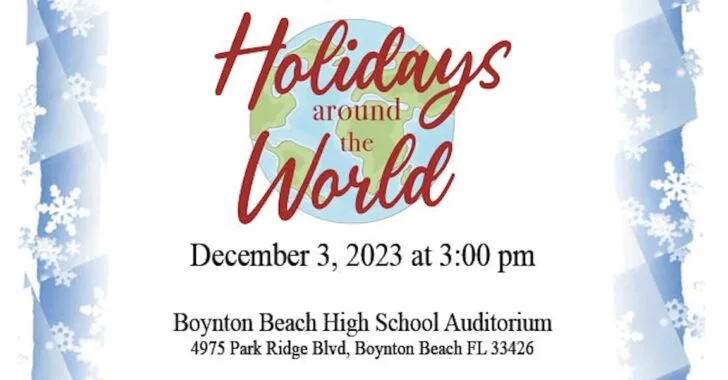 .
Visit boynton-beach.org for details on more upcoming events.
To keep up with the latest news, sign up for the South Florida on the Cheap newsletter. Follow on Facebook and Instagram.
More free and inexpensive holiday events
Friday, December 8, 2023
Saturday, December 9, 2023
Sunday, December 10, 2023
Monday, December 11, 2023
Tuesday, December 12, 2023
Wednesday, December 13, 2023
Thursday, December 14, 2023
Friday, December 15, 2023
Saturday, December 16, 2023
Sunday, December 17, 2023
Monday, December 18, 2023
Tuesday, December 19, 2023
Wednesday, December 20, 2023
Thursday, December 21, 2023
Friday, December 22, 2023
Saturday, December 23, 2023
Sunday, December 24, 2023
Monday, December 25, 2023
Tuesday, December 26, 2023
Wednesday, December 27, 2023
Thursday, December 28, 2023
Friday, December 29, 2023
Saturday, December 30, 2023
Sunday, December 31, 2023
Monday, January 1, 2024
Tuesday, January 2, 2024
Wednesday, January 3, 2024
Thursday, January 4, 2024
Friday, January 5, 2024
Saturday, January 6, 2024