The nightlife on Clematis Street just got a little brighter and wetter with a new dancing fountain feature at Centennial Fountain at Nancy M. Graham Centennial Square,150 N. Clematis Street, West Palm Beach.
Centennial Fountain comes to life with lights and music in an interactive dancing fountain waterworks show.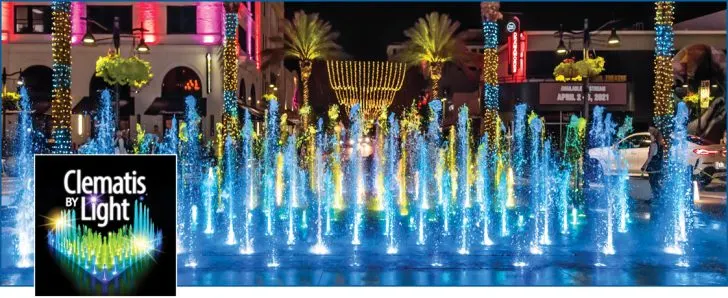 Upcoming shows are Thursdays–Sundays, 8–10 p.m. with three shows per hour:
Salute our Community
June 14 – July 4.
A waterworks show with a patriotic theme complete with full soakers, music, fountain and palm lights. Visitors can take a photo at the Salute Your CommUNITY Video Wall with any cell phone or tablet and be included in the show.
CLEMATIS BY LIGHT's Summer Show
July 8 – August 29.
Hot summer nights are much cooler with this dynamic, supersize fountain show. Centennial Fountain is synchronized to music and lights with surrounding palm trees getting in on the fun by lighting up and dancing.
For more than 25 years, the Centennial Fountain at Nancy M. Graham Centennial Square has been an iconic landmark. A place for the community to gather, for interactive play, for the young and young at heart to cool off and splash around.
The fountain has been decked out with a state-of-the-art operating system giving water the power to dance to music and 109 LED lights with 16.7 million colors, beating out your Crayola box by lots.
Interactive play is not allowed during special programming. Visitors must remain behind the ropes when viewing shows. However, Centennial Fountain runs in normal interactive play mode daily from 10 a.m. to 10 p.m. For more information, call 561-822-1515.