Brévo Theatre is offering South Florida on the Cheap readers an exclusive promo code for a $10-off discount for a production featuring its youth program. The discount is valid for the first 10 tickets. Use promocode: BroadwayMIA.
"Brévo for Broadway" features musical numbers from popular Broadway productions. It's performed by Young, Gifted & Brave – Theatre for Youth, described as a "multicultural and diverse group of high school students and recent graduates."
Shows are 2 p.m. and 7 p.m. July 23 at Proscenium Theatre.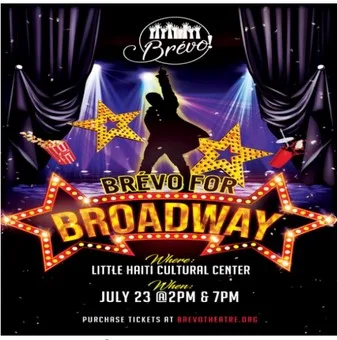 Venue: Little Haiti Cultural Center, 212 NE 59th Terrace, Miami, Florida 33137
Regular price tickets are $25 for adults and $15 for kids.
Purchase tickets online.
The youth outreach program offers workshops and one-on-one training to
students who are interested in high-quality actor training and
performance instruction, according to information about the production.
Other entertainment:
Tuesday, December 5, 2023
Wednesday, December 6, 2023
Thursday, December 7, 2023
Friday, December 8, 2023
Saturday, December 9, 2023
Sunday, December 10, 2023
Monday, December 11, 2023