The Calle Ocho Music Festival Is making its comeback this year after being canceled in 2021.
So get ready to represent your hometown and enjoy music, international food vendors and so much more!
Billed as the world's largest Latino music festival, the event is set for 11 a.m.-7 p.m. Sunday, March 13, 2022, and is free and open to the public.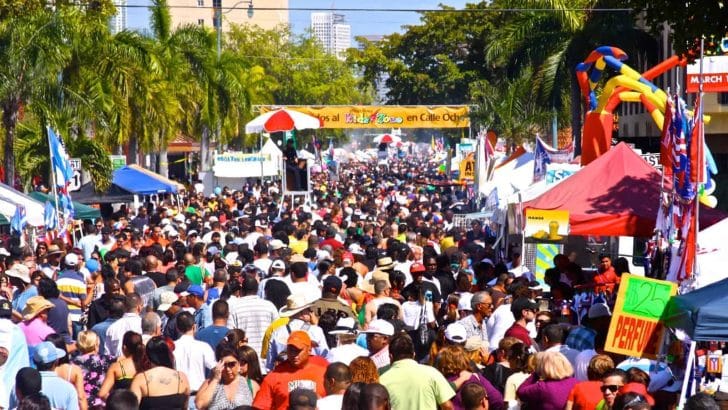 The annual event takes place along Miami's famous Eighth Street in Little Havana, from Southwest 12th to 27th avenues, with more than 300 food vendors, exhibits, activities and family friendly activities expected. It's estimated that more than 1.5 million people typically partake in the Calle Ocho celebration every year, with Latin American foods and popular musical acts on 10 stages, representing all Latin styles.
This year, a VIP ticket will be available for those looking to fully immerse themselves at the music festival.
According to the website, the VIP Passport Tour ticket is available for $100 and includes:
Front access to main stage featuring the King of Carnaval Miami 2022 (past "kings" have included Pitbull, Daddy Yankee, Chino y Nacho, Andy Garcia)
Reserved Parking
Commemorative official merchandise (Cap, t-shirt)
Latin eats and drinks at some of the hottest new restaurants in Little Havana
Backstage access to some of the main stages
Dance salsa to the best musical bands
Private Transportation
Free & cheap entertainment:
Sunday, February 5, 2023