A total of 47 Miles of beaches, great outdoor adventures, world class shopping, romantic getaways and plenty of arts & culture await visitors to the Palm Beaches. Spend your vacation enjoying water sports, visiting art galleries, attending outdoor festivals, browsing for antiques or playing a round of golf.
Finding the right place to stay is an important part of any vacation, and when you are on a budget you want to save money while still staying in comfortable digs that are near your planned activities. We have compiled a list of the best Palm Beach hotel deals to help you plan your vacation. Check them out below.
Some of the links in this post are special! When you make a purchase through our links, we might earn a commission at no additional cost to you.
---
We've partnered with aResTravel to offer hotel deals to travelers coming to Palm Beach County. If you're traveling to the Palm Beach area, or welcoming guests to Palm Beach County, please check out some of these deals.
You can book online, or by phone at 888-330-9972.
---
Palm Beach Hotels

This sleepy barrier island is home to old money families, rock stars, designers and politicians, and therefore not the most budget friendly place in the county. The Breakers, the most famous hotel in Palm Beach, built by Henry Flagler – Florida oil, rail and real estate tycoon – dates back to 1896 and rates there start at $350/night. Worth Avenue, the famous shopping destination voted "most iconic street in the US" houses the likes of Chanel, Hermes and Louis Vuitton among others. But fear not cheapskates, you can enjoy that old world charm, and stay smack dab in the middle of everything enjoying the upscale and charming surroundings without emptying your wallet. Check out our two lodging finds below.
---
Bradley Park Hotel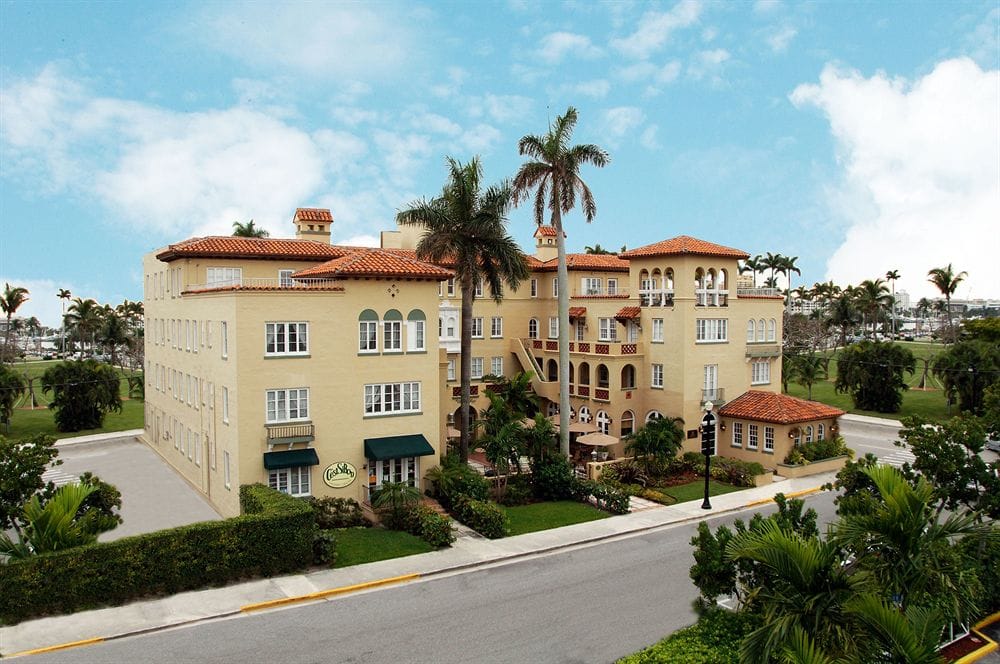 32 Room hotel in a historic Mediterranean Revival building. Located near the beach, The Breakers and Flagler museum. Easy access to the bridge to West Palm Beach. Some rooms have kitchens and there is a Publix supermarket nearby. Free WiFi, restaurant and lounge, self parking, fitness center, laundry service. Rooms all have safes, DVD players, separate sitting areas, microwaves, coffee makers. Worth Avenue is minutes away. Rates starting at $94/night. Click to find out more and to reserve a room.
Palm Beach Historic Inn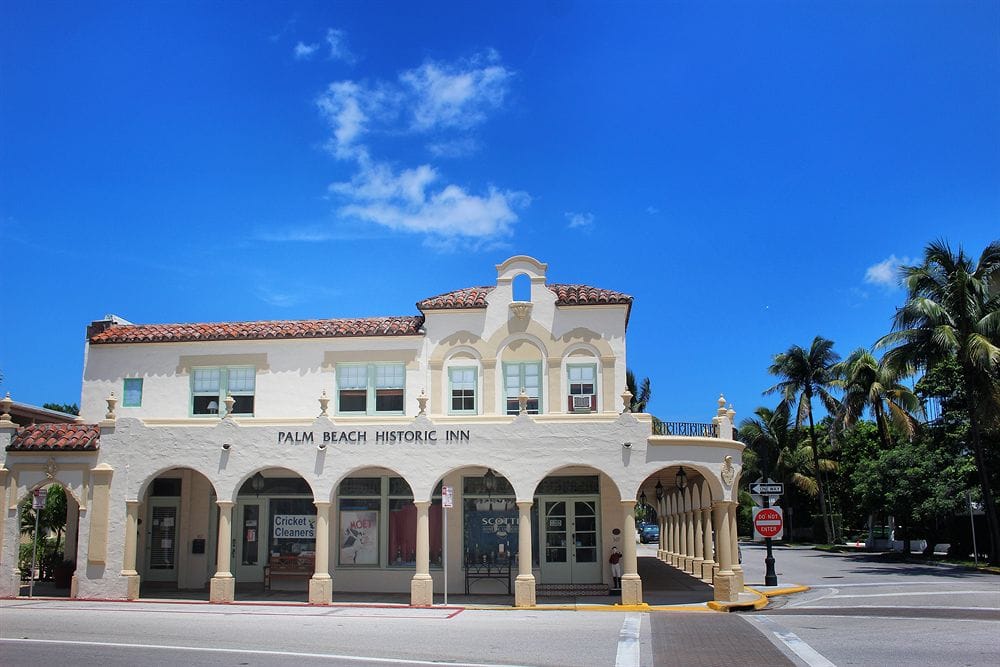 Small 13 room property also in a historic building and with the charm of a B&B. Just one block form the beach and two blocks from ritzy Worth Avenue shopping and restaurants. Free WiFi, computer stations, complimentary continental breakfast, free beach towels, loungers and umbrellas. Bike rentals on site and tour activities near by. Rooms have coffee makers, refrigerator, free bottle water as well as 37″ flat screen TV's with satellite channels, docking stations and premium bedding. Rates from $89.night. Click to reserve a room and for more information.
---
West Palm Beach Hotels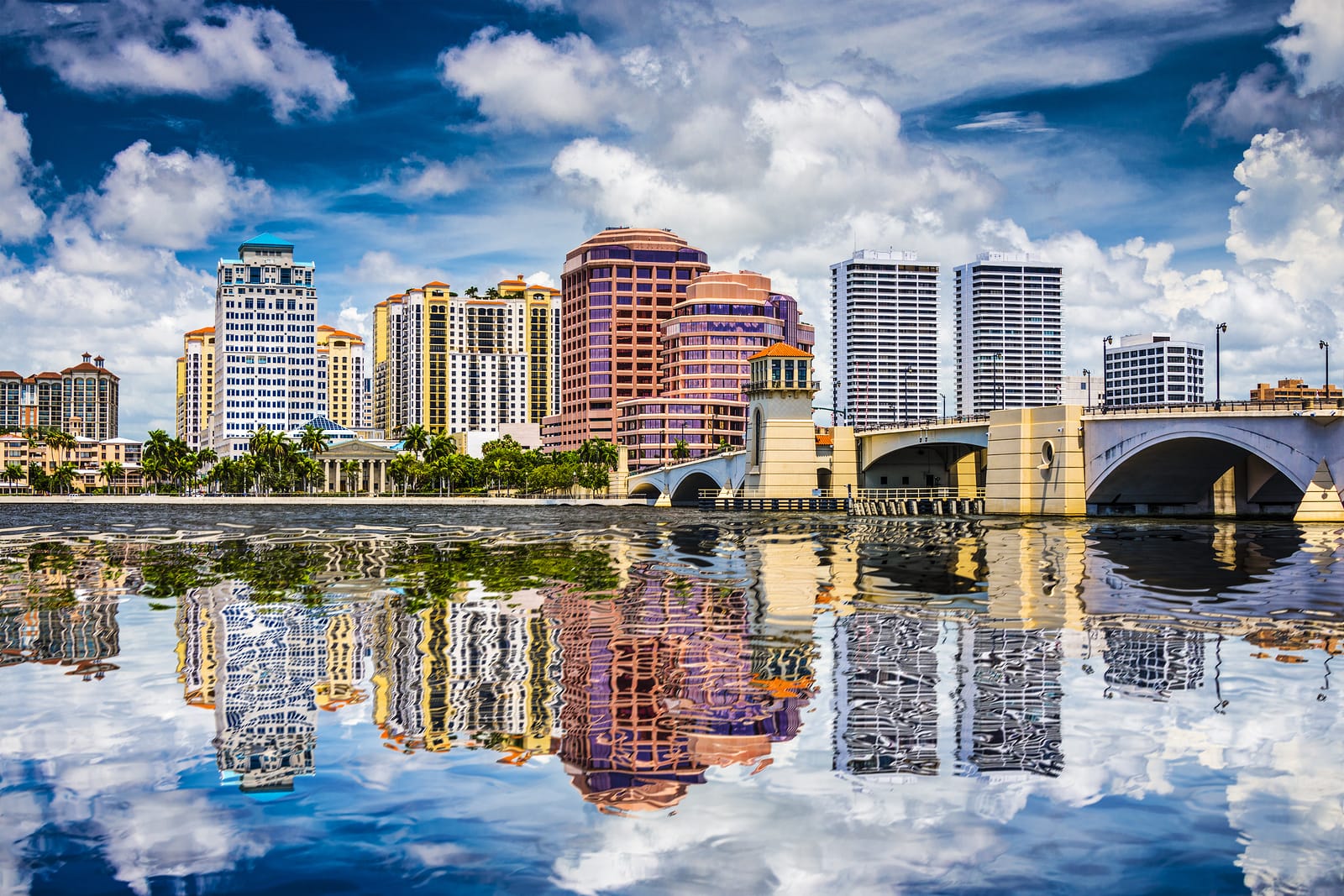 Downtown West Palm Beach and nearby neighborhoods have been experiencing a revival since the mid 90's. From Clematis St. along S. Rosemary St. and ending near the Palm Beach convention center you will find boutiques, restaurants, outdoor shopping centers such as City Place, a performance arts venue as well as an art school. A trolley circles the neighborhood providing easy access to the different areas of interest to visitors. Staying in this neighborhood and within walking distance of it all can be a little pricier than getting a hotel a couple of miles away, but may be worth it if you don't want to bother with a car and want to have all the action at your doorstep. We give you a couple of options less than a mile away as well as several a bit further away, below.
---
Hotel Biba

44 Room boutique hotel with pool, private gardens, complimentary breakfast, free WiFi and free parking. The Hotel Biba is on the National Historic registry and charms with its blend of retro architecture, splashes of art throughout and modern design. Rooms have pillow top mattresses, premium bedding and tea/coffee makers. Located just south of City Center and the Palm Beach Convention Center and by US1 for easy access to points of interest. Close by attractions include Ann Morton Sculpture Garden, Norton Museum of Art and the Armory Art Center. Rates starting at $69/night. Click to check availability and for more information.
Palm Beach Hibiscus B&B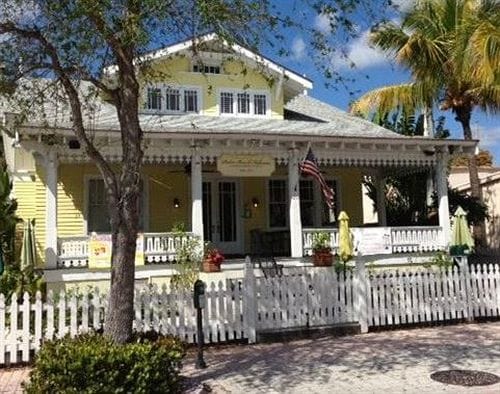 Key West tropical style meets charming B&B in the heart of West Palm Beach. Perfect choice if you wish to be within walking distance to everything downtown has to offer since it is a scant quarter mile from either City Place or Clematis Street. The 8 rooms are distributed between two historic houses from 1917 and feature modern bathrooms, colonial style furniture and comfortable bedding. Free WiFi, bath robes, coffee/tea maker and free full breakfast are some of the other amenities plus you can enjoy Happy Hour at the courtyard bar where the occasional jazz ensemble may make an appearance. Rates start at $139/night and well worth it if location and unique ambiance is important. Click here to find out more and to reserve a room.
Residence Inn Palm Beach

Brand new property, in the very heart of West Palm Beach and steps from City Place. This property gets the highest rating available from guests, and as such can be considered a great deal since rates are reasonable and include daily hot/cold buffet breakfast, outdoor pool, fully appointed kitchens in the rooms, fitness and business centers and many other amenities. Rates started at $117 when we checked. Click to find out more or make a reservation.

---
---
The Upper Level Hotel Alternative
Not your cookie cutter hotel, this small 9 room property has beautifully appointed interiors, art work in rooms and common areas and very attentive staff. "Hotel Alternative" in this case refers to the accommodations being like living in a large apartment or condo with multiple rooms that share a few bathrooms, but fret not, the ratio is if 5 rooms to 3 or 4 rooms to 2 bathrooms so plenty to go around. Rooms have down comforters, blackout drapes, mini bar, coffee/tea maker, bathrobes, pillow-top beds and more. There is a kitchen were you can make your own meals, and even get the staff to go grocery shopping for you. Special rates of $90/night when we checked. Click to find out more, read reviews or book a room.
---
By the Palm Beach Airport
Holiday Inn Palm Beach Airport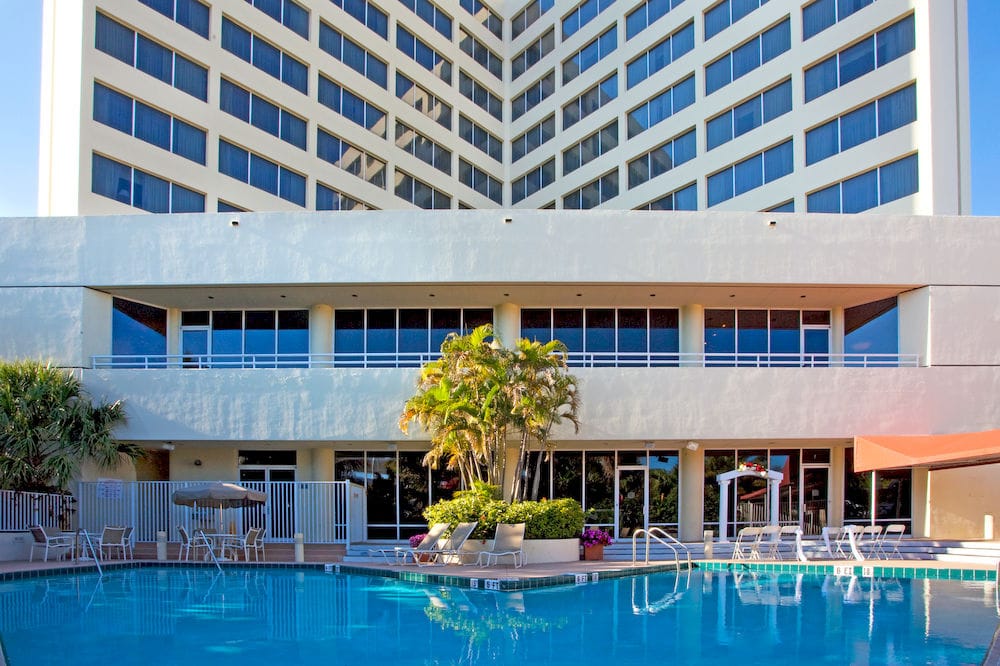 Reasonably priced airport hotel also conveniently located to downtown areas of West Palm Beach, the convention center and City Place. Free airport shuttle and free parking. Business center, outdoor pool and free WiFi. There is a restaurant and bar/lounge on site and buffet breakfast served daily, at an extra cost. Rates starting at $75/night. Click to find a room and get more information.
Hilton Garden Inn West Palm Beach Airport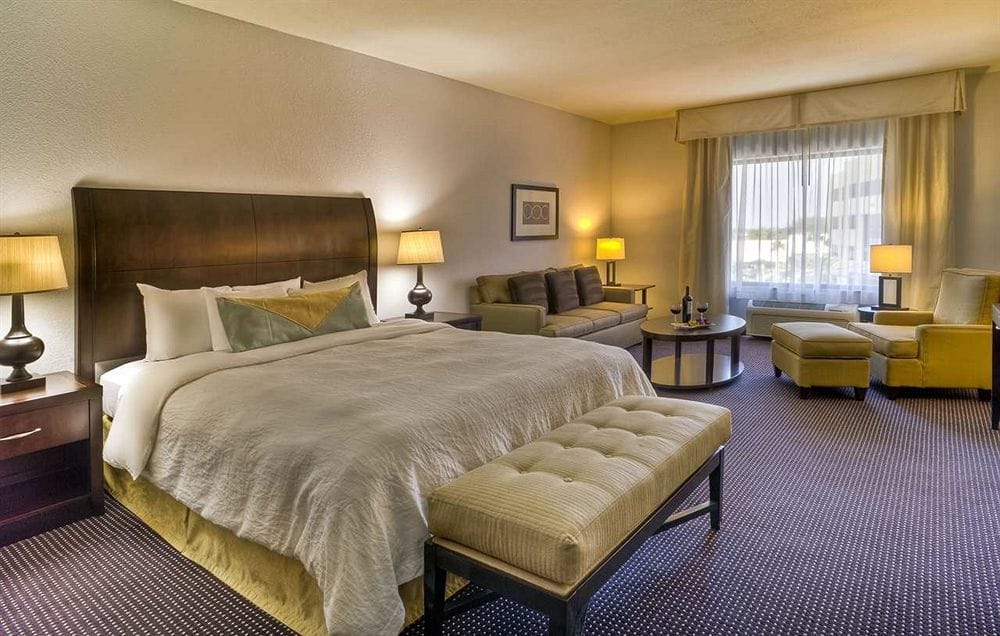 Spacious and comfortable rooms, with separate sitting area, free WiFi, coffee maker, refrigerator and microwave and premium bedding and blackout drapes. Common area amenities include outdoor pool, fitness room, restaurant/lounge and 24 hours fitness center. Free airport shuttle. 2 Miles from downtown West Palm Beach and City Place and Convention center. Rates from $76/night. Click to book a room and find out more.
---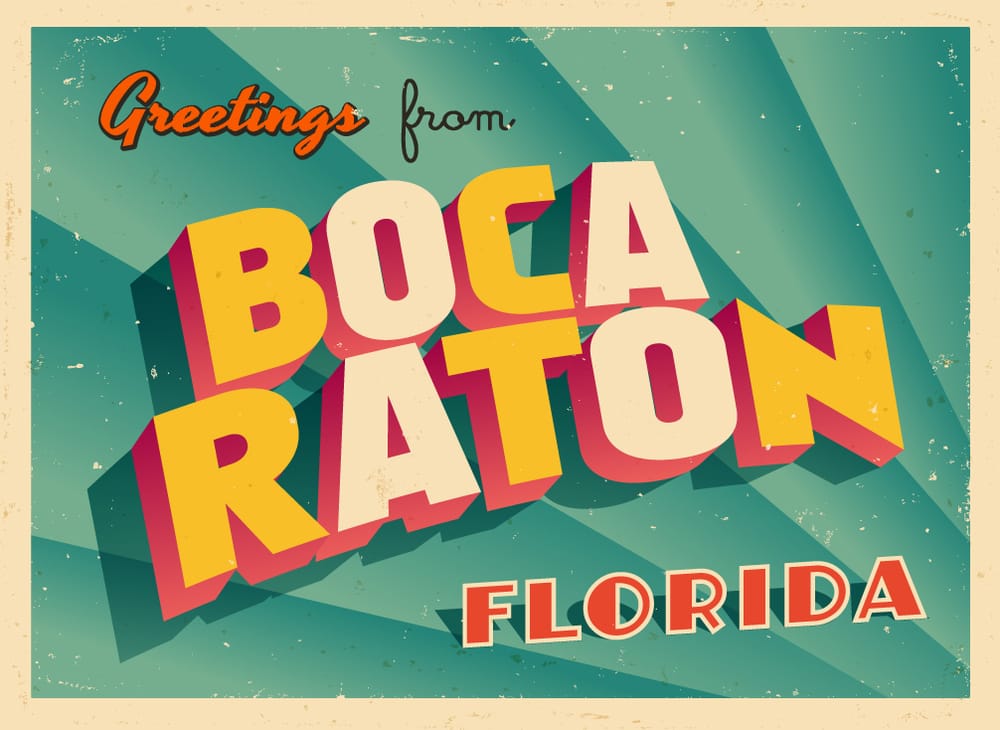 Best Boca Raton Hotel Deals
At the Southernmost part of Palm Beach county lies Boca Raton, or just Boca as locals call it. With 5 Miles of beaches, lots of parks with kids activities including an action sports complex, tennis courts and golf courses, Boca has something to offer visitors of all stripes.
Enjoy excellent shopping and dining in pedestrian friendly Downtown Boca or Mizner Park with its resort ambiance, catch a show at their amphitheater or cinema or visit the Boca Art Museum and check out local events such as Brazilian Fest, The Green Market and other cultural events that happen throughout the year.
This South Florida town was founded in 1925 at the height of the Mediterranean Revival architectural boom and many examples of this style can still be found around town. Scroll down to find the best Boca Raton hotel deals for your visit.
Some of the links in this post are special! When you make a purchase through our links, we might earn a commission at no additional cost to you.
---
We've partnered with aResTravel to offer hotel deals to travelers coming to Palm Beach County. If you're traveling to the Palm Beach area, or welcoming guests to Palm Beach County, please check out some of these deals.
You can book online, or by phone at 888-330-9972.
---
Boca Raton Beach Hotels
Staying right on the beach in Boca can be challenging for deal seekers since offerings are limited, nevertheless we did find a couple of good options and you can always head south for just a couple of miles and across the county line from Palm Beach into Broward county to Hillsboro and Deerfield Beach and you will find reasonably priced hotels by the seaside.
Ocean Lodge, Boca Raton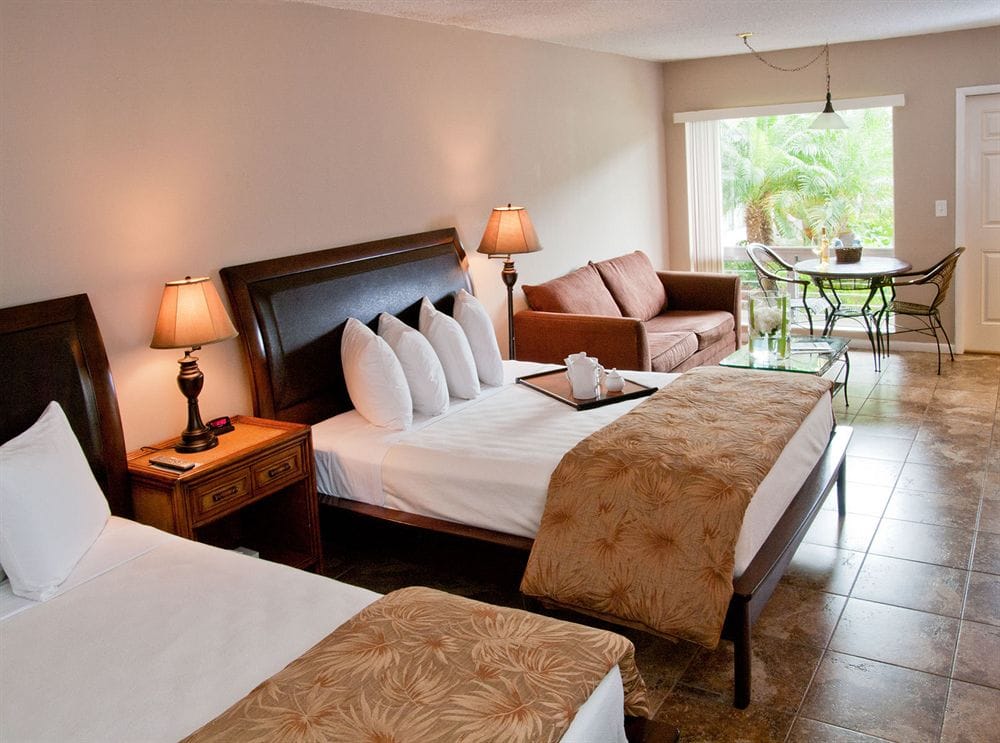 Small 15 room hotel with a relaxed, laid back vibe is situated across the beach and less than a mile from Red Reef Park, South Beach Park and Gumbo Limbo Nature Center. Rooms are all Jr. Suites with kitchenettes with cookware and utensils, coffe/tea makers and seating area,. Flat screen TV's, free WiFi and free bottled water. There is a small pool onsite as well as picnic and BBQ areas. Free parking and basic breakfast included. Limited front desk hours as this is a small family run property. rates from $99/night. Click for more information and to check availability.

Best Western Plus University Inn, Boca Raton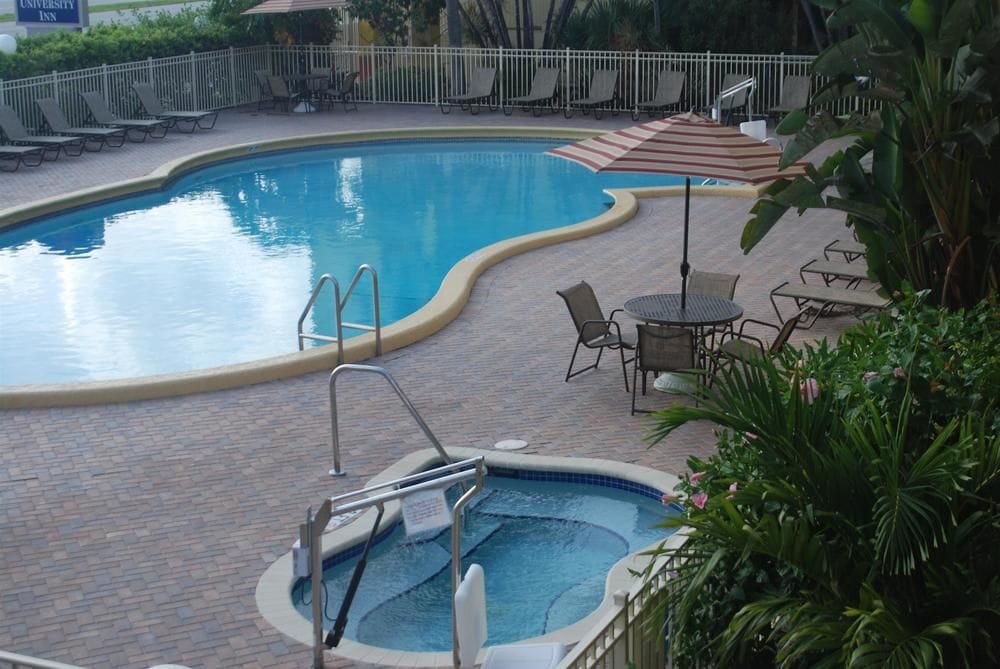 Although not right on the beach the Best Western is one of several hotels along US1 that offer proximity to area beaches. Between the ocean and US1 lie a couple of lakes, but a short drive across one of the several bridges north and south will have you dipping your toes in the surf in not time at all. Rooms at the Best Western have fridges and microwaves and the property offers free parking and WiFi plus complimentary continental breakfast. Rates from $77/night. Click for more info and to check availability.
---
Also along US1:
Boca Raton Plaza Hotel & Suites
Quality Inn Boca Raton
---
Waterstone Resort & Marina, Boca Raton

For a bit of a splurge on a budget try this Doubletree by Hilton property which not only puts you near the beach but also close to downtown Boca. The hotel is newly renovated and has a trendy and stylish vibe and most rooms have gorgeous water views and balconies. Two restaurants, 2 bars, outdoor pool, fitness and business centers. Beach shuttle. Free WiFi in lobby areas only. Parking and breakfast are not included in the rate so budget travelers should plan accordingly as these charges can quickly add up. Rates from $139/night. Click for info and availability.

---
---
Hotels on the beach, south of Boca
Conveniently located in Deerfield Beach or Hillsboro these are great options to stay on a budget yet near everything.
Comfort Inn Oceanside, Deerfield Beach


This hotel is situated only steps from the beach, and a scant quarter mile from the Deerfield Beach Pier, with its restaurants, shops, fishing and other water based activities. Free WiFi, complimentary buffet breakfast and morning papers. The Comfort Inn is a reasonable priced choice and has a pool with a water slide feature for the kids, restaurant and pool bar. Rates starting at $76/night. Click for more info and to make a reservation.
Ocean Villas Deerfield Beach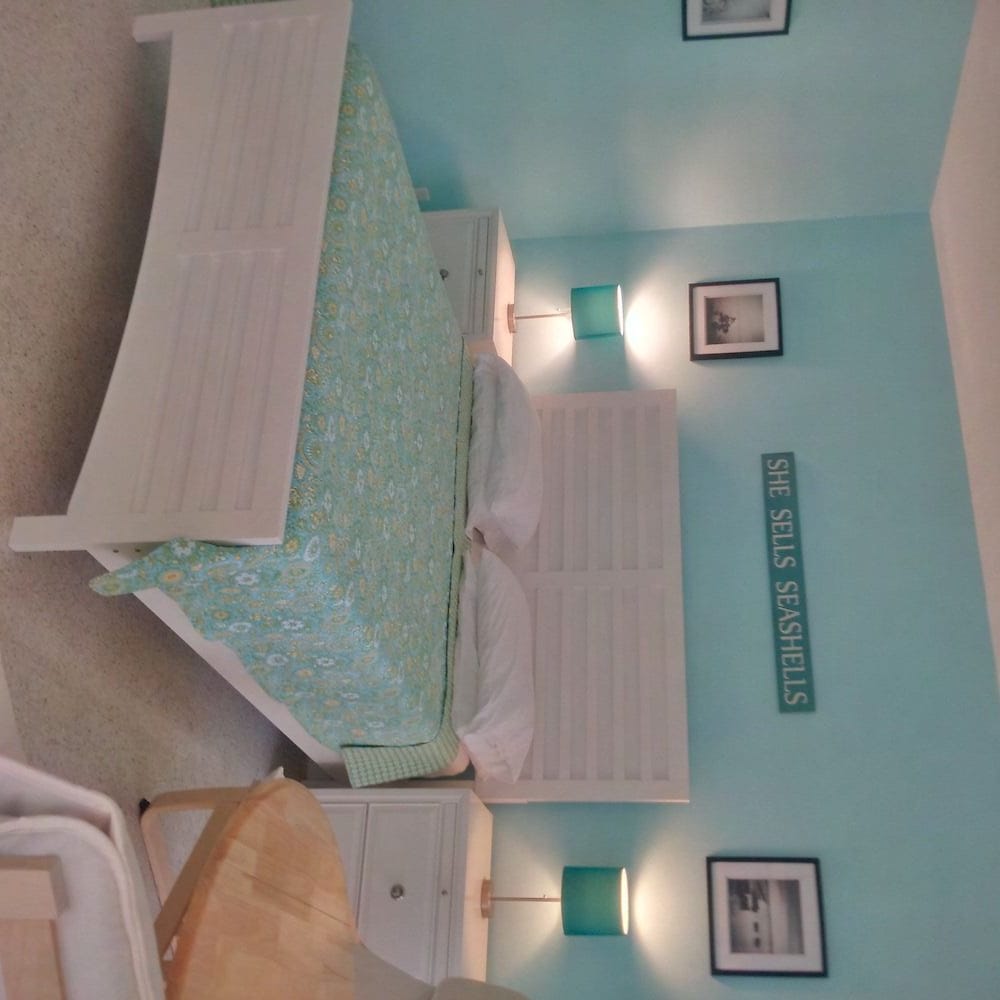 Bright, spacious and airy rooms with balconies or patios, kitchenettes with full size fridges. Separate sitting and dining areas. Located steps away from the beach, this small 20 room motel offers free parking and complimentary WiFi. Outdoor pool, picnic area and BBQ grills. Less than a mile from Deerfield Beach Pier and three miles to Boca Raton. Rates from $85/night. Click to check availability and for more info.
Seaboney Beach Resort, Hillsboro Beach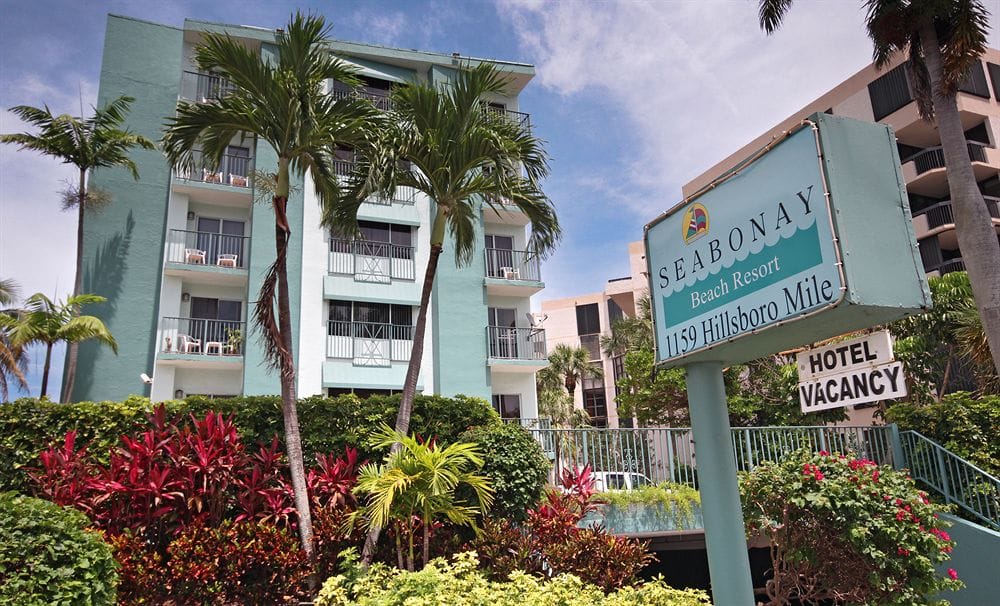 Nestled between the ocean and the intra-coastal waterway sits the Seaboney Resort, a budget option right on the sands of the Hillsboro beach. Property is located about 2 miles from the Deerfield Beach Pier and 5 miles from Boca Raton. Many rooms have kitchenettes and separate sitting areas and several offer ocean front views. Outdoor pool, free local shuttle, self service laundry. Limited desk hours and no restaurant, breakfast is available for a surcharge. This is more like renting a studio in an apartment building than a regular hotel but with rates starting at $65/night for direct beach access who can complain? Click for more info and to check availability.
---
Downtown Boca Hotels
Most budget properties offering easy access to City Center and other central Boca Raton destinations are located along US1 or Federal Highway and some of the suggestions above for "near the beach" hotels can also be convenient for downtown visitors such as the Waterstone, Beach Lodge or Best Western. Below you will find two more budget choices in the area:
Quality Inn Boca Raton
48 Room basic hotel offers free buffet breakfast, free parking and complimentary parking. Rooms have refrigerators and microwaves, and coffee/tea makers. Less than 2 miles to the beaches, state parks and City Center. Nigthly rates from $65. Click to find out more and to book a room.
Boca Raton Plaza & Suites

Family hotel in the heart of Boca and also near area beaches and Atlantic University. Free parking and WiFi. Outdoor pool, jacuzzi and fitness center. Restaurant and bar/lounge. Cooked to order breakfast available for a surcharge. Rooms have microwave, refrigerator and coffee/tea maker. Rates from $69/night. For availability and more info click here.
---
We pick hotels based on several criteria, looking for properties that have mostly positive ratings and range in the level of good to excellent while also offering good value. We search for the lowest rates available at the time of publication but as is common with hotels, rates fluctuate based on the season and whether there are any special events or conventions in town.
Our affiliate relationships with the vendors you see here make us small commissions when you book via our website. It does not cost you any more and helps us keep bringing you deals and special offers. We only enter into affiliate relationship with companies we believe bring good value to our readers.