If it's April 1, you know what that means? It's the one day a year when The Peach, Palm Beach County's newest art collective, gears up for lots of fun and frivolity by hosting an annual April Fool's Art Walk. This year's event features live entertainment by Zoo Peculiar, an experimental rock trio based in South Florida, after sundown. Free admission, 5-10 p.m., Saturday, April 1, 2023, at The Peach, 3950 Georgia Ave. West Palm Beach; 561-532-0900.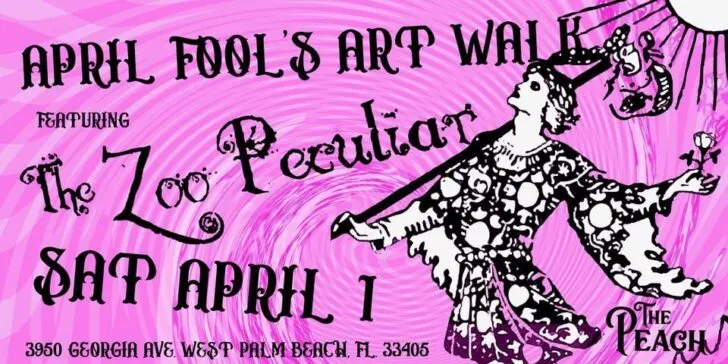 You can also expect performance art, open studios, live art, plus you can paint on the community murals, tour the studios, visit the creative vendor market and grab some BBQ next door at Troys (prices vary). Plus, there will be an art supply swap meet table, where artists can trade unused materials with other creatives. Visit thepeachwpb.com for more details.
NOTE: All events are subject to change or cancellation. We suggest you confirm details before heading out.
Sign up for South Florida on the Cheap newsletter. Follow on Facebook, Twitter and Instagram.
More free and cheap music and events:
Sunday, May 28, 2023
Monday, May 29, 2023
Tuesday, May 30, 2023
Wednesday, May 31, 2023
Thursday, June 1, 2023
Friday, June 2, 2023
Saturday, June 3, 2023
Sunday, June 4, 2023
Tuesday, June 6, 2023
The Peach, West Palm Beach
3950 Georgia Ave.
West Palm Beach, FL 33405
(561) 532-0900