This Tuesday, Oct. 31, the Lincoln Road pedestrian promenade will transform into a spooktacular event, with trick-or-treating for kids from 5 to 7 p.m.; and then a Halloween block party from 7 p.m. to 1 a.m.
There will be strategically placed candy stations, and pizza trucks, while outdoor bars and local shops and eateries participate in the ghoulish atmosphere, all with nonstop music.
Live Band: Pepito Montes / Mister Conjunto, 9-11 p.m.; plus various DJs at Lennox Avenue continuing the beats from 7 to 9 p.m. and 11 p.m. to 1 a.m.
A variety of DJs will also be positioned at Pennsylvania Avenue (disco); Jefferson Avenue (Latin); Drexel Avenue (Hip-Hop); and Michigan Avenue (funk, soul, disco).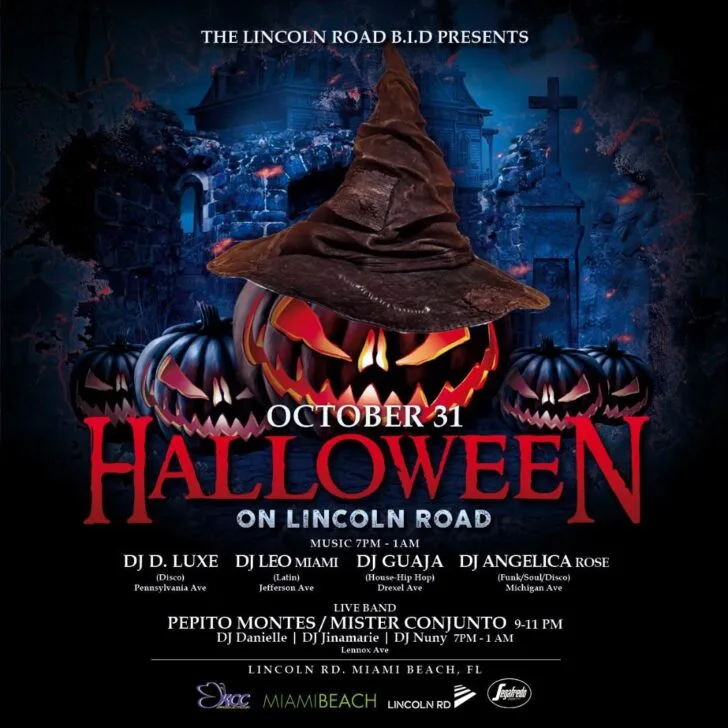 Road closures will be lifted at 1 a.m., Wednesday, Nov. 1.
For more details, visit: Halloween on Lincoln Road 2023.
Here's a preview on YouTube from previous years.
For free general admission tickets, see: Halloween on Lincoln Road Tickets on Eventbrite.
Parking: The 17th Street Garage, operated by the City of Miami Beach has 1,460 parking spaces, is open 24 hours, and provides quick access to Lincoln Road stores and restaurants.
Rates:
The first six hours will cost $1/per hour. Eight hours of parking will cost only $10. The maximum daily rate and lost ticket rate is set at $20 (which is an excellent deal in South Beach). More details found here.
To keep up with the latest news, sign up for the South Florida on the Cheap newsletter. Follow on Facebook, Twitter and Instagram.
Seasonal and Halloween events in South Florida
• Free and cheap Halloween events in South Florida
• Trick-or-treating in Broward
• Halloween events in Miami-Dade
• Trick-or-treating in Miami-Dade
• Halloween events in Palm Beach County
• Trick-or-treating in Palm Beach County
More Halloween happenings
Sunday, December 10, 2023
Wednesday, December 13, 2023
Sunday, December 17, 2023