Lights dancing to favorite seasonal songs are the draw at a popular outdoor walk-up holiday light show in Plantation Acres called Christmas Lights in the Acres.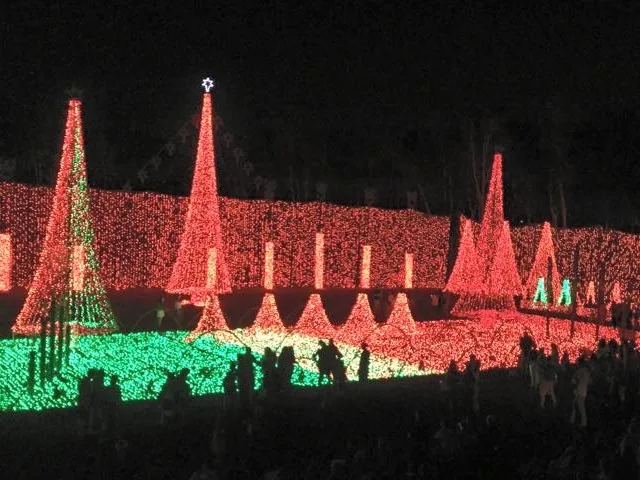 Christmas Lights in the Acres allows you to walk through the lights display.
Tickets are required for the impressive light show synchronized to festive tunes. The fee is $10 per vehicle (but the attraction is walk-through, not drive-through), and you must buy tickets in advance on the app, no later than 6 p.m. on the day you wish to attend. If you have the app from previous years, you will need to update it.
The display was created by Joey Callahan, who started the display at his home but moved it Plantation Baptist Church in 2013.
Christmas Lights in the Acres 2023 schedule
Here is the schedule for 2023. Hours are 6 p.m. to 10 p.m.
November 24-26
November 30 through December 3
December 7-10
December 14-23
December 26-28
More holiday light displays in South Florida

More free and inexpensive holiday events
Friday, December 1, 2023
Saturday, December 2, 2023
Sunday, December 3, 2023
Monday, December 4, 2023
Tuesday, December 5, 2023
Wednesday, December 6, 2023
Thursday, December 7, 2023
Friday, December 8, 2023
Saturday, December 9, 2023
Sunday, December 10, 2023
Monday, December 11, 2023
Tuesday, December 12, 2023
Wednesday, December 13, 2023
Thursday, December 14, 2023
Friday, December 15, 2023
Saturday, December 16, 2023
Sunday, December 17, 2023
Monday, December 18, 2023
Tuesday, December 19, 2023
Wednesday, December 20, 2023
Thursday, December 21, 2023
Friday, December 22, 2023
Saturday, December 23, 2023
Sunday, December 24, 2023
Monday, December 25, 2023
Tuesday, December 26, 2023
Wednesday, December 27, 2023
Thursday, December 28, 2023
Friday, December 29, 2023
Saturday, December 30, 2023
Sunday, December 31, 2023
Monday, January 1, 2024
Tuesday, January 2, 2024
Wednesday, January 3, 2024
Thursday, January 4, 2024
Friday, January 5, 2024
Saturday, January 6, 2024
Sunday, January 7, 2024
Monday, January 8, 2024
Tuesday, January 9, 2024