The Flavors promotion offered in October is designed to draw patrons to independent restaurants in Tamarac.
This is a restaurant promotion that includes a fun twist. It includes Restaurant Bingo, with an opportunity to win prizes. Players who spend at least $10 at participating restaurants dining in, taking out or ordering for delivery receive Restaurant Bingo stickers. Apply the stickers to Restaurant Bingo forms, which are offered online and at participating restaurants.
Players submit Bingo forms into a drawing for prizes. Forms are submitted using text or email. Snapping selfies is another way to enter a drawing for prizes. Post selfies from a participating Tamarac restaurant on Facebook, Instagram or Twitter and tag @flavorsoftamarac, and use #TamaracBingo.
Prizes are gift vouchers for participating restaurants. Participating restaurants and rules for entering the prize drawings are on their website.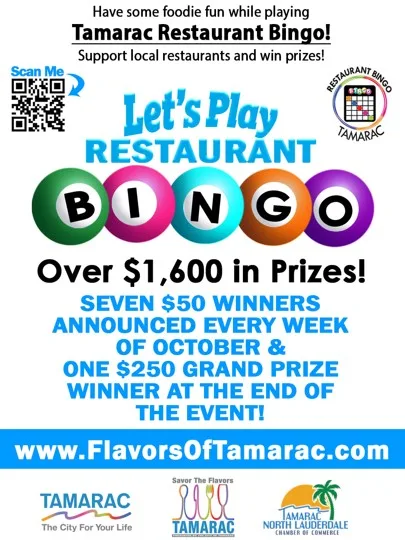 To keep up with latest news, sign up for the daily Miami on the Cheap newsletter. You can also follow us on Facebook, Twitter and Instagram
Other restaurant promotions
Other restaurant deals