When the Fourth of July rolls around this year, what are you especially excited about — the fireworks displays or the holiday picnics?
Look to us as your guide to what's going on around Miami-Dade on July 4, 2022. Please return as other events are added.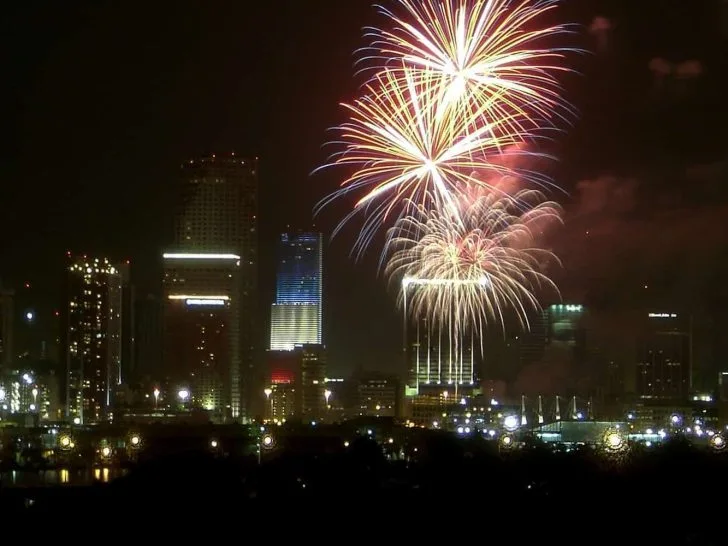 Ocean Drive
Dazzling fireworks and a symphony orchestra performance are featured during festivities 8:30 p.m. July 4 on Ocean Drive. Independence Day fun and entertainment are presented by Ocean Drive Association. Patriotic entertainment features Miami Beach Classical Music Festival Symphony Orchestra. Venue: Lummus Park, 599 Ocean Drive, Miami Beach.
Bayfront Park
Entry is free for Fourth of July fun at Bayfront Park, 301 N. Biscayne Boulevard, Miami 33132. The event includes fireworks at 9 p.m.
4 p.m. – 9 p.m. event includes food trucks and entertainment
Timbalive,
Latin All Stars
Genesis Diaz performing the National Anthem
Julio Montalvo
For kids, bouncy houses are on site.
Hialeah
Fireworks and laser display, live entertainment & food vendors are featured at July Fourth festivities 4 p.m. – 11 p.m. July 4 at Milander Park, 4800 Palm Avenue.
Entertainment includes
Leoni Torres

Srta. Dayana

Chacal

DJs
Information is online or 305-883-5800
Homestead
Entry & parking are free for festivities, fun & fireworks 6 p.m. – 10 p.m. July 4 at Miami Speedway, 1 Ralph Sanchez Speedway Blvd., Homestead 33035.
Event includes
Kids zone with rides
Fireworks synced to popular & patriotic favorites
live entertainment
food vendors
games
Information is online
Miami Symphony Orchestra
Popular event at Peacock Park 8 p.m. July 4 features a free Symphony Orchestra performance, 2820 McFarlane Road, Miami. Information is online.
Miami Beach
Fourth Fun & fireworks at 12 p.m. – 9:30 p.m. in and outside Miami Beach Bandshell, 73rd & Collins Avenue, includes
family activities
food vendors
live entertainment
roller disco
fireworks @ 9 p.m.
circus performers
Entertainment includes
Amazing Animals
Dangerfun Show
The Incredible Ian
Miami Beats
Bootleg
Jam with Jamie
Camie Liz
DJ Ivan
Free shuttles
Free shuttles are provided 11 a.m. to 11 p.m. between the 42 Street garage, on Sheridan Avenue north of 41st Street, and Miami Beach Bandshell.
Free trolley from 8 a.m. to 11 p.m.
Information about the event, parking & shuttles is online
Miami Lakes
Fun & entertainment 6:30 p.m. July 4 at Veterans Park includes fireworks and concert. Veterans Park, 15151 NW 82nd Ave, Miami Lakes 33016. Information is online.
The Wharf Miami
Wharf Miami, an events venue at 114 SW North River Drive, Miami 33130, a dining and entertainment venue, is offering July Fourth festivities July 4, including
live entertainment
drink deals
fireworks show
RSVP online for a free Tito's drink before 4 p.m. Kids and leashed pets are permitted prior to 6 p.m. After 6 p.m., the venue is for ages 21 and older.
Table reservations are online, information is online.
Coral Gables
Gables Fourth festivities & fireworks extravaganza is at Biltmore Hotel golf course, 1200 Anastasia Ave. Venue opens at 5 p.m., with concert at 7 p.m, & fireworks at 9 p.m. Entry is free. Information is online.
Zoo Miami
Entry at Zoo Miami is a reduced rate July 4 of $17.76, including tax. Limited tickets are available. Purchase online. The website states: "No refunds. Unused tickets can be used towards the purchase of future admission tickets (while offer is valid)." Entry is free for ages 2 & younger. Regular prices are $22.95 for ages 13 and older and $18.95 for ages 3 -12. Tax is extra.
Entertainment Calendar
Sunday, June 4, 2023
Monday, June 5, 2023
Tuesday, June 6, 2023
Wednesday, June 7, 2023
Thursday, June 8, 2023
Friday, June 9, 2023
Saturday, June 10, 2023