Getting outside and breathing in fresh air is always a good thing. Miami's many gardens are an ideal setting for taking a nice, long stroll surrounded by lush, colorful scenery.
Historic spots such as Fairchild Tropical Botanic Garden, Deering Estate, Vizcaya Museum & Gardens, The Kampong and Pinecrest Gardens are just a few we suggest.
Stroll through the multi-acre lush landscape. Enjoy a tropical rainforest, a multitude of orchid species, native flora and fauna and a host of palm varietals. Pack a picnic to enjoy in the shade or along one of the many ponds. Colorful works by glass sculptor Dale Chihuly dot the landscape.
Take a self-guided tour of the abundant and shade producing legacy trees. Let your nose guide you on the Aromatic Tour, where you're encouraged to smell rosemary, wild cinnamon bark and the ylang ylang flowers.
In the Pine Rockland area, marvel at the Southern Live Oak which is perfect bird watching with its wide, strong branches where they love to nestle. This area is also home to the colorful pine pink orchid and red mangroves with their tangled, intertwined roots.
There are several ways to save on admission via AAA and the American Horticultural Society Reciprocal program. There are also discounts for bikers, walkers, people who use public transportation, military personnel and first responders.
Click here to learn about these tours of the grounds.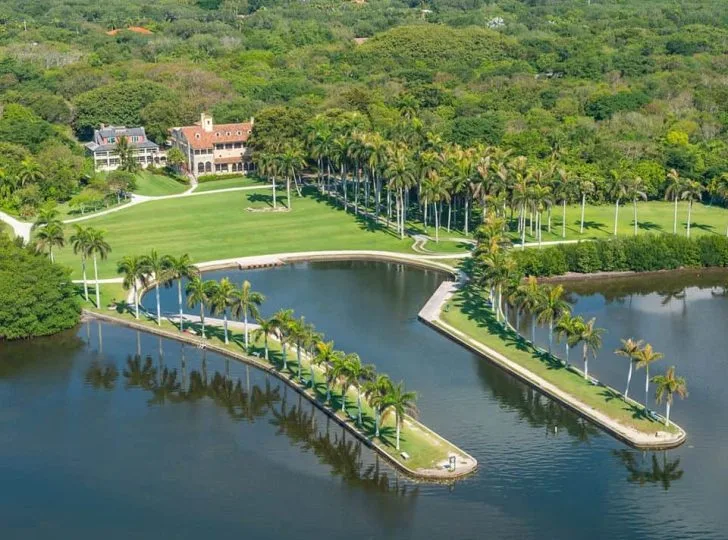 Deering Estate
Spend the day exploring the grounds of this historic attraction. Hike and explore the various natural areas. Spot orchids, a variety of trees and endangered species along the 87-acre Pine Rocklands.
Make time for walks through the Tropical Hardwood Hammock, Chicken Key and Biscayne Bay Aquatic Preserve too.
Additionally, the Environmental Endangered Land area features a fishing point and ideal place to spot a variety of shorebirds and even crocodiles.
Access Deering Estate via the Florida Turnpike, US Highway 1 or Old Cutler Road. Ride public transit by taking Metrorail to the Dadeland South station, take MetroBus 1 or 152 and transfer to the IBus for drop off at the parking lot. Bikers will love the 11-mile bike path from Cocoplum Circle past Matheson Hammock Park to Deering Estate.
Click here for more details.
Take a self-guided tour through this Coconut Grove garden created by famed botanical explorer David Fairchild.
The Kampong features exotic plants he collected during his travels throughout Southeast Asia. Expect to see at least 50 varieties of mangoes, various species of palms and cycads, flowering trees and exotic fruit trees.
Candle fruit, egg fruit and peanut butter fruit plus cocoplums are all part of the landscape here. The lily ponds throughout the grounds add to the beauty.
Click here for more information.
Set along Biscayne Bay, the Italian renaissance is gloriously represented at this iconic bayfront mansion.
The 10 acres of gardens provide the perfect place to sit and relax. Visit the Secret Garden, Theater Garden, Maze Garden and Fountain Garden. Elaborate sculptures and fountains grace the grounds and walkways.
Antique and commissioned sculptures are featured throughout the grounds. Made of soft and porous coral stone, they are strategically placed where vines and plants naturally drape over them. The Garden Mound is another highlight, an artificial hill that fits perfectly into the subtropical gardens.
There are 400-year-old trees, more than 2,000 orchid specimens, a variety of endangered plants in the Native Forest, and the mangrove shoreline to complete the experience.
By all means, descend the grand steps and take in the bayfront view. The drive along South Bayshore Drive to arrive at Vizcaya is almost as scenic as the attraction itself.
Plus, Vizcaya is currently offering discounted pricing! Learn more by clicking here.
The 14-acre botanical garden sits on the old Parrot Jungle site.
Meander through the Lower Gardens filled with freshwater ponds, swampy areas, and a host of rare tropical plants.
One unique area The Dry Gardens feature succulents, cycads, shrubs and cacti, all of which require minimal water.
Definitely don't miss the Coastal Bald Cypress Slough where the old-growth trees provide support for native cocoplums, pond apples and rare ferns. Click here for details.
This three-acre tropical oasis sits in the heart of Miami Beach and it's brimming with beauty.
The sanctuary-like grounds feature a variety of water features, a native and an edible garden, flowering trees, wildlife and of course plenty of orchids and palm tress.
Stroll through the Japanese Garden, walking over an idyllic red bridge then take in the colorful fruits in the edible garden. There you'll see starfruit, papaya, pineapple, lychee and pomegranates growing.
The orchids are just as colorful, bursting with yellows, purples, pinks and whites while in the Palm Garden there are more than 100 species represented. The main pond filled with water lilies and featuring a cascading fountain and circular fountain are the garden's water features. They're surrounded by red mangroves and plenty of water loving plants.
OTHER FUN OUTDOOR ACTIVITIES
Grab your bike and two-wheel it through some of Miami's many bike trails. We've got a great list to get you started! Click here for details.
Are you an art enthusiast? Take in the abundance of public art around Miami, either from your car or on foot. Click here for details on where to find it!
More free and cheap things to do in and around Miami
Friday, September 22, 2023
Saturday, September 23, 2023
Sunday, September 24, 2023
Monday, September 25, 2023
Tuesday, September 26, 2023
Wednesday, September 27, 2023
Thursday, September 28, 2023