The below are free or cheap places to take the kids for fun, sun and interesting activities in Miami.
Miami-Dade can be pricey but there are still loads of things to do with your kids for free or low cost. Top on the list are South Florida's pristine – and free – beaches. You can also find plenty of other free or low-cost things to do in Miami. How about visiting a museum or taking part in one of their many monthly family days? Enjoying a tropical forest? Strolling colorful Calle Ocho? They're all offered in Miami-Dade County. Here are free and cheap things to do with kids in Miami.

Ocean on Watch
Tourists spend thousands of dollars to come to the Magic City but you can enjoy one of the top destinations for free: the Miami Beach Boardwalk. You can walk from South Pointe Park at the tip of Miami Beach and take the boardwalk from 5 St. to 46 St. all the while checking out historic buildings and luxury hotels.
You can swim or rent equipment to surf, kayak, kite board or snorkel. They have restrooms, showers and are staffed with lifeguards during the day.
You can also get off the boardwalk to venture south into the heart of South Beach and all its glamour. Be sure to keep your child-friendly trips to SoBe during the day. For more information, call the Tourism Hotline at 305-673-7420.
Beach Bonanza
Key Biscayne's Crandon Park Beach offers another one of the nation's top 10 family beaches at 4000 Crandon Boulevard. Think two miles of white sand in a serene lagoon-style setting. There are lifeguards, restrooms and picnic facilities.
If the kids get bored at the beach's ocean blue vista, they can go the park's gardens, both manicured and wild. The kids might really like the tropical forest with its wild overhanging vines and ferns.
The park is open from sunrise to sunset, seven days a week. The park is free, but there is a $5 weekday parking charge and $7 weekend charge for parking and the toll to get to Key Biscayne is $3 per car. For more information call the park's office, 305-365-2320, from 8 a.m. to 5 p.m.
The Slow Lane with a Free Farm
Further north and far, far from the urban crowd, your family can experience life in the slow lane: A pioneer farm with horses, ponies, cows, pigs, sheep, geese, chicken and even a donkey or two. Enjoy the pioneer Bill Graham's Farm Village at Amelia Earhart Park, 401 E. 65th St., Hialeah, which boasts a sugar cane press, an old general store, horseshoeing, cow milking and a fishing lake.
The park also has one of South Florida's top-ranked mountain biking trails and a dog park. It's free during the week; parking is $7 on Saturdays and Sundays. The park is open from sunrise to sunset with its office open from 8 a.m. to 5 p.m. Call 305-685-8389 for information.
Free Hiking Trails – Birds or Bats?
Miami has its wild side – of the flying kind. You have a variety of choices at Greynolds Park, 17530 W. Dixie Highway in North Miami Beach. You can take owl walks or bat hikes. Or maybe bird sojourns or butterfly walks amid nearly 250 acres of mangrove forests and hardwood hammocks.
The park, once a rock quarry, is now restored to its natural past. It offers nature walks for everyone as well as a bird rookery, mangrove boardwalk, historic boathouse, observation mound and a lagoon. It's on the historic Oleta River where the Tequesta Indians once lived.
The park is free and open from sunrise to sunset, seven days a week, Pay by Phone to park. Call 305-945-3425 during office hours of 8:30 a.m. to 4:30 p.m. Monday through Friday; 9 a.m. to 5 p.m. on the weekends.
Museums on Us for Bank of America cardholders
Once a month, on the first full weekend of the month, several Museums around Miami offer free admission to Bank of America cardholders through their Museums on Us Program. Click here to read full details on this promotion.
Free Trip to Cuban Miami
You don't want to miss one of Miami's most historic streets, Calle Ocho – Spanish for Eighth Street. It's in Little Havana where many Cubans first settled after fleeing their island when Fidel Castrol took over in 1959. Along Southwest Eighth Street between 12th and 27th avenues, you can still see hand-rolled cigars, fruit stands, herbal stores, meat markets and open-windowed cafes that sell tiny cups of strong coffee for a quarter.
There's Maximo Gomez Park, better known as Domino Park, 801 SW 15th Ave., where aging Cuban Americans still play dominos and chess. Just east of the park is the Walk of the Stars, which honors Cuban American celebrities such as Celia Cruz and Gloria Estefan.
At the corner of 13th Avenue and Southwest Eighth is the Cuban Memorial Plaza, which pays homage to Cuba's heroes, including founder and poet, Jose Marti (who also has a nearby park named after him).
The third Friday of the month is Viernes Culturales (Cultural Friday), with free music, art walks and other activities, including an occasional free guided tour, from 6 to 11 p.m. Click here for full info on this long-running monthly event.
Picnic with Miami's History
The Barnacle Historic State Park, 3485 Main Highway in one of Miami's oldest neighborhoods, Coconut Grove, is a rare treat for kids. They get to stomp around one of Miami-Dade County's oldest Biscayne Bay estates while daydreaming of water adventures. It's right at their feet: vistas of blue bay.
You can picnic on the grounds and enjoy rocking chairs on porches that overlook the bay. There are reasonably priced tours of the 1891 house, the city's oldest home, still on its original foundation: $3 for ages 13 and up, $1 for ages 6-12. Children 5 and younger are free.
Admission to the five-acre park grounds is $2 per person and you can drop that in the honors box. The park is open 9 a.m. to 5 p.m. six days a week, Wednesday through Monday. Closed on Tuesday. Call 305-442-6866 for more information.
Free Art Workshops for Kids
Once a month, the Pérez Art Museum Miami, 1103 Biscayne Blvd., in downtown Miami opens its doors to families to enjoy its exhibits and permanent collection free of charge.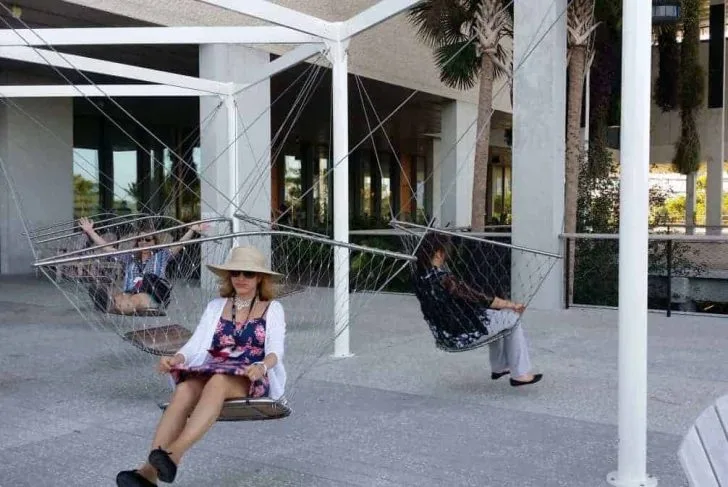 Every second Saturday from 1 to 4 pm, the museum also schedules child-friendly art-making activities. The museum offers ongoing special exhibits. Its permanent collection includes modern art by Louise Nevelson, Wilfredo Lam and Robert Rauschenberg.
Regular admission is $16 for adults; free for children under 7. The museum is closed on Wednesdays; open Thursdays from 10 am to 9 pm; and open Friday through Tuesday from 10 am to 6 pm. For more information call 305-375-3000.
Skateboarding and Splashing on a Budget
Tweens and teenagers now have more opportunities to do extreme sports in South Florida. The Homestead area has a highly regarded skate park and splash playground at the county-run South Dade Park, 28151 SW 164th Ave.
One reason is price: South Dade Park skateboarding fees are only about a third the cost of other skate facilities in Miami-Dade. Admission to the skate park is free. Helmets are required for the skate park.
The skate park is open daily from sunrise to sunset. Call 305-247-9453 for more information.
Free Fruit in the Park
Ever wanted to just pick fruit off the ground and eat it? At Fruit & Spice Park, 24801 SW 187th Ave. in historic Redland, you are encouraged to enjoy – for free – the bounty from hundreds of trees in one of the nation's most unusual county parks.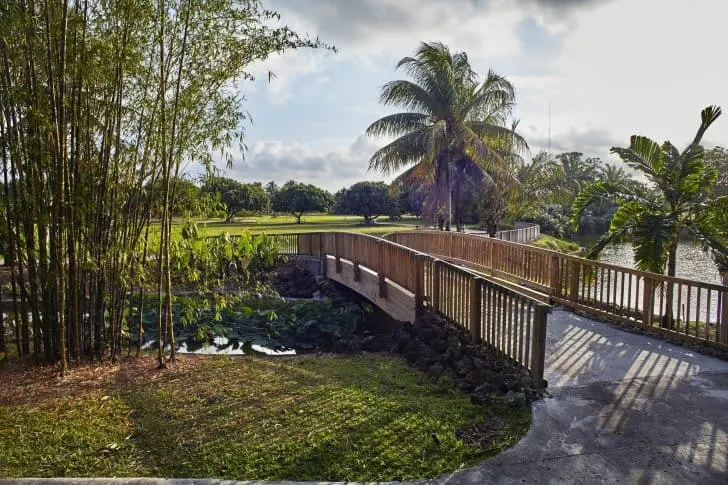 Fruit & Spice Park is the only county-run botanical garden in the nation. The park has more than 500 varieties of fruits, vegetables, spices, herbs and nuts. There are 150 kinds of mango trees, for example. The park even has a bamboo grove. It now boasts a lake with a waterfall and lily pads.
The park is open seven days a week from 9 a.m. to 5 p.m. Admission is $10 for adults; $3 for kids ages 6-11; and free for children 5 and under. Call 305-247-5727.
Have you found other great free and cheap places to take your kids in Miami-Dade County? Share your suggestions in a comment. If we find out about enough places, we'll write another story on free and cheap fun for families.
Looking for more cheap things to do with kids?