If it's Monday, put on the halter and grab the leash. THRoW Social is hosting "Yappy Hour!"
All pups get a FREE organic dog treat from DoodGirlCo.
Hoomans enjoy happy-hour prices on food and drinks, with the option to stay later for rotating LIVE BAND MUSIC from 7 to 10 p.m.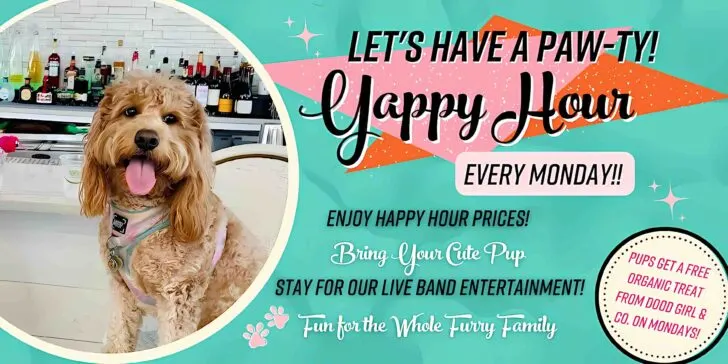 For more information, visit the THRoW Social website.
Here's another doggie-related post with fun events.
To keep up with the latest news, sign up for the South Florida on the Cheap newsletter. Follow on Facebook, Twitter and Instagram.
Also read our list of the Best 10 Happy Hour spots in South Florida
Check out current food deals:
See what's happening on the entertainment scene:
Wednesday, December 6, 2023
Thursday, December 7, 2023
Friday, December 8, 2023
Saturday, December 9, 2023
Sunday, December 10, 2023
Monday, December 11, 2023
Tuesday, December 12, 2023
Wednesday, December 13, 2023
Thursday, December 14, 2023
Friday, December 15, 2023
Saturday, December 16, 2023
Sunday, December 17, 2023
Monday, December 18, 2023
Tuesday, December 19, 2023