School's out – and, for parents, that means keeping the kids busy with summer camp. With life slowly returning back to normal, several programs are running as usual (with new rules and restrictions in place), while others are going virtual.
The few in-person camp programs still operating will have CDC guidelines in place, including a limit of 10 campers per group, face coverings for counselors, social distancing measures, and frequent hand washing.
We will update this post should we find that camps may be closing early. For now, here is a list of both virtual and in-person camps to choose from.
In person:
Circus Summer Camp – World-renowned circus artists teach kids acrobatics, tumbling, trapeze, aerial skills, lyra and jazz/ballet. Open to students ages six to 16 years old. Limited to 10 kids per group, morning and afternoon sessions available. Camp runs June 15 to Aug. 15 from 8 a.m. to 2 p.m. ($365 a week) or 2-6 p.m. ($250 a week), plus a $50 registration fee. Scholarships are available, e-mail info@lesailesdudesir.org to apply.
Closed for in-person, only virtual now: Frost Science – Open to grades pre-kindergarten through fifth, with weekly themes like Weather, Bionic Bodies, Mighty Marine Creatures and Kitchen Chemistry. The 10-week camp runs June 8 to Aug. 14 from 9 a.m. to 6 p.m. $350 a week for members and $400 for non-members (fee includes aftercare hours from 4-6 p.m.). Prices adjusted week of June 29 to reflect the July 4 holiday. Two snacks per day and a t-shirt are included. Click here to see the full schedule and register.
Camp decided on a week by week basis: Jungle Island – Jungle Adventure Camp will entertain kids ages 5-12 with pinata making, water play, egg drops and animal talks with Jungle Island animal keepers. Camp runs July 6 to Aug. 7 from 9 a.m. to 4 p.m. $175 per week. Campers need to bring a cold lunch and receive a snack. $50 deposit at time of registration and payment required 14 business days before enrollment.
Closed since July 17: Miami-Dade County Parks – Deering Estate and Miami Eco-Adventures (Greynolds Park and A. D. Doug Barnes Park) locations begin June 8 and general program camps and nature-based Camp Owaissa Bauer begin June 15. General program camps run 9 a.m. to 5 p.m. There are also virtual camp choices. Prices vary by camp. Click here to find locations for all three types of camps and check back regularly as more may be added. Click here to see the camp rules that will be in place.
City of Miami Springs – Registration is now open for Summer camp which starts on June 22 and this year is for Miami Springs residents. Forms must be printed from the website, filled out completely and brought to the office on June 13. Click here to find full details and forms and call 305-805-5075 for more info.
Nomi Summer Camp – Registration is open for the two summer camp sites at Enchanted Forest Elaine Gordon Park, 1725 NE 135 St. and Joe Celestin Center, 1525 NW 135 St. Campers need to bring, lunch, a snack, water bottle and face covering. Camp is open to kids ages six to 12 years old through Aug. 14 and is $80 per week for residents and $100 for non-residents. Registration is in person at the North Miami Parks and Recreation Office, 12300 NE 8 Ave., North Miami. Call 305-895-9840 for more info.
Planet Air Sports Campers must be 45 inches tall activities will include fun on a variety of apparatus and sports equipment. Complying with regulations they'll operate at 50 percent capacity, do temperature checks and regular sanitizing of entire complex. Full-day camp is from 9 a.m. to 6 p.m., $79 a day and includes two snacks, lunch and a $10 arcade card; half-day camp is from 9 a.m. to 2 p.m., $50 a day and includes one snack and lunch. Click here for registration and required waiver form.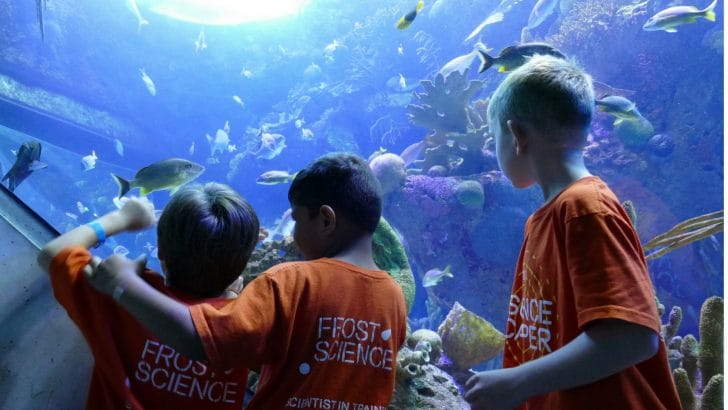 Virtual
African Heritage Cultural Arts Center – Their Summer Arts Conservatory runs from June 15 to Aug. 7 from 10 a.m. to 2 p.m. Monday through Friday. Open to kids ages five to 16 years old, they'll participate in sewing, ballet, animation, voice and piano. Click here for more info and click here to register on Eventbrite.
Camp Chug-A-Long – The Gold Coast Railroad Museum is hosting 30 vlogcasts starting July 1 hosted by Historian Cesar C. Becerra. Kids will hear cool stories, meet characters and see trains of all shapes and sizes for 30 days. $60 for the 30 days including membership to the museum, $40 for the just the 30 vlogcasts. Click here
City of Miami Beach – Offering week-long virtual summer camp from July 27-31 and Aug. 3-7 open to Miami Beach Residents only. Class offerings include virtual art, coding, dance, culinary, science and yoga/zumba/cheer/hip hop. $40-$170 per week. Click here for info and links to register.
Common Threads – The two-week camp is an on-demand, digital, self-paced virtual cooking camp open for fourth to sixth graders who will receive a Camp at Home Kit with all the fresh groceries needed plus a hat, apron and t-shirt. Local chefs Timon Balloo and Michelle Bernstein will be teaching classes. E-mails for the camp will arrive July 20-24 and 27-31. Click here to register for the free camp.
Frost Science – Open to kids in pre-kindergarten through 8th grade, split into two groups pre-K through 5th grade and 6th to 8th grades. The younger campers explore themes of weather, kitchen chemistry and nature while the older ones explore engineering, technology and marine sciences. Each will enjoy virtual museum and lab tours. The 10-week camp runs June 8 through Aug. 14 from 9:30 a.m. to 3:30 p.m. for pre-k through 5th and the older campers 9 a.m. to noon and 1:30-4:30 p.m. $190 per week for members and $225 for non-members. Prices adjusted week of June 29 to reflect the July 4 holiday. Register here.
Greater Miami Youth Symphony – Inside Out 2020 Summer Camp open to students from grades K-12 from June 15 to Aug. 7. The little ones learn music with household items in the eight-week "Stomp, Boom, Blast! Music with Everyday Stuff" and third through fifth graders partake in "Recorder Karate" with colored karate belts awarded for level of difficulty reached. There are also classes in Music Theory & Composition, Introduction to Conducting, String and Jazz, Master Classes and private lessons. Times and days vary and classes start as low as $85 for eight weeks. Click here for full details and to register or call 305-667-4069 for information.
Fantasy Theatre Factory – Their summer camp programming combines 30-minute Theatre Arts Workshops for as campers as young as four years old, a storytime package with a virtual reading of the book The Good Dog along with an autographed copy of the book and two virtual shows Together Apart: Youth Theatre in the time of Coronavirus and Short & Sweet: Let's Play. Click here to view all summer programming, prices vary.
Miami Theater Center – Musical Theater Summer Camp open to kids ages 6-15 daily from 10 a.m. to 3 p.m. with two sessions June 8 to July 3 and July 13 to Aug. 7. MTC's staff will guide the kids through virtual classes teaching them about musical theater and honing their performance skills. Newcomers with no experience are welcomed and all will participate in the end of camp show. Camp is $240 per week or $760 for the month, $25 registration fee. 5 percent sibling discount offered. Click here to register.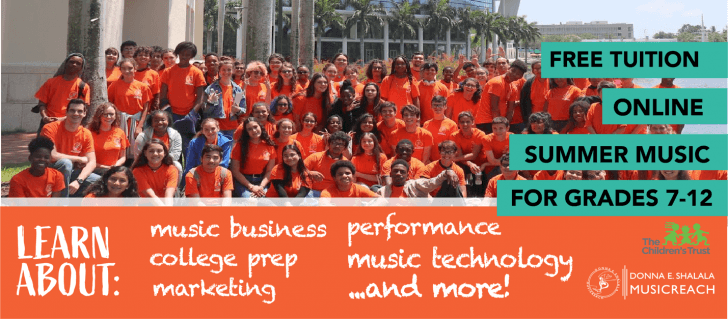 MusicReach Summer Institute – The Donna E. Shalala MusicReach Program at the Univeristy of Miami Frost School of Music has a free program for students in grades 7-12 from June 15 to Aug. 10 from 9 a.m. to 3 p.m. Twice a week on Mondays and Wednesdays or Tuesdays and Thursdays, campers will learn about music technology, music theory, digital media, production planning and even college application prep from guests artists and faculty. Campers choose their their two days of the week based on their availability. Click here for more info and to register.
MOCA North Miami – Virtual Art Camps are open to kids ages 6-13 and include a Studio Arts Camp for ages 6 to 9 and Dynamic Design Camp for ages 10 to 13, held via Zoom. Campers will learn about animation, weaving, color theory, cubism, mixed media and sewing and weaving. Camp runs June 8 to Aug. 14 from 10-11:30 a.m. alternating Tuesdays and Thursdays. Classes are free, e-mail education@mocanomi.org to register and receive the Zoom link.
Rachael Ray's Yum-O Cooking Camp – Kids can cook along with Rachael Ray and other celebrity chefs and cooks including Giada DeLaurentis, Anne Burrell, Bobby Flay, Duff Goldman, Alex Guarnaschelli, Carla Hall, Andrew Zimmern, Buddy Valastro and Valerie Bertinelli. Free and live everyday at 2 p.m. Click here to register.
Speak Up Camp! – Online creative writing camp for teens hosted by the Miami Book Fair. The camp run Aug. 3-8 and includes six daily sessions including masterclasses with a live Q&A, interactive workshops, one-on-one mentorship and virtual activities. The camp is free and registration begins July 13. Click here to register.
Marlins Youth Academy – The Miami Marlins baseball organization hosts an interactive online camp for kids ages three to 11 years old. Two weeks remain — Aug. 10-14 "Hope & Goal Setting with Marlins utility player Jon Berti and Aug. 17-21 "Emotional Mastery" with Marlins pitcher Pablo Lopez. $75 a week. Click here to register.
More Fun for Kids