"Eat, drink and be thankful." That much-loved saying is especially fitting if you don't have to cook and clean up after your Thanksgiving Day feast! If eating out for Thanksgiving is part of your plan this year, we've got a list of South Florida restaurants planning to be open for dining out or taking out on Thursday, Nov. 25, 2021.
Note that prices, hours and participation may vary by location, and beverages are extra at most venues with fixed-price meals. For specific details, check with each restaurant.
We will continue adding to this list as restaurants announce their Thanksgiving plans, so keep checking back! If you know of other Miami restaurants that will be open on Thanksgiving Day and offering reasonably priced meals, email us at editor@miamionthecheap.com or news@miamionthecheap.com.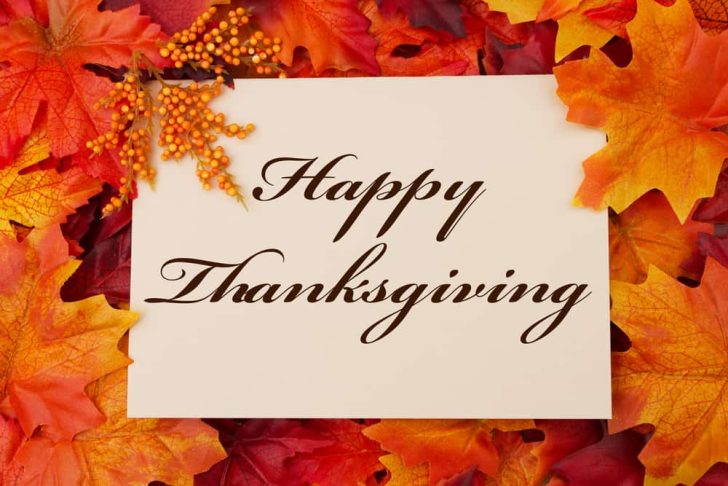 Some restaurants are letting you dine in; others also offer meals to-go. It's up to you how safe you feel celebrating this year. If you plan on eating at a restaurant, you'll have the most success if you make reservations well ahead of time.
Note: There's a difference between restaurants serving Thanksgiving dinner and restaurants open for Thanksgiving. If you want the full, traditional turkey dinner, look for restaurants open that are also serving that special meal.
Similarly, where to buy a cooked Thanksgiving dinner is a different question too, and we've rounded that information up here.
Where to dine out or take out for Thanksgiving 2021
Amara at Paraiso: This Thanksgiving enjoy your meal with bayfront views Amara at Paraiso. They're offering their tasty spin on a Thanksgiving meal such as the Oak Grilled 36oz porterhouse with a classic Amara chimichurri rub, roasted bone marrow and black truffle, Florida Spiny Lobster with fermented chile and sea urchin butter and of course, Roasted Joyce Farms Turkey with poblano and cherry sausage cornbread, cranberry mostarda and smoked turkey gravy.
Ambersweet at The Confidante Miami Beach: This Thanksgiving, the restaurant located inside The Confidante Miami Beach is offering visitors a Thanksgiving family-style brunch menu for $75 per person and $30 for kids under 12. The menu includes welcome offerings, chef's harvest selections, a choice of one fall specialty dish, and a selection of sweet treats.
Atlantikos at the St. Regis Bal Harbour Resort: Bring family and friends together around the table to give thanks at Atlantikos with an exquisite family-style. From classic oven-roasted organic turkey paired with traditional sides, to delicious desserts and more, it will be a dining experience to remember. There will be two seatings at 6:30 p.m. and 8:30 p.m. Prices start at $109.00 for adults and children 12 & under are $45.00.
Balan's: Thanksgiving at Balan's means you are set to feast on a delicious pre-fixe 3-course menu that showcases some of your favorite dishes with some delicious holiday favorites. Think delicious turkey served with candied kumquat, Gran Marnier cranberry relish, thyme & shiitake mushroom stuffing, and fried sage, accompanied with a selection of tasty sides for the table. Prices start at $40 for children 12 and under and $85 for adults.
Batch Gastropub:Thanksgiving day at Batch Gastropub: Miami invites guests for a delicious feast with their friends and family. With an A la Carte Menu featuring Thanksgiving Dinner Specials, guests will surely find themselves stuffing their faces into this feast. Available in-stores only, the menu includes Batch Turkey Dinner for $25.50.
Bissaleh at Alma Grill: Gulfstream Park Village, 501 Silks Run, Hallandale Beach 33009, 5 p.m. – 12 p.m. serving regular menu and Thanksgiving dishes
Boston Market: Restaurants will be open on Thanksgiving Day (hours vary by location) and offer a traditional plated meal. They'll also have a la carte items available for order, and complete heat-and-serve meals for parties of from four to 12 people. Pick from turkey meals, turkey and ham meals, prime rib meals, and ham meals. All feature assorted sides, including stuffing, mashed potatoes, dinner rolls, and pie. Prices start at $59.99.
Bubba Gump Shrimp Co.: Open on Thanksgiving Day, Bubba Gump will offer turkey and ham meals. Restaurant hours may be shorter than usual, so call ahead.
Byblos: Enjoy a Mediterranean three-course prix-fixe menu at Byblos in Miami Beach for Thanksgiving! Byblos' Thanksgiving dinner is priced at $75 per person and includes dish choices such as Harissa Spiced Turkey, Eggplant Kibbeh, and Chocolate Mousse for dessert.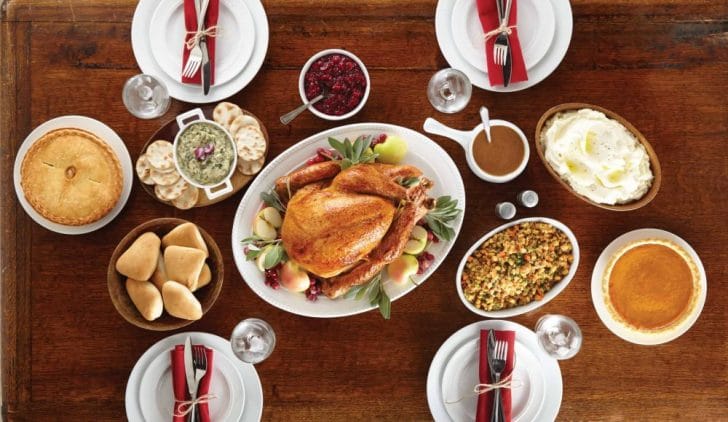 Christine Lee's in Gulfstream Park Village: open 4 p.m. – 9 p.m., offering its regular dishes & a traditional Thanksgiving Dinner, 801 Silks Run, Hallandale Beach 33009, 954-457-6255
Cracker Barrel: They'll be open regular business hours Thanksgiving Day serving a traditional Thanksgiving meal beginning at 11 a.m. Cracker Barrel is offering two to-go meal options. The Thanksgiving Heat N' Serve Feast serves 8-10 for $139.99. The Family Dinner package serves 4-6 for $89.99. Each comes with turkey and dressing, gravy, cranberry relish, sweet potato casserole, at least one country side, and dinner rolls. The Feast includes two pies. Meals are available for pickup Nov. 20 through Nov. 27. If you schedule your pickup on Nov. 22 or 23, you'll get a free bonus card ($10 for the Feast, $5 for the Dinner); 24-hour notice is required for orders.
Denny's: Enjoy their turkey and dressing dinner for $10.49, which includes carved turkey breast, savory stuffing, turkey gravy, cranberry sauce, dinner bread, and your choice of two sides.
Diplomat Prime: The Diplomat Beach Resort is offering a delicious holiday meal at their award-winning Diplomat Prime restaurant. The four 4-Diamond Awards restaurant is serving a special 3-course prix fixe seating includes Spiced Butternut Squash Bisque, Oven Roasted Turkey Breast with Confit Dark Meat, and an Autumn Festival Dessert Trio. Prices start at $70 per person.
Duffy's Sports Grill: The popular sports grill will be offering Thanksgiving meals to-go. Guests can preorder online now through Nov. 22. starting at $19.99 per person. Each Thanksgiving feast includes a choice of: Sliced Oven-Roasted Turkey Breast or Hickory Smoked Ham, Red Skin Mashed Potatoes with Turkey Gravy, Classic Green Bean Casserole, Homestyle Macaroni and Cheese, Cornbread Stuffing, Cranberry Sauce and Pumpkin Pie. Pickup times for to-go meals are Wednesday, Nov. 24, 11 a.m.-4 p.m. or Thursday, Nov. 25, 9 a.m.-12 p.m. Duffy's will be open Thanksgiving Day at select locations from 4 p.m.-11 p.m.
Eddie V's: Eddie V's will be open 11 a.m.-9 p.m. serving a traditional Thanksgiving meal, alongside the full regular menu, for $43 per person for adults and $15 per person for children. South Florida's one location is in Fort Lauderdale.
Fleming's Steakhouse: Fleming's will serve a three-course Thanksgiving dinner, including your choice of herb-roasted turkey, bone-in rib eye or petite filet mignon, plus sides to share. Their full menu will also be available, as well as a reduced price children's menu. They're taking reservations now. And you can order a three-course takeout dinner to be picked up Thanksgiving Day.
Golden Corral: As you might expect, Golden Corral's Thanksgiving Day buffet will include everyone's favorites: carved turkey, fried chicken, rotisserie chicken, ham, meatloaf, and much more. The price is likely to be a little higher on Thanksgiving Day than it usually is. Be sure to ask at your nearest Golden Corral restaurant location.
Gourmet Deli House: Thanksgiving fare 8 a.m. – 3 p.m., 7117 Lake Worth Road, Lake Worth 33467, 561-965-1605
Habitat 1 Hotel South Beach: Join Habitat, located on-site at 1 Hotel South Beach, for their delicious Thanksgiving buffet. Blending home cooked meals with a new world vitality, Habitat is deep-rooted in homestyle cuisine and perfect for families looking to spend Thanksgiving out of the kitchen. Prices start at $95 for adults and children 10 & under are $45.
Hard Rock Café: Open on Thursday, Nov. 25, 2021, the restaurant offers a special menu that includes slow-roasted turkey breast, roasted fresh vegetables, home-style classic stuffing, creamy sweet potato mash, cranberry sauce, and gravy. Prices vary by location, and there may be a reduced-price children's plate. They'll also offer pumpkin pie and an espresso martini.
Kosushi: The restaurant will be open on Thanksgiving Day for locals and visitors looking for a Michelin-starred unique culinary experience. In Miami's affluent South of Fifth neighborhood, Kosushi offers a curated core menu featuring a variety of sushi and sashimi as well as hot and cold dishes, signature selections, and maki specials by Chef Shoyo Iida. Guests can also imbibe on a carefully crafted selection of cocktails incorporating Japanese spirits as well as a sophisticated sake menu and rare Japanese whiskey collection that all pair perfectly with Kosushi Miami's fare. Open Thanksgiving Day from 6 p.m.-12 a.m.
Le Zoo: The food at Le Zoo draws inspiration from the beloved sidewalk cafes of Paris and the shores of St. Tropez alike but they're going all out for Thanksgiving. There is a special menu with a beet salad, butternut squash soup, traditional turkey, roasted brussel sprouts and more. For those who are interested in eating from the comfort of their own home – you can order the entire meal to pick up and fool your entire family. Dine-in pricing starts at $68 and take-out for a family of four is $200.
Orno at THesis Hotel:Chef Niven Patel's new American concept that recently opened inside the THesis Hotel, will serve Thanksgiving Feast on Thursday Nov. 25 from 3 – 9 p.m. The dinner will include a plated 3-course menu of traditional Thanksgiving favorites that will be reimagined and cooked with fire. The 3-course meal starts at $79 and $89 per person.
PLANTA: This Thanksgiving, celebrate with PLANTA's spin on the holiday with 'Plantsgiving.' The 100% plant-based concept has created a menu that is perfect for the occasion, featuring staple dishes like traditional savory stuffing, macaroni and cheese, mushroom gravy, a classic homemade pumpkin pie and more. Only available for takeout and price starts at $179 and serves up to 4 people.
Riviera by Fabio Viviani in Hotel Maren, 12 p.m. – 11 p.m., Cider Brined Roasted Turkey with Giblet Gravy, Italian Sausage Stuffing, Green Beans Almondine, Cranberry Sauce, Orange, and Rosemary, Pumpkin Stuffed Bomoboloni with Whipped Cream, Cinnamon with a Vanilla Sauce, 525 S. Fort Lauderdale Beach Boulevard, Fort Lauderdale. Reservations required, 754-241-2020.
Root & Bone: Located in the heart of South Miami, Root & Bone is featuring a special takeout and dine-in menu for Thanksgiving this year. Known for serving up southern comfort food, these Thanksgiving menus have some mouth-watering favorites, like Fried Turkey Breast, Green Bean Casserole and Stuffing. Prices start at $55 per person and $15 for children under 12.
Ruth's Chris Steak House: A three-course Thanksgiving dinner at Ruth's Chris will start at $42.95 per person. They'll also have take-home feasts that serve 4 available for $175. These include a salad, turkey breast, sausage and herb stuffing, gravy, cranberry relish, a choice of a side item, and 4 personal Chocolate Sin cakes. À la carte sides and salads are also available.
Shooters Waterfront: This intracoastal staple will celebrate turkey day with an all-you-can-eat buffet at $65 per person. The restaurant's holiday buffet will feature a carving station, a salad bar and an array of traditional trimmings.
Steak 954: The waterfront steak and seafood restaurant has launched a brand new Thanksgiving menu filled with an array of your favorites that include herb roasted turkey, almond stuffing and more. If you wanna go off the specialized menu – there are cuts of steak like wagyu and porterhouse, shellfish and raw bar items, caviar, sides and desserts, all perfect for those whose interest lay beyond turkey. Price is $45 per person.
Stiltsville Fish Bar: Featuring a menu with Thanksgiving staples like Fried Turkey and Butternutsquash Casserole or fresh seafood options like the Grilled Swordfish and Crab & Andouille Stuffing. The meal is three courses and served family style, including all options from the menu. Prices start at $65 per person and $25 for kids 12 and under.
Silverspot Cinema:The luxury theater chain with South Florida locations in downtown Miami, Coconut Creek and Naples is presenting its full Silverspot menu, bar and amazing film premiers on Thanksgiving Day – Thursday, November 25. Enjoy the ultimate in cinema experience on the holiday by adding to your plate Silverspot's Miso Glazed Salmon Bites, Seared Tuna, Penne Al Forno, Parmesan Truffle Fries or a wide array of other delicious offerings as well as a full bar of specialty cocktails, wine and beer.
Texas de Brazil: restaurant in Gulfstream Park Village is open 11 a.m. – 9 p.m. serving regular menu & Thanksgiving dishes, 800 Silks Run, Hallandale Beach 33009, 954-843-7600
The Strand: The Strand will be offering 2 seatings for a 4 course prefixed plated dinner for Thanksgiving, one at 5:30PM and the other at 7:30PM. Prices start at $95 per person for adults and children 12 and under are $45. Reservations required.
Villa Azur:Feast a hint of French-Mediterranean flavor as they host a special edition of their Thursday Night Dinner for Thanksgiving. In addition to the regular a la carte menu, Villa Azur will offer a special 3-course Thanksgiving prix fixe menu featuring flavorful holiday dishes. For customers who want to enjoy a Thanksgiving feast in the comfort of their own home, Villa Azur is offering their Thanksgiving menu for take-out as well. Guests must pre-order this meal before November 21st by emailing info@villaazurmiami.com or calling 305.763.8688.
50 Ocean, 50 S Ocean Blvd., Delray Beach 33483
Hungry for more food deals?