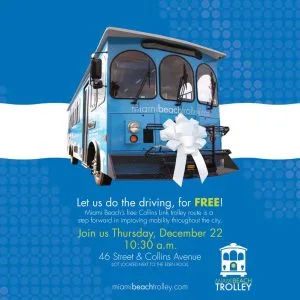 Miami Beach residents and visitors will soon be able to enjoy free, trolley transportation citywide between North Beach and South Beach with the free Collins Link route set to launch on Dec. 22, 2016 at 10:30 a.m.
The Collins Link will join the existing North Beach, Mid-Beach and Alton-West Loop and run on Collins Avenue from 37 Street to 74 Street. The Collins Link route will service the dozens of condo buildings along the corridor, and specifically provide connectivity between the North Beach and Middle Beach trolley loops. Points of interest for this new route includes the Publix at 69 Street, North Shore Youth Center, North Shore Branch Library, Normandy Isle Park & Pool and many more.
Trolleys have an average capacity of 25 passengers with ample interior floor space to provide easy access to wheelchairs and disabled passengers, free on board Wi-Fi, real-time tracking and next bus information through the city's mobile application Egov, security cameras and highly trained drivers with a customer service focus.
For a route map and other details, visit www.miamibeachtrolley.gov.