Strike up the band! The legendary works of John Philip Sousa will be performed by The Miami Sousa Band in a free concert on Friday, Sept. 22, from 7:30 to 9 p.m. at First United Methodist Church of Coral Gables, 536 Coral Way.
The performance will take place in The Growing Place Early Childhood Center, presented as part of The Lamar Louise Curry Concert Series. This fifth anniversary concert led by conductor Seth Carlson not only features overtures and soloists, but also toe-tapping patriotic pieces. The concert is non-ticketed and seating is open to the public; donations are welcome.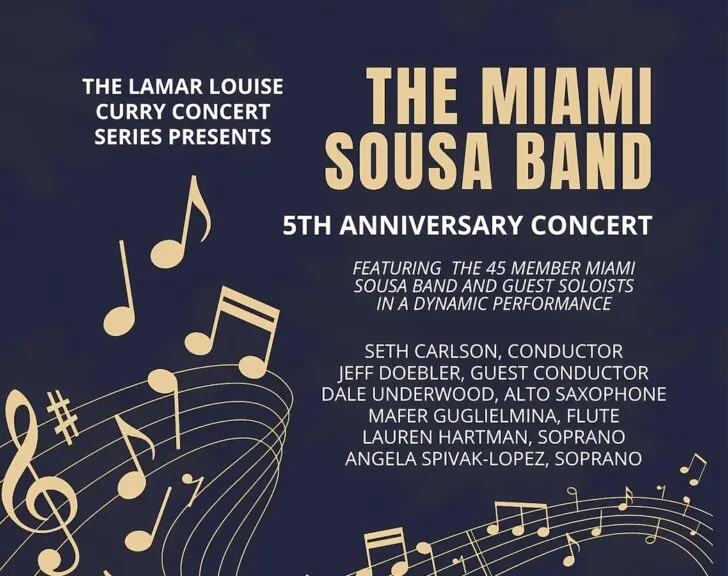 See more information by clicking this Facebook link or visit welovecoralgables.org/concerts
The church campus is located on the block west of City Hall and Miracle Mile, by Coral Way, Biltmore Way, Segovia, and Hernando Street. Parking in the church lot is free but it is recommended that you arrive early to get a good spot. The church office number is 305-445-2578.
To keep up with the latest news, sign up for the South Florida on the Cheap newsletter. Follow on Facebook and Instagram.
More free & cheap music in South Florida:
Friday, December 8, 2023
Saturday, December 9, 2023
Sunday, December 10, 2023
Monday, December 11, 2023
Tuesday, December 12, 2023
Wednesday, December 13, 2023
Thursday, December 14, 2023

More Music: