Here's a deal for The Youth Fair, which is open for its 68th year from March 14-April 7, 2019 (except for April 1-2).
With this "Fair Expo Grille Sale," you can get two admission tickets and two Unlimited Ride Cards plus a $10 voucher to be used at the Fair Expo Grille for ONLY $70. That's a savings of up to $32.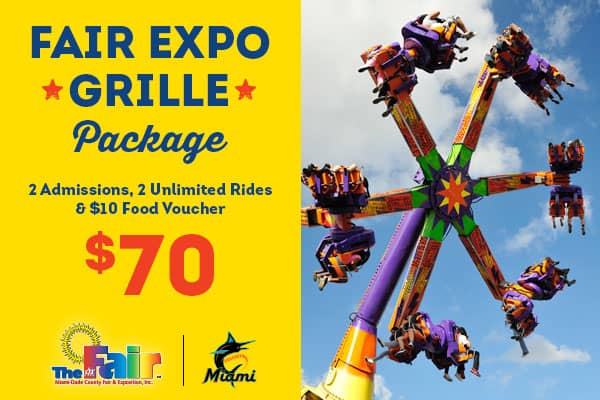 With this deal, you also have the option of buying two additional admission tickets for $16, a substantial savings.
Regular admission price is $14 at the fairgrounds for ages 6 to 64; unlimited rides are $28 on Monday through Thursday and $35 on Friday, Saturday and Sunday.
Parking is free, and all entertainment and concerts are free, too. Children 5 and under and seniors 65 and older get free admission all the time.
To get the "Fair Expo Grille Package," click here.
Find more Fair discounts and coupons here.
The Youth Fair is at Tamiami Park, at Coral Way and Southwest 107th Avenue, Miami. It is open every day from now through April 7, 2019 except for April 1-2.
For more information about the Miami-Dade County Youth Fair, click here.
This content was produced in collaboration with our sponsor The Youth Fair.