Miami's gonna get hot this summer – it always does. So the kids will want to stay cool.
Best way to do that? Visit a water park where they can splash, slide and dunk their way to a fun time.
We've compiled a sampling of water parks in Miami-Dade County that are worth a visit … or two.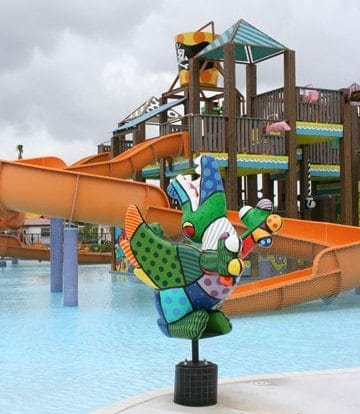 OPEN for recreational swimming and slide. Call 305-805-5078 for details.
There's a large water slide, beach entry play area and plenty of colorful apparatus in the tot lot area. 1401 Westward Drive, Miami Springs. Residents $5, kids $3; nonresidents $10, kids $5.
OPEN
You can see this one from the Dolphin Expressway thanks to its colorful slides and water contraptions. Kids can spend the afternoon wading in ankle-deep water while buckets dump water on them. 1550 NW 37th Ave. Adults (Miami-Dade County residents) $12, nonresidents $15, kids ages 2-13 $7.
OPEN ONLY to Miami Shores Village Residents. Call 305-795-2241 for details.
Better known as Wild Waters Aquatic Park, this multicolored water park right on Biscayne Boulevard features five water slides at three levels, interactive playground equipment, water apparatus and water cannons. 10200 Biscayne Blvd., Miami Shores. Miami Shores residents $10, kids $7.
OPEN by reservation for lap swimming; no reservations needed for recreational swimming or activity pool (tot-lot); only residents are permitted. Call 305-861-4863 to for details.
A nice water slide and some splash areas for the kids are part of this center that is at at a beachfront location. 9301 Collins Ave., Miami Beach. Residents with ID may bring up to five guests at $5 each.
Thomas Sasso Pool in North Miami
OPEN
This is a great one for the wee ones with ankle-deep water all the way around a fun contraption with small water shooting apparatus and fun splash areas. 1100 NW 12th St., North Miami. $3 fee for residents and nonresidents.
OPEN with limited capacity to Aventura residents only. Required reservations are open to Aventura residents only with a valid and existing account on the City's Online Registration System.
A palm tree rains water on the little ones underneath while a ship and other water dumping apparatus keep them cool too. 3105 NE 190th St., Aventura. Free for residents.
Victory Pool in North Miami Beach
CLOSED
Two different large winding water slides dump you into refreshing pool and the tots can splash and play in their water playground. 1980 NE 171st St., North Miami Beach. Residents or nonresidents pay $3, $2.50 for kids 17 and under.
CLOSED
Boasting a lazy river, water playground/tot lot, water fall and wave pool, this expansive water park is sure to keep the kids cool. 7505 W. 12th Ave., Hialeah. Admission prices vary.
Find more free and cheap things to do with kids this week:
Monday, March 27, 2023
Tuesday, March 28, 2023
Wednesday, March 29, 2023
Thursday, March 30, 2023
Friday, March 31, 2023
Saturday, April 1, 2023
Sunday, April 2, 2023
See our full Calendar of Events