Annunciation Greek Orthodox Church is celebrating its annual North Miami Greek Food & Wine Festival, from Nov. 12-14, 2021. Admission to this event is free.
From noon to 9 p.m. each day, guests can enjoy a menu of authentic Greek recipes, traditional live music, a raffle and tours of the church, at 12250 NW Second Ave., North Miami.
According to the official event announcement: "Greek festivals are BACK! We are happy to announce that Annunciation Greek Orthodox Church of North Miami will be kicking off Greek festival season in South Florida!! Save the date for a great weekend of food, music, dancing, fun prizes and church tours – FREE ADMISSION!"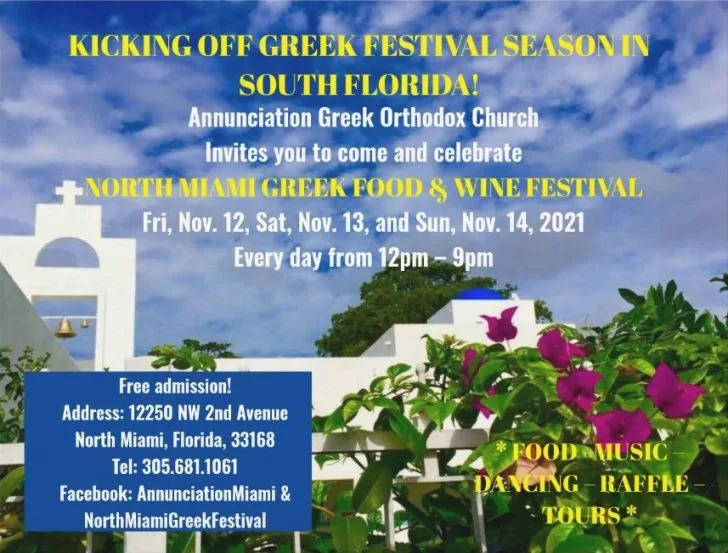 If you're interested in volunteering, being a vendor or donating food for the event, email annunciationchurch@att.net.
You can get a Groupon deal for up to 27 percent off selected food items here.
Miami 2021 events: A month-by-month guide
Yes, many plans changed in 2020 … with vacations and shows and festivals canceled throughout Miami, South Florida and the world. However, the New Year brought with it hope of brighter and better times ahead. Car shows, art festivals and more have been scheduled for 2021.
We've compiled a month-by-month roundup of events in our area. Keep in mind that some events may be virtual. Others may follow strict safety protocols. You'll want to get all the details and decide which options are best for you and your family. Click here for a handy guide!
Popular Miami events canceled for 2020-2021
The year 2020 has brought many firsts and never-before-seens, including the cancellation of some of our favorite events, including Santa's Enchanted Forest, Coral Gables Festival of the Arts, Coconut Grove Arts Festival, Florida Renaissance Festival and more.
We've compiled a roundup of canceled events, so you can see if your favorite festivals will take place or not. Many will have to wait for now, but hopefully they'll be back soon! Click here to see which ones have been affected for the 2020-2021 season.
Entertainment calendar
Annunciation Greek Orthodox Church