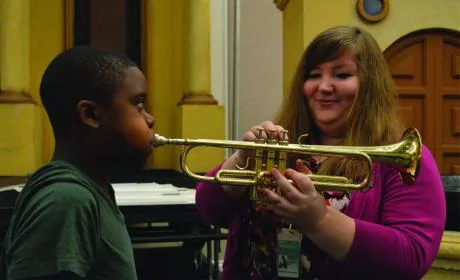 FGO's Family Day offers hands-on activities and a look behind-the-scenes into the world of opera. Children of all ages are welcomed. It's taking place Jan. 19 at the South Miami-Dade Cultural Arts Center from 10 a.m. to 1 p.m.
FGO Family Day is a fun-filled day where opera fans young and old, new to the genre or opera aficionados, can come and explore the world of opera through hands on activities, live performances, interactive experiences, and the thrill of live theater.
Florida Grand Opera brings all the aspects of opera to life—in front of and behind the curtain. Our activities have something for everyone: stage make-up, special effects, set design, instruments of the orchestra, and of course singing! To make the experience a memorable one, mini live musical performances highlight the day, and every Family Day concludes with an audience-friendly professional opera performance sure to delight all ages.
Visitors receive an opera passport/autograph book to guide them through the day's many different activities, as well as a special gift to remind them of their amazing experience!
This year, we will be presenting the timeless classic La Bohème. One of the most famous operas ever written, you and your family will feel the love during this incredible performance.
Admission is free but a ticket is required. Click here to reserve your ticket.
More free and cheap things to do with kids this week:
Thursday, September 28, 2023
Friday, September 29, 2023
Saturday, September 30, 2023
Sunday, October 1, 2023
Monday, October 2, 2023
Tuesday, October 3, 2023
Wednesday, October 4, 2023