This year's Hispanic Heritage Month is from Sept. 15-Oct. 15, 2022 – and we've got some activities rounded up so you can mark the occasion.
The monthlong celebration honors the rich and diverse Hispanic culture.
Whether you're out and about or are still staying at home, there are several ways you can participate.
We may add more activities as we find them, so be sure to check back often!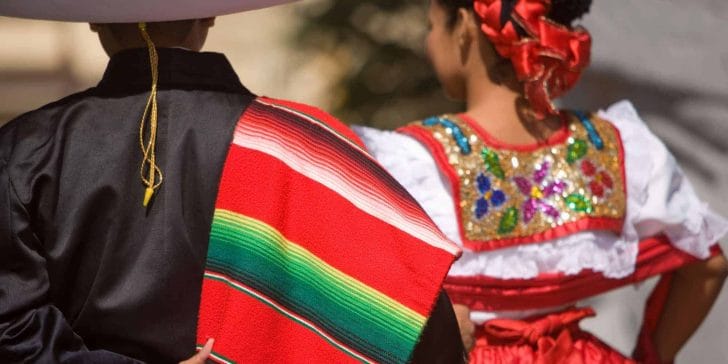 MIAMI-DADE
Where: Miami Beach Bandshell, 7275 Collins Ave.
When: 5-10 p.m. Thursday, Sept. 24
Free
The City of Miami Beach presents Melina Almodovar and her Salsa Orchestra in concert and free salsa lessons with Ricky Torres from Salsa Central Studios on Miami Beach, all in honor of Hispanic Heritage Month.
Where: Miami-Dade County Auditorium, 2901 W. Flagler St.
When: 7:30 p.m. Thursday, Sept. 24
Free but reservation required, call 305-547-5414 to reserve
Season opening concert featuring a program of Spanish and Spanish-influenced favorites including Concierto de Aranjuez featuring guests soloist New World School of the Arts guitarist Koh Kazama.
Where: Phuc Yea Restaurant, 7100 Biscayne Blvd.
When: 4-7 p.m. Thursday, Sept. 24
$20 in advance, $25 at door; buy tickets in advance here
Chefs Jose Mendin and Cesar Zapata join forces to celebrate Puerto Rico's signature dish on National Mofongo Day. The happy hour event includes unlimited mofongo-inspired bites, a welcome "snack-size" Snaiquiri cocktail. Specialty rum cocktails available for $10 each and a DJ will spin old school salsa classics.
Where: Miami Children's Museum, 980 MacArthur Causeway
When: Sept. 1-30
General admission is $24. Florida residents pay $16.
Kids can learn about Hispanic athletes, filmmakers and artists through games and animation, create a textile art piece inspired by Mexican artist Victoria Villasana and enjoy a Hispanic Heritage Fiesta with live music, dance performances and storytelling.
Where: Collins Park, 2200 Liberty Ave., Miami Beach; Normandy Fountain Plaza, 7892 Rue Vendome; Lummus Park, 14th St. and Ocean Dr.
When: 6-8 p.m. Friday, Sept. 16; 6-8 p.m. Friday, Sept. 23; 6-8 p.m. Sunday, Sept. 25 (respectively)
Free
Miami Beach Classical Music Festival presents a program "Zarzuela at Twilight" of music by Velazquez, Maria Grever, Agustin Lara and Raphael Hernandez and composers Ernesto Lecuona, Gonzalo Roig and Federico Moreno Torroba.
Where: Normandy Fountain Plaza, 7802 Rue Vendome, Miami Beach
When: 6-8 p.m. Sunday, Sept. 18
Free
Global Arts Project presents a performance by pianist Anibal Berraute of tango fusion selections.
Speak Up: Teen Creative Writing Workshops with Afro-Dominican writer, designer and creative from New Jersey leads the workshops on Saturdays Sept. 24 and Oct. 1 virtually from 3-4 p.m.
Where: Collins Park, 22 St. and Liberty Ave., Miami Beach
When: 5-7 p.m. Sunday, Sept. 25
Free
Concert by Timbalive, a group that blends Cuban music with world rhythms. Joining them will be salsa dancers courtesy of Magic Room Productions. Plancha Miami will have food for purchase.
Where: Miami-Dade County Auditorium, 2901 W. Flagler St.
When: 2-4 p.m. Saturday, Oct. 1
Free
The eighth annual ZunZún ChildreFest will feature a variety of bilingual music and theatrical productions by local artists all celebrating Hispanic Heritage.
Where: Lowe Art Museum – University of Miami, 1301 Stanford Dr., Coral Gables
When: 1-3 p.m. Saturday, Oct. 1
Free
This multi-discipline performance "Beyond the Sounds of Silence: Latin American Artists Connecting Art, Sound and Society" features sound artists Gustavo Matamoros and Richard Garet and presentations by exhibition artists Muu Blanco and Yucef Merhi.
Several Hispanic Heritage-themed events are taking place at the Museum, located at 770 NE 125 St., North Miami, throughout Sept. and Oct.
What: MOCA miniMakers an artist taught kids program where participants paint their own self portraits, inspired by the art of Mexican artist Frida Kahlo.
When: Sept. 3, 2-4 p.m.
Free
What: Sunday Stories storytelling with writer Yamile Saied Mendez and illustrator Jaime Kim reading from their book "Where Are You From?"
When: Sept. 4, 10:30-11:30 a.m.
Free
What: Jazz at MOCA featuring a performance by Peruvian-born trumpet player Dante Vargas.
When: Friday, Sept. 30 at 8 p.m.
Free
What: Noche de Arte, weekly live art event featuring that month's resident artist in the hotel's lobby. Hosted by Warehouse 4726 Studio.
When: Monday nights, 5-7 p.m. at 100 Chopin Plaza, Miami
Free
What: Muestra Herencia Fashion Show featuring swimwear and gala dresses by Hispanic designers.
When: Thursday, Sept. 29 at 6 p.m. at 100 Chopin Plaza, Miami
Free
What: Free salsa lessons at Salsa Night
When: Friday, Oct. 7, 9 p.m.
Free for ladies, $10 for men
Where: Perez Art Museum Miami (PAMM), 1103 Biscayne Blvd.
When: 6-8:30 p.m. Thursday, Oct. 6
Free
In honor of Hispanic Heritage Month, a screening of the Lin-Manuel Miranda and John M. Chu film "In The Heights," a musical drama chronicling the life of a NY bodega owner who scrimps and saves while imagining a better life. Film screened from the water, lawn chairs and blankets are encouraged. Food and drink available for purchase.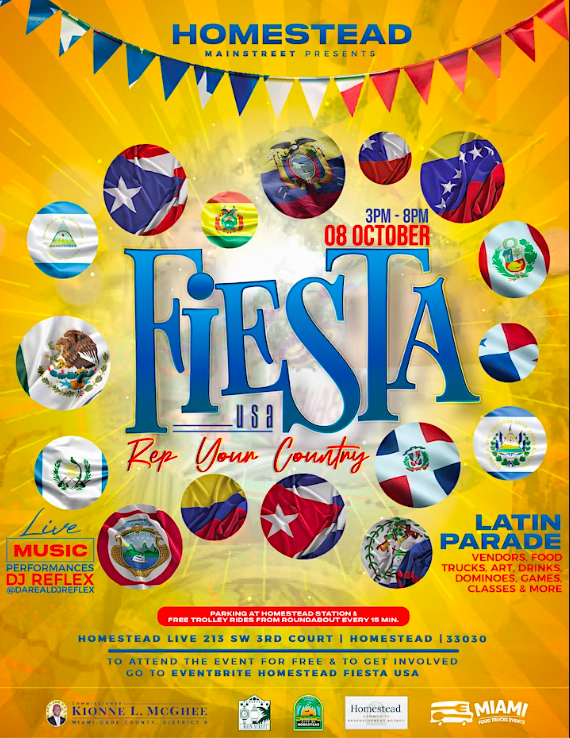 Where: Homestead Live, 213 SW 3 Ct., Homestead
When: 3-8 p.m., Saturday, Oct. 8
Free but RSVP required
Homestead Mainstreet hosts this Hispanic Heritage event with games, performances and visual artists all Hispanic themed. Live music by DJ Reflex. Free trolley rides from Homestead Station, 4 S Krome Ave.
Where: Pinecrest Gardens, 11000 SW 57 Ave., Coral Gables
When: 3-4:30 p.m. Sunday, Oct. 23
$8-$15
Orchestra Miami and HoBuCo present a bilingual performance of the folk tale "La Cucarachita Martina" set to Bizet's well known opera "Carmen."
Greater Palm Beach
West Palm Beach
Entry is free at The Norton noon to 5 p.m. October 1, weather permitting, for Hispanic Heritage events.
Festivities include:
Art
Latin dance
Poetry
local organizations
Hispanic vendors
Norton Museum of Art, 1450 S. Dixie Highway, West Palm Beach, 561-832-5196
Feature: The Norton offers free entry for Hispanic Heritage festivities
Libraries
Libraries offer a variety of Hispanic Heritage events, including libraries in Palm Beach County.
BROWARD
Where: Amphitheater at Miramar Regional Park, 16801 Miramar Parkway, Miramar
When: Sept. 17 at 7 p.m.
Free, click here to register online
Performances by Cuban singer Albita, Nicaraguan singer Luis Enrique, Dominican merengue artist Bonny Cepeda, and Reggaeton artist John Luis.

Festivities are 5 p.m. – 9 p.m. September 17, 2022, with entertainment and dominoes tournament action.
It's an Hispanic Heritage Month featuring Melina Almodovar and her orchestra at 6770 Garfield Street, Hollywood.
Got a Hispanic Heritage event to submit? Click here.
More free and cheap entertainment:
Friday, September 30, 2022
Saturday, October 1, 2022
Sunday, October 2, 2022
Monday, October 3, 2022
Tuesday, October 4, 2022
Wednesday, October 5, 2022
Thursday, October 6, 2022