Florida's Hollywood offers lots of fun events. Free live music. Free family-friendly films. Festivals.
Unique attractions are also part of the town's appeal. For example, Hollywood Broadwalk is a lovely oceanside pedestrian promenade.
Live entertainment at Hollywood Beach Bandshell
Free live entertainment is usually featured 7 p.m. – 9 p.m. Wednesdays – Sundays at Hollywood Bandshell. The outdoor theater is positioned where waves roll ashore. Find out who's performing when: Free live music Hollywood Beach bandshell.
Free outdoor movies

Free family-friendly films are offered outdoors in ArtsPark on Hollywood Boulevard and Federal Highway in Hollywood. Bring lawn chair or blanket, movies are usually 8 p.m. Fridays.
For which film is which date, refer to Hollywood's events website
Downtown Hollywood ArtWalk
Watch a talented artist paint with his foot to the rhythm of live drumming. The popular Downtown Hollywood ArtWalk events are usually set for 6-11 p.m. on the third Saturdays of the month. ArtWalk events often include live entertainment and artisan vendors. Entry is free. Downtown Hollywood Artwalk.
Art & Culture Center
Entry is free third Sundays. The venue features art exhibits and occasionally interactive family activities. Read Free entry day at Art & Culture Center of Hollywood, 1650 Harrison St. Regular fees are $7 for adults and $4 for kids, students, and seniors. Free entry for teachers and United States active military with ID.
Dream Car Classic
Dream Car Classic, downtown Hollywood, usually 10 a.m. – 2 p.m. first Sundays, 1900 block of Hollywood Boulevard. Free entry unless registering a vehicle, which is $20. Call 954-825-1027 or click here.
ArtsPark
Lovely park on Hollywood Boulevard and Federal Highway in downtown Hollywood with art studios, a fountain, playground, splash pad, walking path, and distinctive baobab trees from Africa. Entry is free.
T-Y Park
Topeekeegee-Yugnee Park in Hollywood, includes tennis, picnic tables and a 2-mile paved path primarily around a lake for walking, running, biking and skateboarding, 3300 N. Park Road. Call 954-357-8811 or click here: TY Park in Hollywood is lovely venue for outdoor exercise & relaxation. Free entry and free parking week days; weekend and holiday fees are $1.50 per person for age 6 and older.
Downtown Hollywood murals
About 30 original works of art are painted on buildings in an easily walkable route. The display includes artists from South Florida and other parts of the world. Murals are on Harrison Street, Hollywood Boulevard, 19th and 20th avenues a other side streets. Click here: Downtown Hollywood murals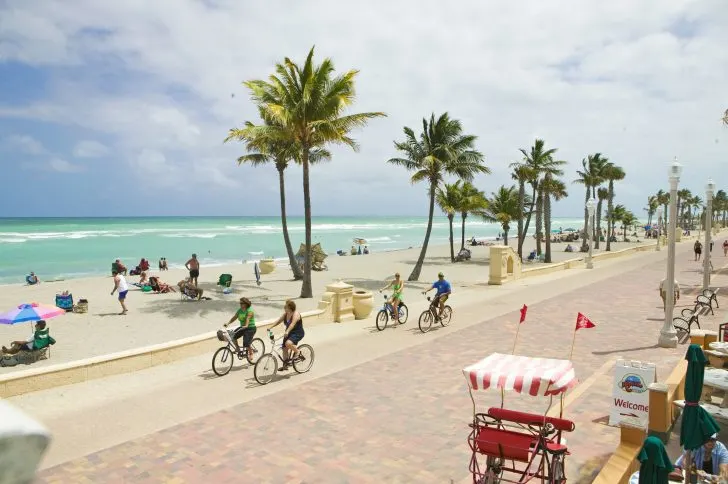 Hollywood Beach Broadwalk
Hollywood Beach Broadwalk is a 2.5-mile pedestrian promenade between waves rolling ashore and shops, hotels and restaurants. Parking fees apply.
Yellow Green market
Popular venue with independent food vendors, artisan vendors and outdoor seating, 3080 Sheridan Street,
Hollywood. Hours are 9 a.m.-4 p.m. Saturdays-Sundays; free & paid parking; click here.
Find the latest Hollywood events
Wednesday, May 31, 2023
Thursday, June 1, 2023
Friday, June 2, 2023
Saturday, June 3, 2023
Sunday, June 4, 2023