Instead of the traditional one-day festival, the Children's Trust Family Expo this year will take place as three separate Saturday pop-up events throughout Miami. The dates are July 23 and 30 and August 6, 2022.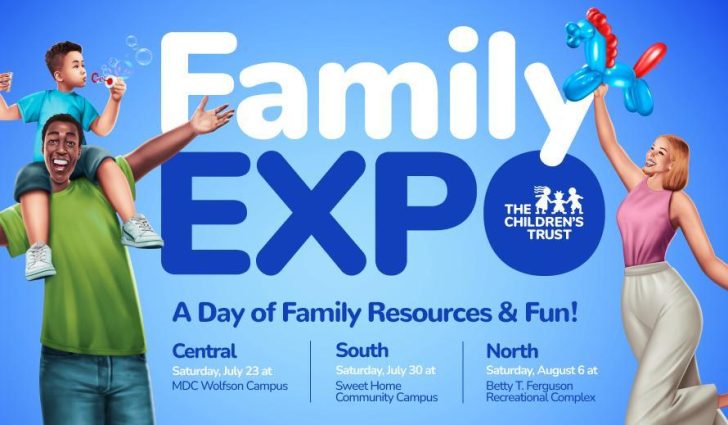 This annual expo was created to provide parents with access to educational, health and social services in a fun and festive atmosphere. The aim of splitting this event is "to make sure and reach the largest amount of our diverse population," according to organizers.
In the past, the expo has typically featured workshops and exhibitors showcasing information about topics such as after-school programs, injury prevention, vaccinations, programs for children with special needs, Pre-K registration, health insurance and more. Children's entertainment has included arts and crafts activities, face painting, balloon sculptures, storytelling, free books and rock climbing.
CHILDREN'S TRUST FAMILY EXPO 2022 SCHEDULE:
Central Miami-Dade
10 a.m.-3 p.m. July 23 at the Miami Dade College Wolfson Campus, 300 NE Second Ave.
South Miami-Dade
10 a.m.-3 p.m. July 30 at Sweet Home Community Campus, 10701 SW 184th St., Cutler Bay
North Miami-Dade
10 a.m.-3 p.m. Aug. 6 at PK People Matter Pop-up, 3000 NW 199th St., Miami Gardens
More free and cheap things to do with kids this week:
Monday, February 6, 2023
Tuesday, February 7, 2023
Wednesday, February 8, 2023
Thursday, February 9, 2023
Friday, February 10, 2023
Saturday, February 11, 2023
Sunday, February 12, 2023